Surf Club Four Seasons Residences with average sales price of $4,563/SF
Surf Club Four Seasons Residences is making waves in Miami's real estate market, selling at an incredible $4,563/sf! But wait, there's more! Continuum South Beach and four other incredible properties are also making a splash with their unbeatable staying power and legacy status. With an 18% increase in average sales prices from 2022, Continuum South Beach (Continuum South delivered in 2002 and Continuum North in 2008) is still on top. Apogee, since delivered in 2008, is also one of the grand dames of Miami's real estate.
Surf Club Four Seasons in Surfside reins supreme, exceeding the $4,500 per square foot threshold and prices over $19M for a four bedroom condo.
The other impressive buildings are Apogee, Ocean House, Faena House, and Continuum South Beach. We purposely excluded Fisher Island from this list, as it is widely recognized as one of the most exclusive and affluent residential communities in the United States, featuring equity membership and the Palazzo collection. Additionally, we have not included penthouse collections or new developments.
Except for Apogee, these best-selling all have a prime beachfront locations, with Continuum occupying the largest oceanfront parcel. Four are in Miami Beach with three in South of Fifth area and the leader of the pack is in Surfside.
We have also not included any new developments such as The Shore Club, Aman, The Perigon, Rivage, Rosewood, or Vita. Although some of these developments, like The Shore Club, have contracts at prices exceeding $4,000 per square foot, they are still in the contract or construction phase and have not been delivered yet.
Penthouses and trophy condos are also not taken into account in the statistics. These exceptional properties are outliers and may not accurately represent the market of a particular building. Analyzing penthouses separately would require a distinct study.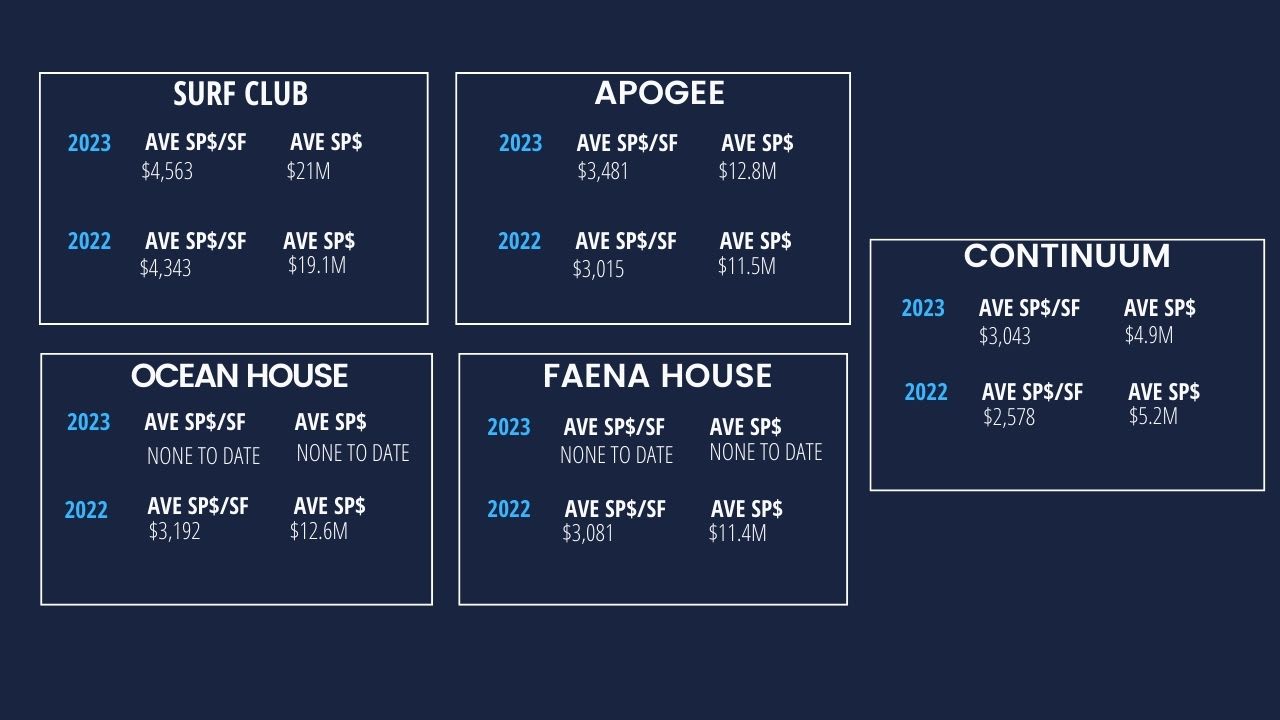 The Surf Club Four Seasons residences currently leads the market with sales averaging over an astounding $4,563 per square foot. Apogee ranks second, followed by Ocean House in third place, Faena House is in fourth and rounding the top 5 is Continuum South Beach (North and South towers). It's worth noting that neither Ocean House or Faena House has recorded any sales for this year, so we are solely relying on Ocean House and Faena's sales data from 2022. Rounding up the top four is Continuum South Beach.
Surf Club Four Seasons 2023 Ave SP$/SF: $4,343
Apogee 2023 Ave SP$/SF: $3,481
Ocean House 2022 Ave SP$/SF: $3,192
Faena House 2022 Ave SP$/SF: $3,081
Continuum South Beach 2023 Ave SP$/SF: $3,043
Price changes
Continuum is the building that has experienced the biggest price gain, with an 18% increase in average sales prices.
Apogee enjoys a 15% upside in sales per square foot
Surf Club is up 4.94%
Ocean House and Faena House have yet to close a condo this year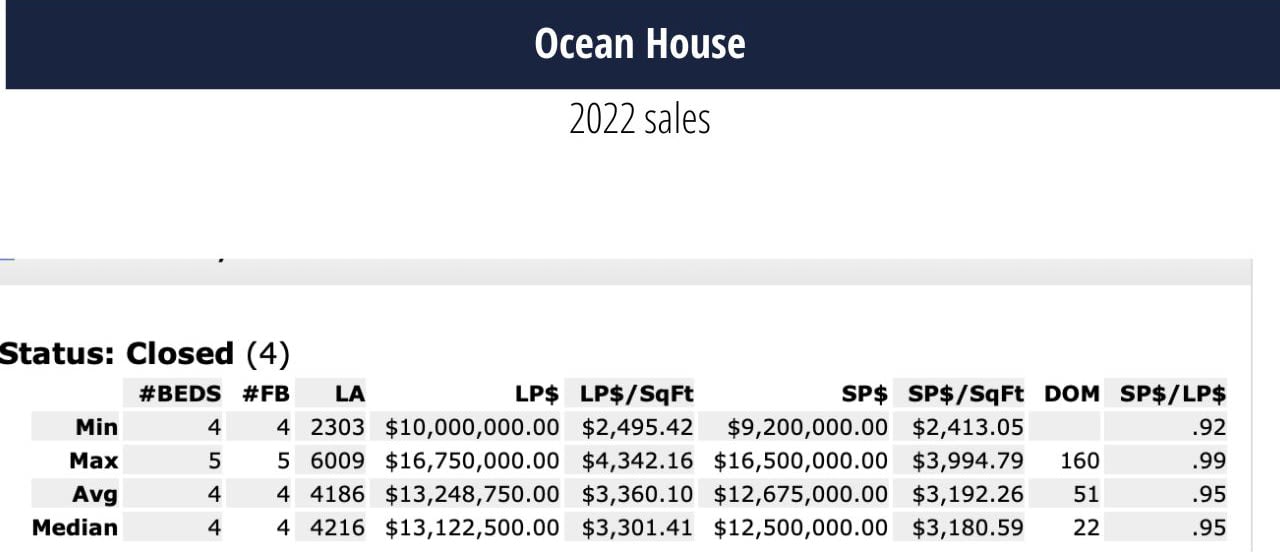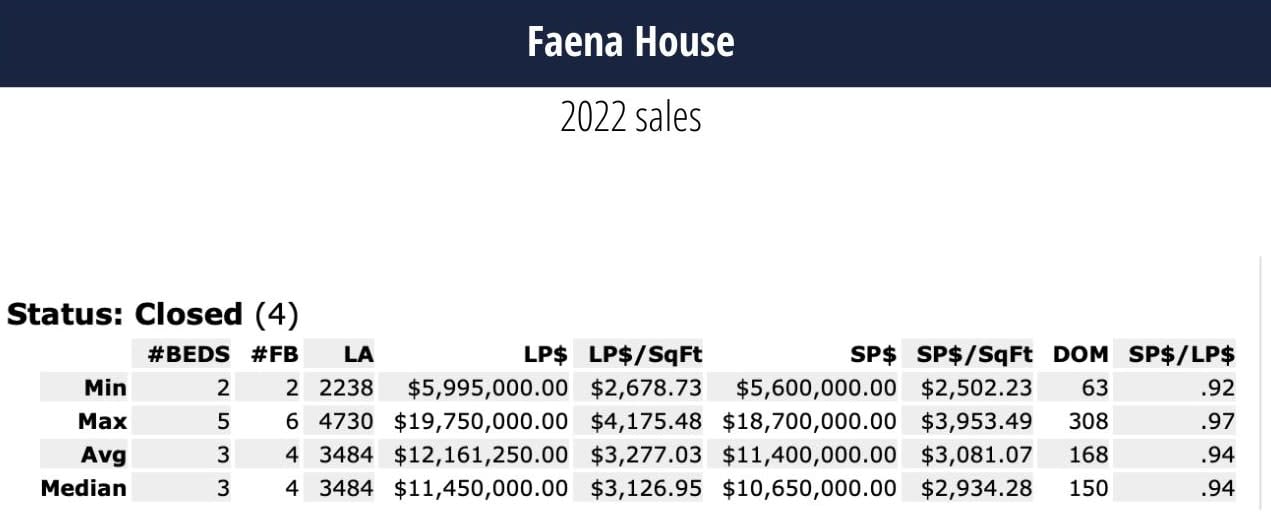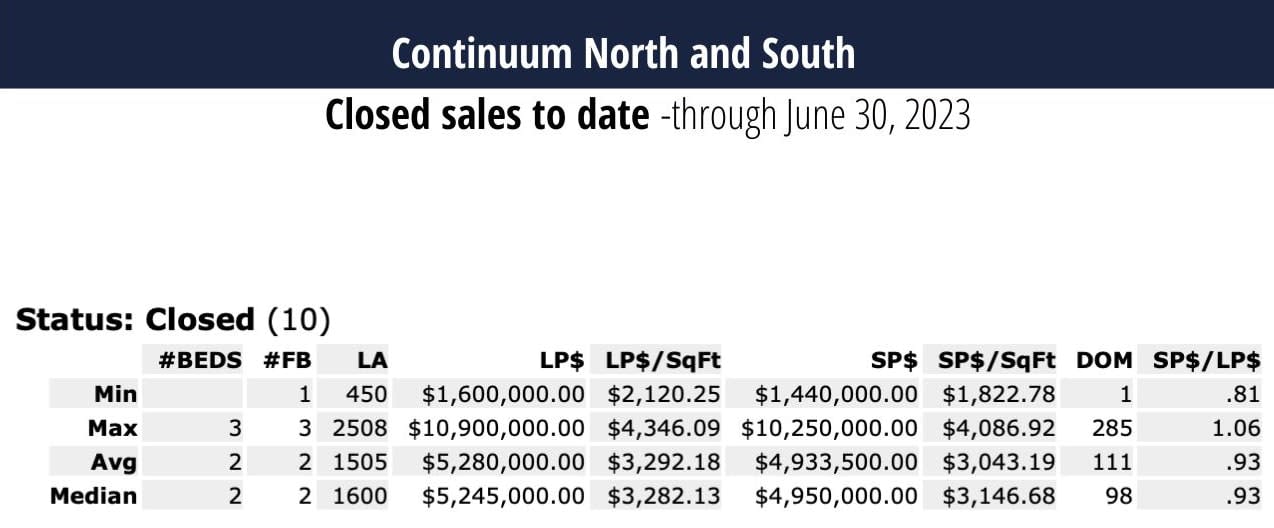 Miami, the vibrant coastal city known for its great business and entrepreneurial climate, gastronomical offerings, stunning beaches, cultural scene, thriving nightlife, and luxurious lifestyle, has become synonymous with opulent real estate. These beachfront condos, in particular, have captured the attention of affluent buyers who seek the ultimate in luxury living.
Miami Beach real estate priciest selling condos showcase the pinnacle of exclusivity, sophistication, and breathtaking views that define these remarkable residential properties.
About this study
Based on MLS recorded sales. Not responsible for errors or omissions.