Park Grove has Skyrocketed in Value by 78.27% in than 4 years
Park Grove in Coconut Grove is undoubtedly one of the most highly regarded condominiums in Miami. Over the years, its value has experienced an impressive surge of 78.27% since 2019.
It's important to note that this increase doesn't even factor in the impact of One Park Grove, which was completed amidst the challenges of the Covid pandemic in 2020 and currently has limited resales (One Park Grove was the last tower to be delivered and closest to Bayshore Dr.). It also doesn't factor the sales of the Park Grove third tower -Club Residence because the condo foot print is different than One and Two Park Grove which are the same. (Club Residence offers 8 condos per floor, One and Two Park Grove offer 4 with private elevator foyers).
Since it was delivered, owners of One Park Grove have never really wanted to sell their condos, especially the coveted A line. Since 2020, there have been 11 condo transactions in One Park Grove, but it's important to note that 63.64% of these were preconstruction sales that were recorded once the units were delivered. They were not resales.
The A line condos at One Park Grove are highly sought after and owners rarely have any intention of selling. Therefore, these statistics do not include the sales for One Park Grove. However, it can be confidently stated that we have personally received off-market offers ranging from $2,542 to $3,300 per square foot for the A condos, which have 3,247 square feet. The owners have chosen to decline them.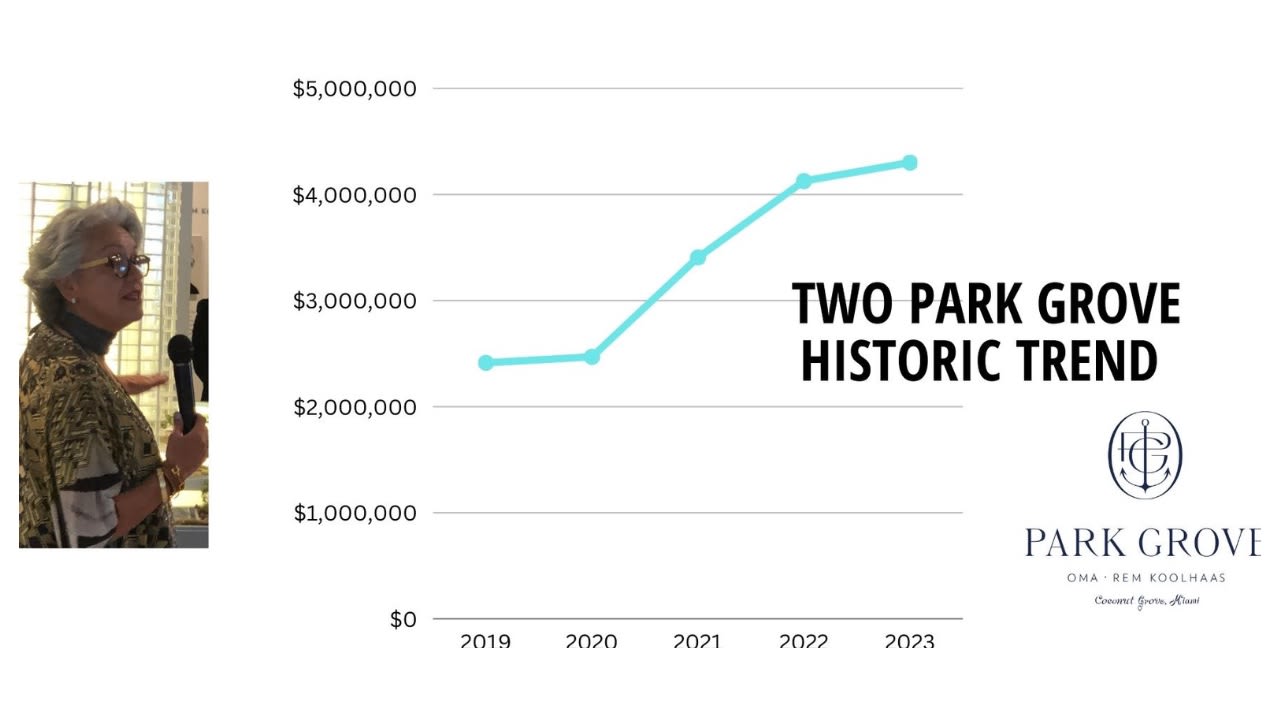 78.27% Price increase since 2019
The prices at Two Park Grove have experienced a significant increase of 78% since 2019. The average sales price so far this year stands at $4,300,000. Despite the post Covid market calibration, Two Park Grove is still being traded at a rate above $1,600 per square foot, with a slight decrease of 0.49%. Two Park Grove has seen a growth year-over-year. Compared to the average price for 2022, which was $4,126,286, the year to date price has risen by 4%.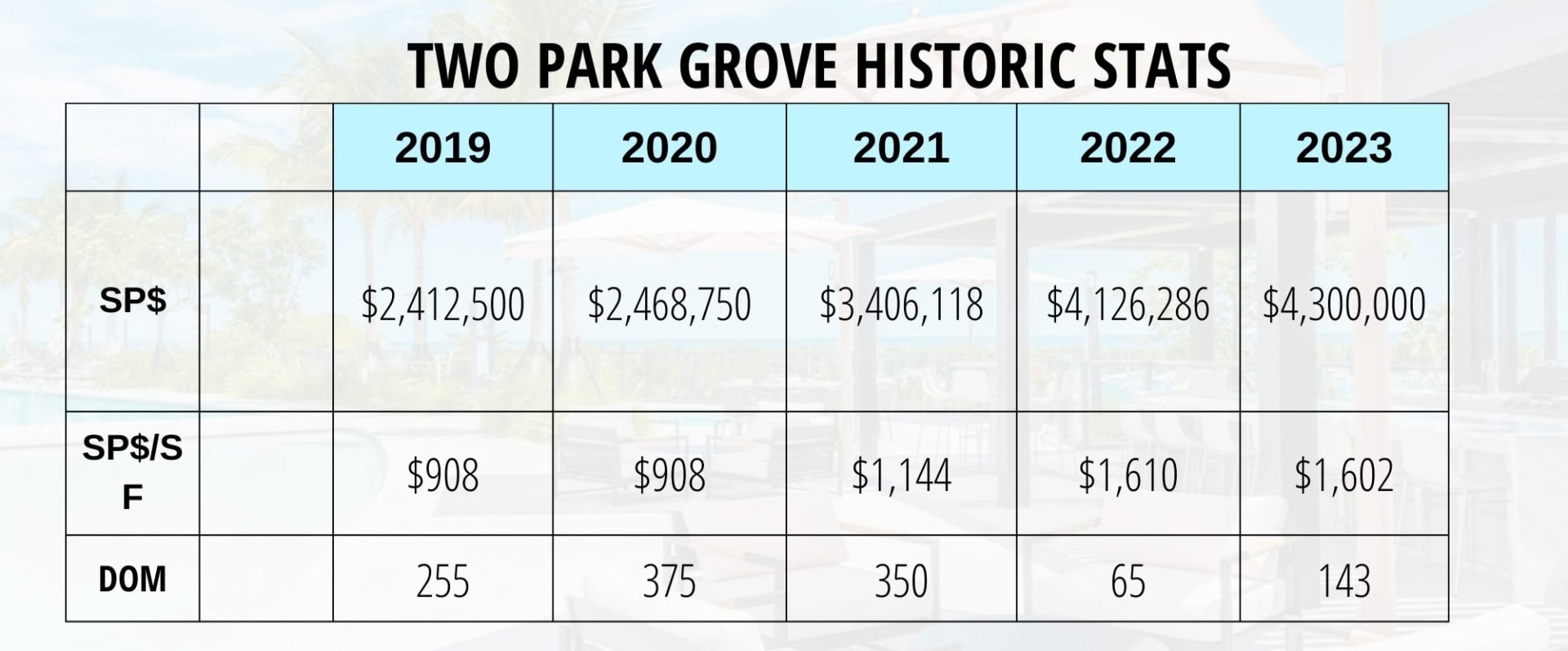 76% increase in sales price per sqft.
In 2019, average sales price per square foot for Two Park Grove was $908. Currently, the square foot in Two Park Grove is trading at 76% more than it did 4 years ago. 2019 average sales price was $2,412,500. In 2023, it is nearly double.
Check out Park Grove under construction-Insider's Look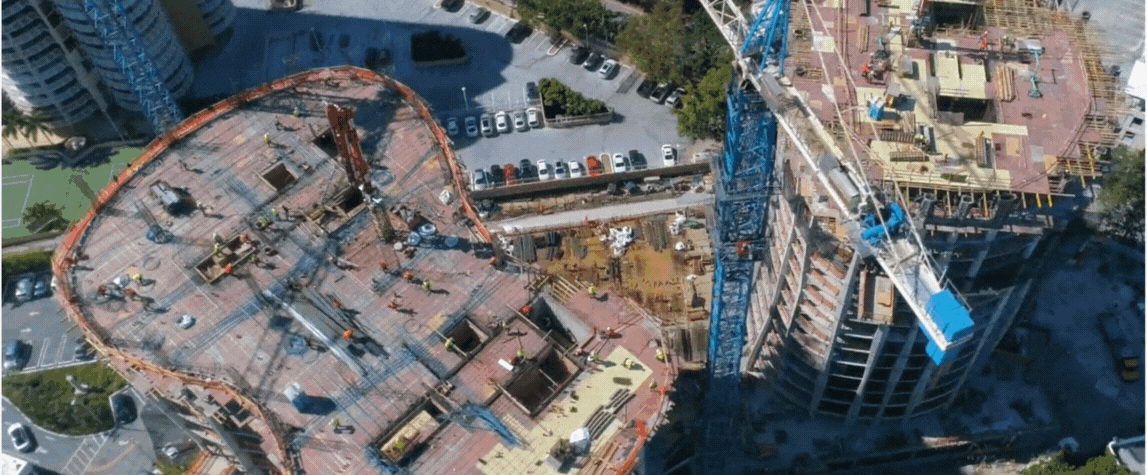 As members of the exclusive in-house sales team, we have personally witnessed the remarkable appreciation and the significant contributions Park Grove has made to the Coconut Grove community. Park Grove has contributed to the increase in taxable values for Coconut Grove. In fact, we confidently assert that the development and delivery of Park Grove, in conjunction with One Park Grove, have played a pivotal role in the revival and desirability of Coconut Grove. Plus, since retail follow rooftop, the growth of retail, commercial, office, and entertainment venues has been unprecedented.
2023 taxable values by taxing authority July 1st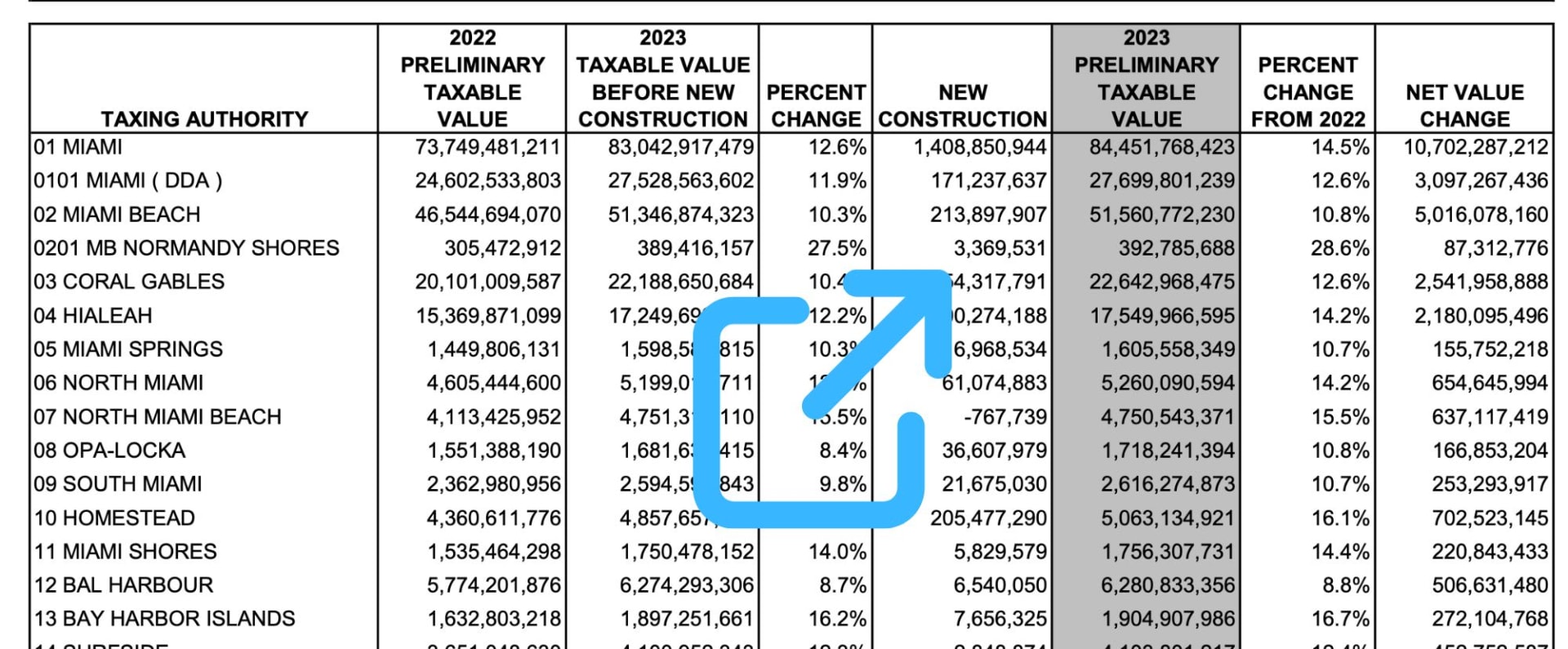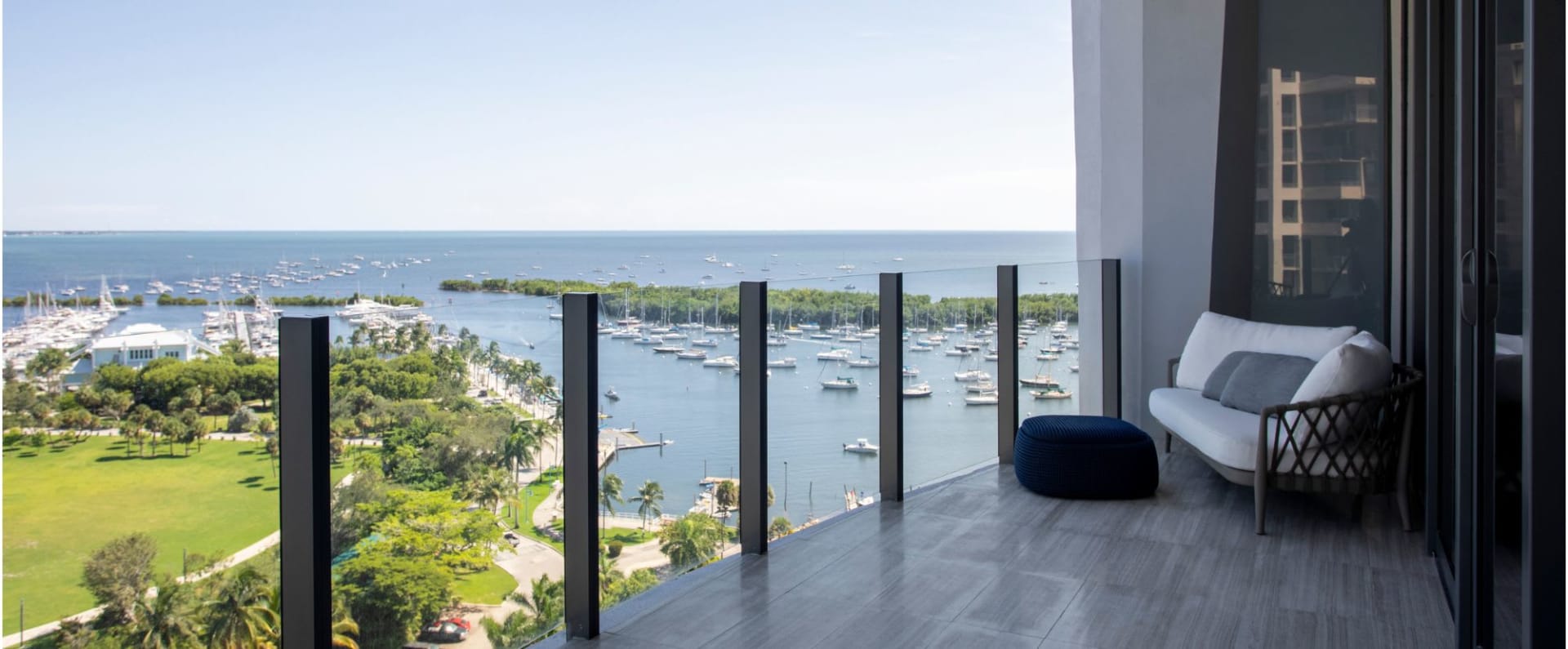 Park Grove a preferred address
Park Grove has become an incredibly sought-after location. Empty nesters from the local area have chosen to sell their homes and make the move here. Families who are relocating have also been drawn to Park Grove, enrolling their children in the top schools in the area. Couples embarking on the next chapter of their lives have found Park Grove to be the perfect fit. Even international buyers have been amazed by the beauty of Park Grove. Additionally, professionals who work in Brickell, Miami Beach, or downtown but wish to live in a quieter neighborhood have found their home in Park Grove.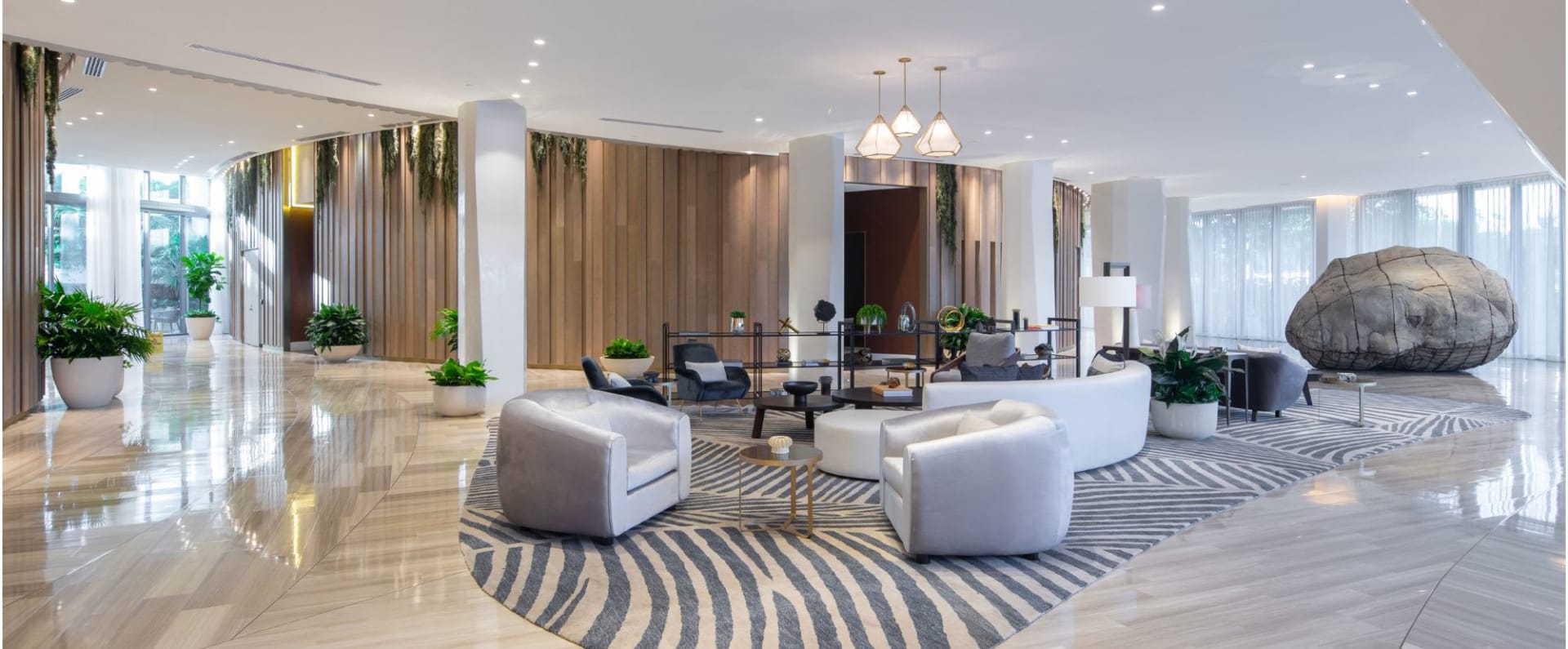 Photo credit: Robyn Hill for One Park Grove
Park Grove stands out as one of the top choices for real estate in Coconut Grove. For those unfamiliar, Park Grove is a unique and luxurious development that offers world-class amenities and services and celebrates the natural setting of Coconut Grove. It is comprised of three towers- One Park Grove, Two Park Grove and the Club Residence tower.
Situated on Bayshore Drive, the design of Park Grove was created by the renowned architect OMA Rem Koolhaas, and it was developed by Terra Group and Related Group. The grounds were done by Enzo Enea and the residences' kithchens and primary bath suites were envisioned by William Sofield. The amenities at Park Grove are unparalleled, featuring a stunning bayfront pool, a state-of-the-art fitness center, a wellness lounge with a full-service spa, and beautifully landscaped grounds by Enzo Enea.
Coconut Grove upcoming developments
Park Grove will continue to maintain its status as a sought-after location. The addition of upcoming projects such as Mr. C, scheduled for completion in the next 8 months, Vita in 2025, and a high-quality branded development in the works, will undoubtedly have an impact on Coconut Grove. We will have to pay close attention how these will affect the values at Park Grove.
Ready to relocate to Coconut Grove?
Moving to Coconut Grove is great for buyers interested in a bayfront neighborhood that has many green spaces, offers a range of luxury real estate options, and whose community is welcoming and warm. If you're dreaming of a luxurious life in a stunning bayfront condo, look no further than One Park Grove in Coconut Grove, Miami. This exclusive residential tower is the epitome of sophistication and style, offering residents unparalleled luxury and breathtaking views of Biscayne Bay. And with this gorgeous 3 bed bay front #14D condo available for sale, you could be living in the lap of luxury sooner than you think.
Contact one of the experienced agents on
The APT Team
to tour this home and for more details.