Biscayne Bay is a small but picturesque body of water that separates Miami and Miami Beach. A keen eye will note a collection of 11 island communities, three of which sit just off MacArthur Causeway — the most direct path between Miami and the celebrated neighborhood of South Beach. This trio of artificial islands includes the Star, Palm, and Hibiscus luxury developments, featuring some of South Florida's most extravagant and sought-after real estate.


Connected by private bridges to the causeway, the gated enclaves offer the ultimate private getaway while keeping the energy and vibrancy of South Florida within arms reach.


Due to its enviable location and unique community layout, which posits numerous ownership opportunities, Hibiscus Island can make a claim as one of Biscayne Bay's most desirable island enclaves. That list also includes Fisher Island, Sunset Island, and the six neighborhoods that comprise the Venetian Islands.


Whether a prospective homeowner or an investor, the following are three reasons to love Hibiscus Island.
The perfect location
While all of Biscayne Bay's island residences are opulent in their own way, Hibiscus Island homes offer arguably the best lifestyle combination of the 11 upscale islands between Miami and Miami Beach.


Hibiscus Island is located just five miles from Downtown Miami, four miles from the heart of Miami Beach, and minutes away from many of the area's top private and public schools, dining, shopping, and entertainment options.


While the neighborhood itself is rather serene, Hibiscus Island sits in the middle of one of the most vibrant regions in all of Florida. Island residents get both the neon glow of Miami's internationally fueled nightlife and a secluded retreat to escape to.


Hibiscus Island real estate doesn't compromise beachfront access or the activities that go with it. Their variable lot sizes—a hallmark of the island community—accommodate all manner and sizes of watercraft.


Accounting for the level of privacy, access, and convenience you get in return, few neighborhoods offer a more centralized yet concealed location than Hibiscus Island.
The impressive collection of homes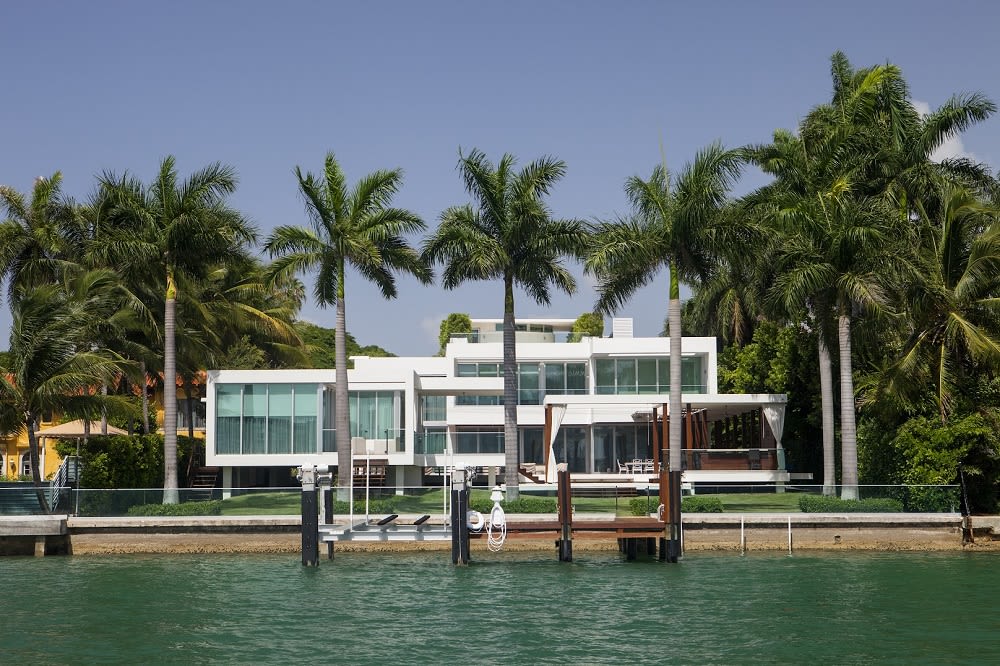 Dredged from Biscayne Bay a century ago, Hibiscus Island was created as a place to showcase the finest homes imaginable. By no means a collection of antique residences, the island continues to evolve with new, stunning homes for sale.
Though Hibiscus Island possesses a small footprint with approximately 150 homesites and a population of around 400 individuals, its architectural diversity and lifestyle options are impressive. Hibiscus Island homes for sale focus on opulence, showcasing the amenities and comforts luxury buyers expect out of their real estate.


Similar to a number of other luxury communities in South Florida, Hibiscus Island boasts expansive Mediterranean-inspired estates, thoughtfully crafted Spanish revivals, and sleek, enigmatic modern architecture. Each residence provides owners with high-end livability. From the finely manicured landscaping to the rich, luxurious finishes, Hibiscus Island homes for sale are meant to be shown off.


The island's waterfront homes offer stunning views and easy access to South Florida's favorite pastime: boating. Many Hibiscus Island homes offer direct access to Biscayne Bay, the Intracoastal Waterway, and the Atlantic Ocean, all from a private dock.


Additionally, a quick tour around Hibiscus Drive reveals the island isn't overwhelmed by new construction. There's a lot of character on Hibiscus Island, especially in its interior residential blocks. Hibiscus Island's stunning neighborhoods make the whole area feel like a genuine community steeped in history—and not a collection of brand-new builds.


Considerably more modest than Hibiscus Island waterfront homes for sale, you'll spot a handful of original homes dating back to the 1940s and 1950s on the island. Many of these are quaint bungalows and finely detailed Spanish-inspired casitas between 1,500-2,500-square feet. While fewer and fewer of Hibiscus Island's original homes exist today, the ones still standing are a sight to behold—and a treasure to own.
The value in the lifestyle
With 11 different island neighborhoods, it can prove a challenge to narrow down your next home purchase near Miami Beach. However, if you're not chasing a specific type of lifestyle — the ultra-luxurious seclusion of
Fisher Island
or the upscale, country club atmosphere of
Sunset Islands
—Hibiscus Island may be just the eclectic island for you.
Consider the following when measuring Hibiscus Island against its neighbors:
Palm Island
Secluded and exclusive, Hibiscus Island and Palm Island aren't easily visible from the causeway, with just one nondescript sign to give away their location.
Though Palm and Hibiscus Island possess similar footprints, number of lots, and housing options — the former is the more heavily trafficked of the two communities. As the de facto anchor community for the joint Palm-Hibiscus-Star Islands Association, the common amenities for all three islands are located on Palm Island. In contrast, Hibiscus Island can be likened to a quaint, quiet community.


In other words, the only people who frequent Hibiscus Island are homeowners and their guests, making Hibiscus Island an ideal getaway for homeowners that prioritize privacy.
Star Island
Even those with little knowledge of Biscayne Bay are typically aware that Fisher Island is inaccessible by car and that Star Island lives up to its name. With about 30 home sites on the island, the neighborhood is the definition of exclusivity—roughly half of the homeowners are notable celebrities from the music, film, and sports industries.


Although visible and directly accessible from the MacArthur Causeway, the price of admission to Star Island is steep, even by Miami Beach's lofty standards. Homes on Star Island regularly sell for more than $25 million, and that includes the rare vacant lot.


Compare that to Hibiscus, where prices across its approximately 150 home sites range from as little as $7 million for an interior residence to between $15-30 million for a waterfront home. And while Hibiscus has its share of celebrity homeowners, it's a more low-profile neighborhood. For those seeking flexibility from their luxury home purchase but with just as much privacy, Hibiscus serves a multitude of needs.


You'll uncover similar comparisons when measuring Hibiscus Island against the Venetian Islands, Sunset Islands, or Fisher Island. Again, comparing these islands is akin to choosing between a sailing yacht or one powered exclusively by a motor. Each has its pros and cons, but depending on the lifestyle you want, there isn't a wrong choice to make—just the right one for you.


Consider Hibiscus Island as the Gullet hybrid. A little bit of everything—unparalleled luxury, exclusivity and privacy, direct access to the best of Miami and Miami Beach's dining, shopping, and nightlife, for those who don't want to settle on a specific lifestyle.
Searching for Hibiscus Island homes for sale?
From gorgeous waterfront residences or vacation homes to jaw-dropping beachside condos, allow
The APT Team
's years of local expertise to be your guide to South Florida's luxury real estate market. If you're ready to buy or sell Hibiscus Island or Miami Beach real estate,
contact The APT Team today
.