Miami-Dade County $1 million+ luxury home sales continued outperforming
MIAMI Miami-Dade County $1 million+ luxury home sales continued outperforming pre-pandemic levels as total median sale prices rose once again as the market leads the nation in real estate appreciation, according to April 2023 statistics released by the MIAMI Association of Realtors (MIAMI) and the Multiple Listing Service (MLS) system.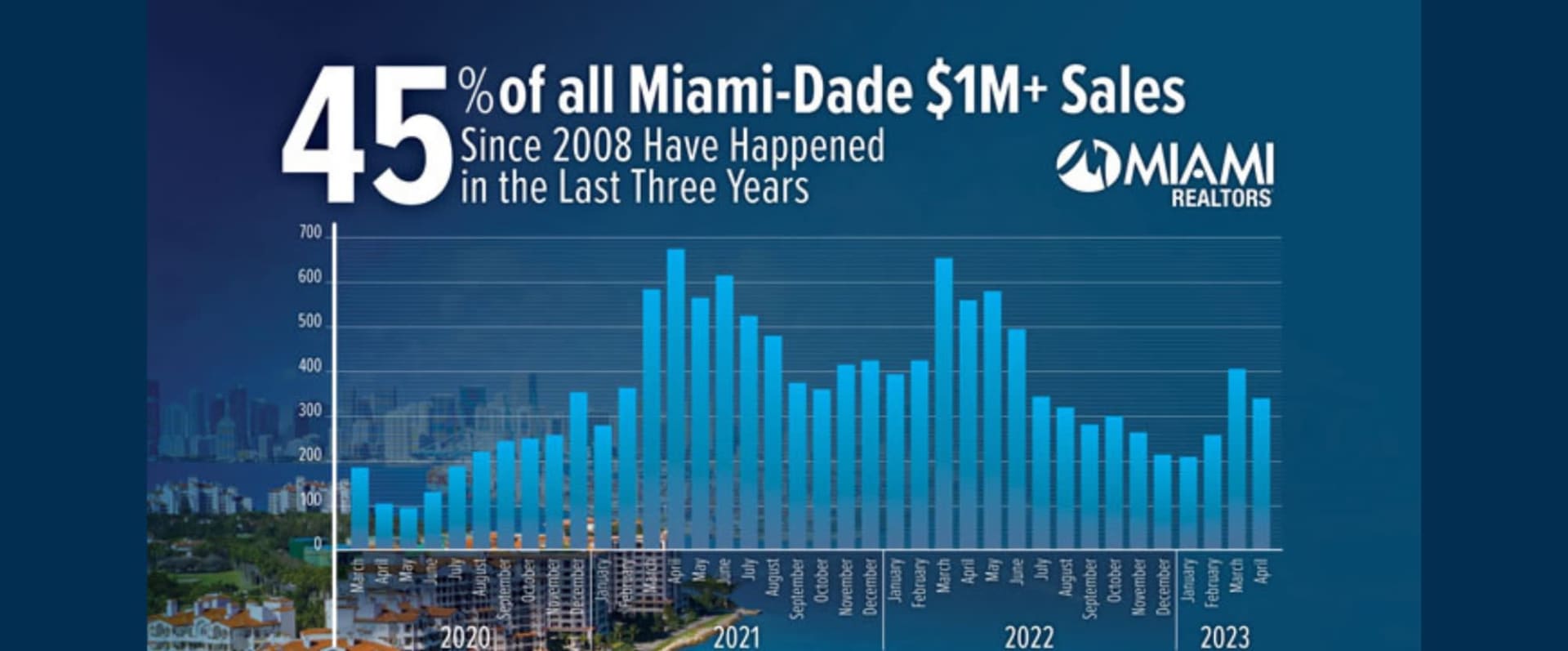 Miami-Dade $1M+ home sales are up 94.3% in April 2023 vs. pre-pandemic April 2019, 340 transactions to 175. The rise continues Miami Dade's historic luxury sales boom. About 45% of all Miami $1M+ sales since 2008 have happened in the last three years.
Wealth Migration
"South Florida has benefited from a major wealth migration as buyers from California and New York have relocated their companies and their families to Miami: the city of the future," MIAMI Chairman Ines Hegedus Garcia said. "With this increased demand, we recognize the need for expanded inventory and new listings at various price points, as this would unlock even greater sales potential in the market."
$23.7B gain: Florida #1 in net gain of adjusted gross income
Florida ranked No. 1 in the U.S. in largest net gain of adjusted gross income (AGI) due to domestic migration, gaining $23.7 billion, according to most recent IRS-SOI migration data. Miami-Dade's out-of-state homebuyers with a mortgage earn nearly $100,000 in median household income.
Miami #4 worldwide in super-prime real estate transactions
Miami ranks No. 4 in super-prime real estate transactions ($10M+) and No. 5 in ultra-prime ($25M+) sales in the world, according to the 2023 Knight Frank Wealth Report.
More on Miami real estate market, read article
If you want comprehensive market analysis by neighborhood, property product, and time frames (pre and post Covid for example), let us know and we will deliver it straight to your inbox. With over 15 years of experience selling Miami real estate, we understand that luxury real estate service should not be a luxury. That's why we value what is valuable to you and tailor our services to fit your needs. We owe this to our clients, and we believe you deserve nothing but the best when it comes to your real estate investments. At The APT TEAM, we know that what you own is just as important as how and why you own it. That's why we're dedicated to providing you with the most accurate and up-to-date information on the market to help you make informed decisions. If you're interested in learning more about how we can help you achieve your real estate goals, please don't hesitate to reach out. We look forward to hearing from you soon.