The oldest and most continuously inhabited neighborhood, just south of Downtown Miami, is the family-friendly neighborhood of
Coconut Grove
. This bohemian beauty has a history dating back to 1873, founded by an eclectic mix of friendly folks with adventurous hearts and spirits. Since its inception, Coconut Grove has stayed true to the core, blossoming into one of the most desired areas of Miami while maintaining a vibrant and laid back atmosphere.
One of the most appealing things about this neighborhood is its status as the greenest area in Miami. There are over 11 parks in the area, palm trees lining the streets, mangroves at every turn, and lush green ivy delicately draped over historic buildings. The natural beauty melds together with the stunning bay to provide one of the most desirable areas in the nation, making it easy to see why people are flocking to find a piece of this suburb. Coconut Grove today is well-known for its real estate, sailing, high-end shopping, entertainment, restaurants, and location. These features that meld with the laidback lifestyle aren't the only thing Coconut Grove has to offer.
Coconut Grove real estate
is something unique in its own right. The area features single-family homes, many built in the 1930s and 1940s, with two distinctive styles – modern and Mediterranean. Newer luxury homes, like the high-end Park Grove building, feature modern design elements, with contemporary lines and a sleek appearance that melds beautifully with open floor plans, natural materials, and plenty of glass.
Those who own a piece of this iconic area find themselves relishing in the sunlight, inside or out, and experiencing the inexplicable vibrancy of South Florida. There are exquisite waterfront estates, Mid-Century Modern homes, Mediterranean estates, and luxury high-rises that fill the area also. With so much to offer, it's easy to understand why many want to be part of this community. Read on for helpful tips on what to look for if you're considering buying a vacation home in Coconut Grove.
Financing options
If you know anything about real estate in Florida, especially the Miami area, you know the cost of living is higher. Knowing this and arming yourself with knowledge of what those costs are will help you prepare and make the best decision for yourself. You'll want to account for
Florida's property taxes
, homeowners association fees, and sales tax. You'll also need to account for things like condominium fees (if you choose that type of home) and insurance – this is especially significant regarding flood and hurricane insurance, which may or may not be covered in other monthly fees. Additionally, when buying a vacation home, you want to think about how you plan to furnish it. Considering these factors will help determine how you'd like to finance your home.
Of course, if you're paying all cash, there's nothing further to consider. However, if you plan on financing, you'll want to consider these things to know what type of financing to use. Most lenders have specific rules regarding vacation homes and rental properties, which will affect your financing. For example, a second home versus a rental property will earn you better interest rates and more options. Things will be different if you're looking to rent it out and use it as an investment property. Either way, you'll want all the details to prepare your offer and close as soon as possible.
What you want in your home
Real estate in Coconut Grove varies from older cement-style homes to the more modern and luxurious estates lining the area. Some
luxury apartments and condominiums offer award-winning amenities
and maintenance to ease your mind. You'll also find plenty of gorgeous waterfront estates that offer clean lines, natural materials, earthy tones, open layouts, and beautiful Florida sunshine radiating through the home.
When you know exactly what you're looking for, the process of finding it becomes much more straightforward. As you embark on the search, ask yourself a few questions to determine which key factors are essential to you.
Bedrooms and bathrooms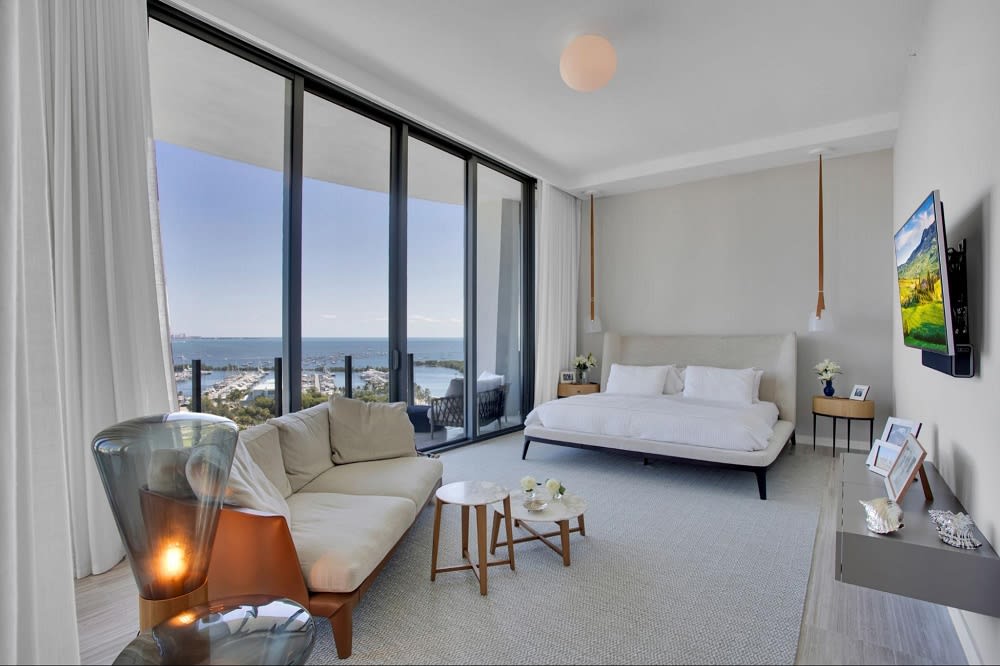 Do you have a large family? If you have children, will they need separate rooms or share during vacation? Do you intend on having other family and friends join you? Will you need an office while staying in the home? These questions will help determine the number of bedrooms and bathrooms needed, which narrows your search parameters. Although you might not use a vacation home as much as your main home, you want to feel comfortable while you are there. Ensuring plenty of space for everyone, including guests, can be helpful.
Space and features
Taking the previous question a step further, let's talk about the overall space in the house. Would you prefer an open concept with plenty of space in the living areas, a gourmet kitchen with a dining room to entertain in, or a bonus room to turn into a home theater? Does the yard space matter? Would you prefer a pool? Do you need a garage? This question is essential if looking at apartments or condominiums, as parking can be limited. If you intend on having more than one car, you'll want to consider this or research other areas to park. Do you want to be close to anything specific? Will you be commuting to work? Will your children be attending school while at home? Do you enjoy being close to shopping and dining? It's not just the home you need to consider; it's every detail. The last thing you want on vacation is the be far from all the quality shopping, dining, and amenities. If it's important to you that you're right on the beach, steps from the white sands and clear waters, ensure that you make it well known.
When buying a vacation home in Coconut Grove, you want the process to go quickly so you can start enjoying your slice of heaven. Follow these tips, and you're sure to have success. When you're ready to look at
Coconut Grove homes
for sale,
contact The APT Team
. We're happy to help!