Located in Biscayne Bay between the mainland and Miami Beach, the Venetian Islands are at the heart of Miami's vibrant real estate market. The islands consist of six man-made islands and are accessible to both the east and west by causeways. Venetian Island real estate includes some of the most desired housing in South Florida and offers both single-family homes and condos—most of which have waterfront views of Downtown Miami and Miami Beach.
From west to east, the islands are Biscayne, San Marco, San Marino, Di Lido, Rivo Alto, and Belle. Living on any of the Venetian Islands brings a special lifestyle that is very much reflected in the price of homes. Venetian Islands homes for sale usually begin at $2.4million, but can go far beyond $20 million for large estates.
The following are the best recreational activities available to residents of the Venetian Islands.
Water activities
Living in the Venetian Islands is similar to living at a tropical resort, with water activities, beaches, and exclusive entry. Many of these luxury homes are surrounded by tropical landscaping, ocean views, and private pools. Most Venetian Island waterfront homes also have private docks where owners can spend time in the water and store watercraft. Swimming, kayaking, and boating are among the most popular activities for those lucky enough to reside on these islands. For those without a private dock, there is an abundance of yacht clubs and marinas nearby—including the prestigious Miami Yacht Club—which has been open for almost a century.
Sunset Harbour
Located close to
Sunset Islands
, you'll find
Sunset Harbour
. This one-of-a-kind destinations offers ample opportunities for yoga, kayaking, and kitesurfing among myriad other ways to stay active and soak up the sunshine. This trendy locale also houses numerous chic dining options and is walking distance from
Lincoln Road Shopping District
, so you won't want to miss this.
Parks
The Venetian Islands are almost exclusively residential, however, there are two parks where owners of Venetian Islands real estate can go to walk, bike, or soak up the wonderful South Florida sun with friends. The larger of the two is Belle Isle Park, which is located right in the middle of the island. Belle Isle Park features a large grassy area, plenty of shade trees, and designated paths for walking and biking. It also has a children's play area and dog park. Over on Biscayne Island, Venetian Causeway Park occupies the southwest portion of the waterfront and is a pleasant open space where visitors can relax and soak in the views.
Golf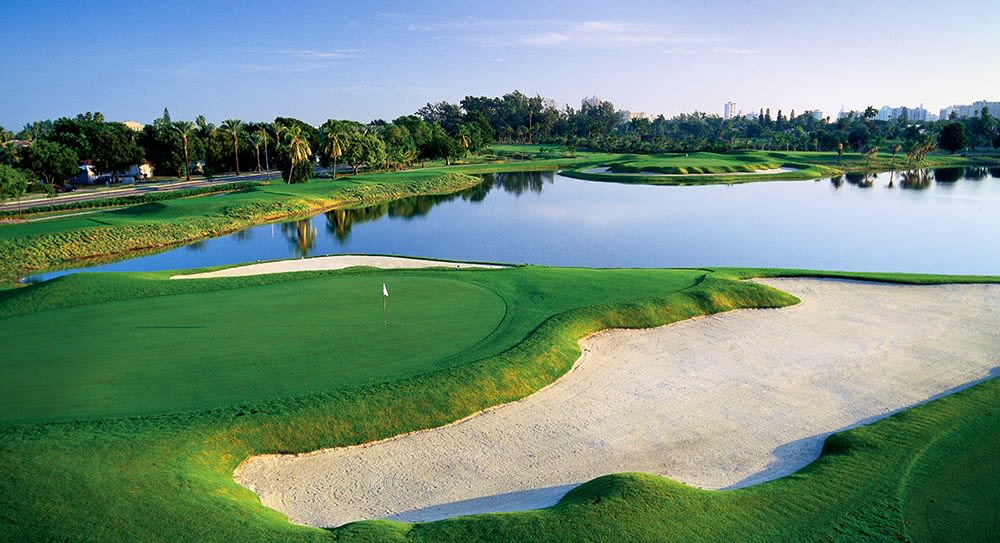 Credit: Miami Beach Golf Club
Owners of Venetian Islands luxury homes live within a short drive of several prestigious Miami golf courses. The closest course to the Venetian Islands is the Miami Beach Golf Club in the Bayshore section of Miami Beach. The classic layout was designed by Carl Fisher and was originally called the Bayshore Golf Course when it opened in 1923. The well-manicured layout is peppered with water hazards and sand traps. There are also tennis courts and an upscale restaurant. Two other nearby golf courses are the La Gorce Country Club and Normandy Shores Golf Course, both located on Miami Beach.
The beach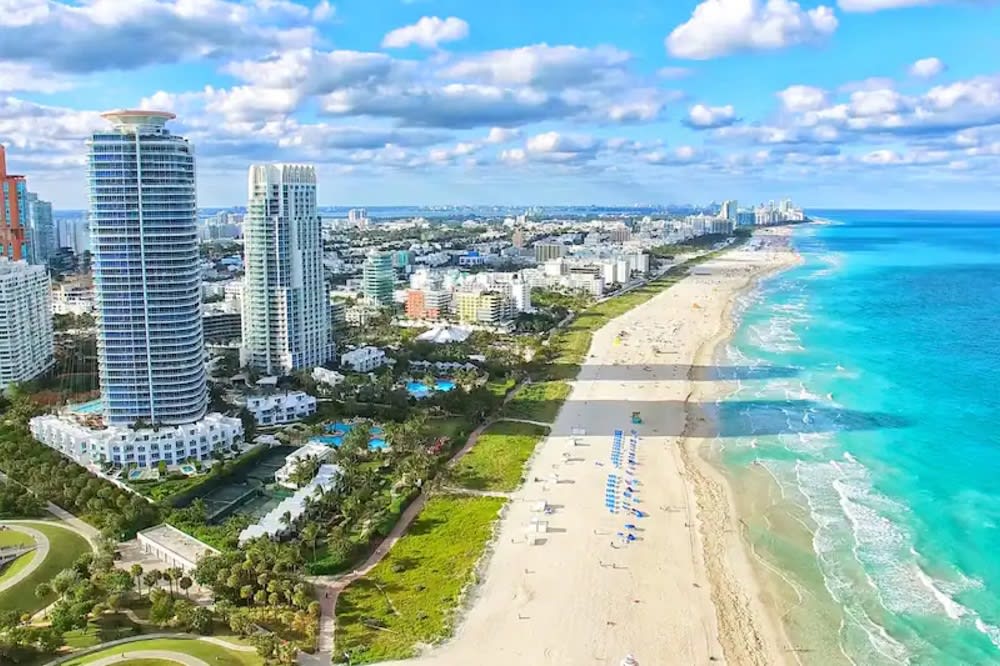 With a nine-mile strip of sand running the length of Miami Beach, there are plenty of spots for residents of Venetian Islands condos to sunbathe and enjoy the surf. It's a straight shot across the Venetian Causeway to South Beach, where residents will find some of the most popular stretches of beach in Miami, set against a backdrop of the classic Art Deco hotels along Ocean Drive.
After working up an appetite while spending a day at the beach, residents can explore a sweeping variety of upscale restaurants and bars in this trendy neighborhood. Additionally, several of South Beach's hotels allow non-guests to rent cabanas, beach chairs, and umbrellas, as well as order food and drinks. Among these hotels are the W South Beach, The Fontainebleau, and Loews Miami Beach Hotel. If South Beach feels too crowded or trendy, you can head farther north to Bal Harbour Beach or over to Miami's oldest neighborhood, Coconut Grove.
Museums
There are many museums located just a short drive from the Venetian Islands, for all kinds of discerning tastes. Venetian Islands residents often take their visitors to the Pérez Art Museum which is located on the mainland waterfront. The Pérez Art Museum Miami
(PAMM)
houses Miami's premier collection of modern and contemporary art from around the world—focusing on the 20th and 21st centuries. The exhibits are designed to reflect South Florida's incredible diversity.
The impressive
Vizcaya Museum & Gardens
in Coconut Grove is also worth the short drive. The Vizcaya features a mansion turned into a museum and is surrounded by gardens with unique hedge mazes. Those with children or grandchildren should explore the
Miami Children's Museum
, which is conveniently located on neighboring Watson Island and occupies a whopping 56,000 square feet. It's filled with hands-on exhibits and educational programming designed to educate and challenge minds of all ages.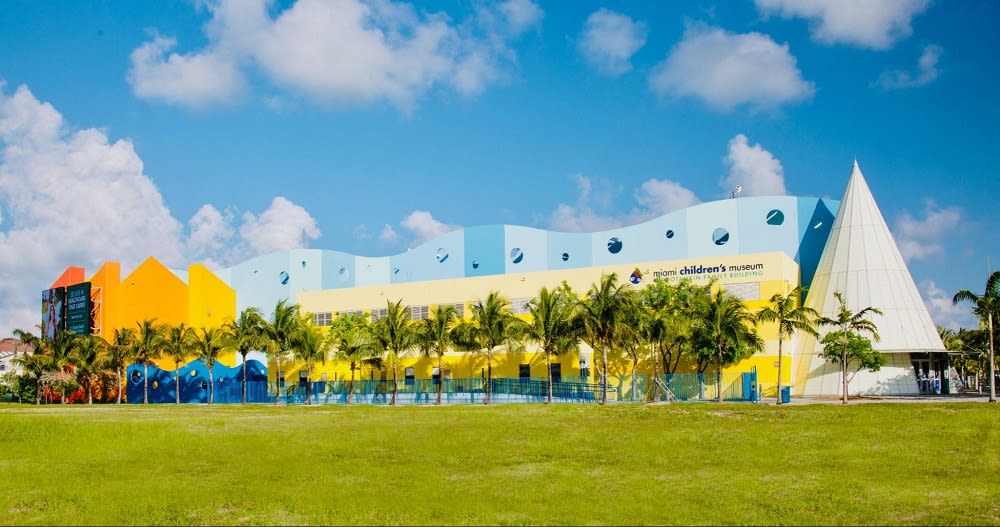 Credit: Miami Children's Museum
Shopping homes for sale on the Venetian Islands?
These may be the most popular choices, but they're just a few of the many activities available near Miami's luxurious Venetian Island neighborhoods. If you're interested in buying property for sale on any of the Venetian Islands, you need to hire an experienced real estate agent with an extensive record of helping clients get into these niche luxury properties. Interview as many agents as you need, and pick someone with documented success matching clients' budgets and criteria with available single-family homes or condos.
If you've had your eyes on a Venetian Islands home for sale, let the experienced professionals at
The APT Team
guide you through the entire transaction without stress or unanswered questions. With deep local expertise, keen market insights, and excellent customer service,
The APT Team
is standing by to help you find the Miami luxury real estate of your dreams.
Contact The APT Team today!