From its incredible year-round weather to all the fun activities available under the Southern Florida sun, living in Miami is like living in paradise. This coastal city offers plenty of beaches, marinas, yacht clubs, parks, and other open spaces to fill your leisure hours with healthy activities.
Owning Miami Beach real estate also affords residents the chance to enjoy homes that feel like mini-resorts. While it's fun to be out and about — perhaps spending a day at the beach capped with an upscale dinner in Wynwood — it's also nice to kick back and relax in your backyard full of amenities.
There are several ways to style the exteriors of Miami Beach single-family homes. New amenities won't only enhance your current quality of life but also increase your home's value when it's time to sell. As owners plan future projects and set a budget, they should actively consider their return on investment (ROI) once the home sells.
The Miami Beach real estate market is currently balanced — generally, the demand for homes is about the same as supply. According to
Zillow
, the median sale price of Miami Beach homes is just over $420,000. That's an increase in value of 14.1% over the past year! This is the median price for all homes. The upper tier and super luxury tier takes the median price for single-family homes (the top 10% of sales) up to $2,850,000.
(Q4 2021 Report)

If you're thinking of listing your home for sale soon, consider partnering with an experienced real estate agent to get the best price possible. In the meantime, there are many ways to style your Miami backyard to make it competitive and attractive. In addition to projects with the best ROI, consider your lifestyle needs, budget, and the amount of backyard space you have. Here are some ideas for styling your Miami backyard.
Add a swimming pool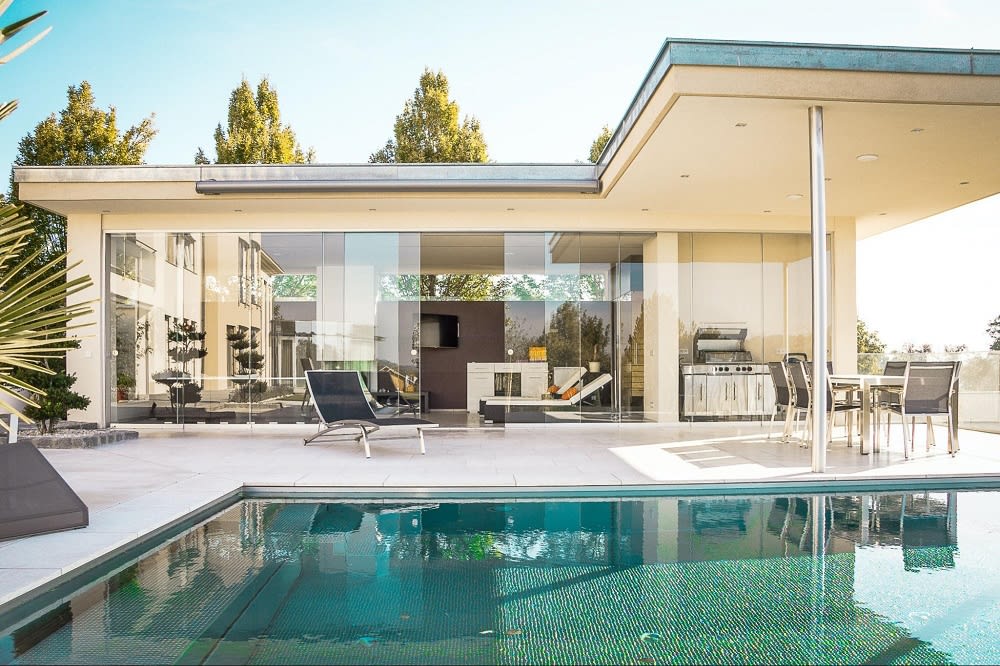 Nothing gives Miami Beach backyards more of a resort-like feel than a
swimming pool
. While it's great fun going to the beach, it's even better to step into your backyard for a refreshing dip or a workout. Styles include traditional kidney-shaped pools, lap pools, and trendy infinity pools. A pool can provide limitless fun for young families and offer childhood memories that will last a lifetime.
While pools can
result in
a low ROI, having one can be a strong selling point when listing your home. This is especially true if the other homes in the neighborhood don't have pools. Depending on your available space and tastes, adding an in-ground hot tub can enhance your lifestyle and home value, as well. Everyone appreciates an evening soak to unwind and enjoy the sunset.
Consider outdoor living spaces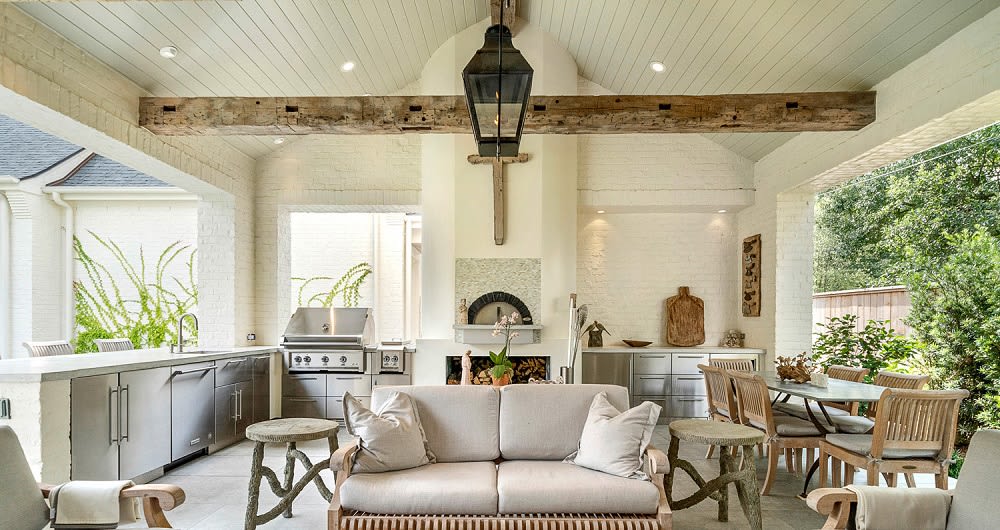 Outdoor kitchen
Outdoor kitchens have soared in popularity amid the pandemic, as owners of Miami Beach luxury homes look to enhance their home values and extend their living spaces to the outdoors.
A fully-equipped outdoor kitchen
should include a barbecue grill, refrigerator, sink, and plenty of counter space for preparing meals. You'll also need a cover or umbrellas to ward off sudden rain. Having a freestanding shelter will enable the installation of a ceiling fan to keep your family and guests cool on hot days.

Outdoor living room
Going hand-in-hand with an outdoor kitchen is an outdoor living room, an amenity that would greatly expand the enjoyment of your Miami Beach backyard. Owners with an existing deck or patio can arrange comfortable chairs, couches, and tables to define the space. Adding a freestanding cover can protect your furniture from the elements and could even allow for the installation of a large TV to watch sporting events or movies.
Utilize patio covers
Regardless of which amenities you choose for the backyard of your Miami Beach home, a patio cover or pergola will add functionality and boost your home's resale value. To truly enjoy the great South Florida weather, you'll need protection from the scorching sun and occasional rain showers. There are many patio covers and pergolas to choose from and various options for patio and screened enclosures. Choose an option that works best for your outside space and how you plan to use it.
Build a fire pit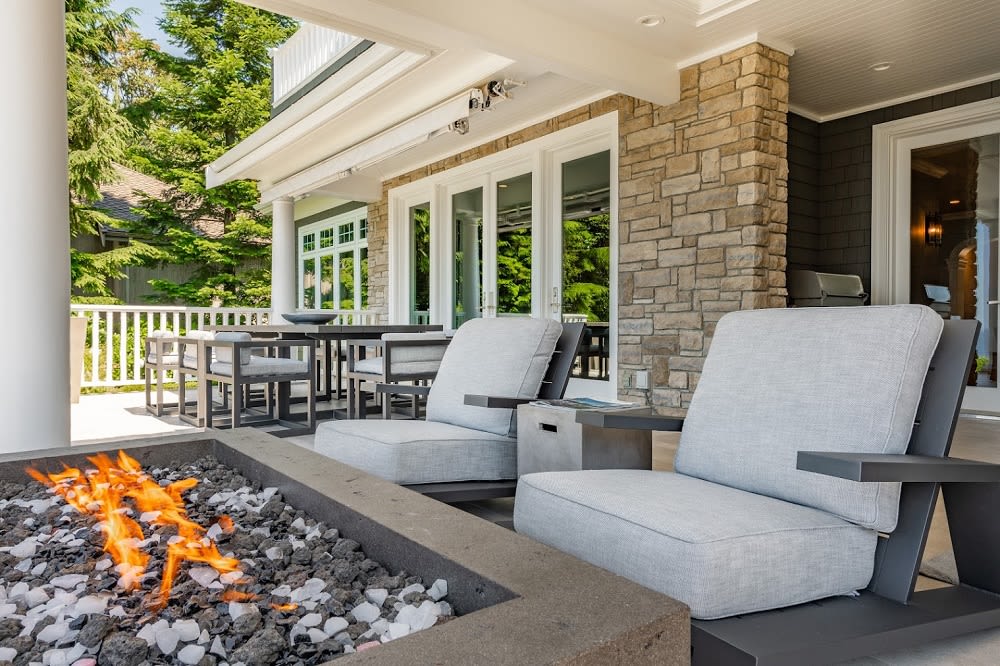 One of the most functional and aesthetic ways to style the backyard of a Miami Beach single-family home is to add a fire pit. Families will enjoy hours of relaxation sitting around the fire during pleasant South Florida evenings, engaging in conversation, and perhaps enjoying a cocktail while watching the sunset. Although the best option is a professionally installed, permanent gas fire pit, there are several options and styles to choose from to suit your needs. If there's no room for a permanent fixture, portable fire pits are available at home improvement stores.
Enhance your landscaping
Rounding out the resort-like feel of most luxury Miami Beach real estate is professional
landscaping
. There are many ways to spruce up the look and feel of backyards, from manicured lawns to palm trees and container gardens. If you prefer a pristine green lawn, you have the option to choose from natural grass or hassle-free artificial turf, and palm trees give off the perfect Miami vibe. For splashes of color, consider a container garden, a collection of plants in large pots or planter boxes. A unique idea fitting South Florida's climate is a
rain garden
, a group of native plants and flowers planted in a slight depression that collects rainwater, preventing erosion-causing runoff.
With many significant projects available, there are plenty of ways to style your Miami backyard. If you're planning on buying or selling Miami Beach real estate in 2022, contact the award-winning
APT Team
. Adriana and Tracy will wow you with their experience and professionalism.