How is Coconut Grove's real estate market performing? In a nutshell, the stratospheric price ideals that were enjoyed during the height of Covid may be coming closer to earth. They are still better than pre-pandemic levels, way better. They are just not fetching double or even triple appreciation. But, sold prices are up. Pending prices are up. Days on market is still low at 42 days.
It is true that we can't really claim to be financial gurus or to have even an ounce of the financial knowledge that many of our mogul clients possess. As we move through Spring monitoring inflation, interest rates and the banking situation, let's look at the currents numbers of Coconut Grove. This is what we can claim to do. This is what we are going to do.
We will also go beyond the headlines.
The median price of a property sold in Coconut Grove in February is $1.187M, more than 3x times the national median price of $363,000, which dropped for the 1st time in 10 years (the national median price can be topic for another discussion or more can be learned here).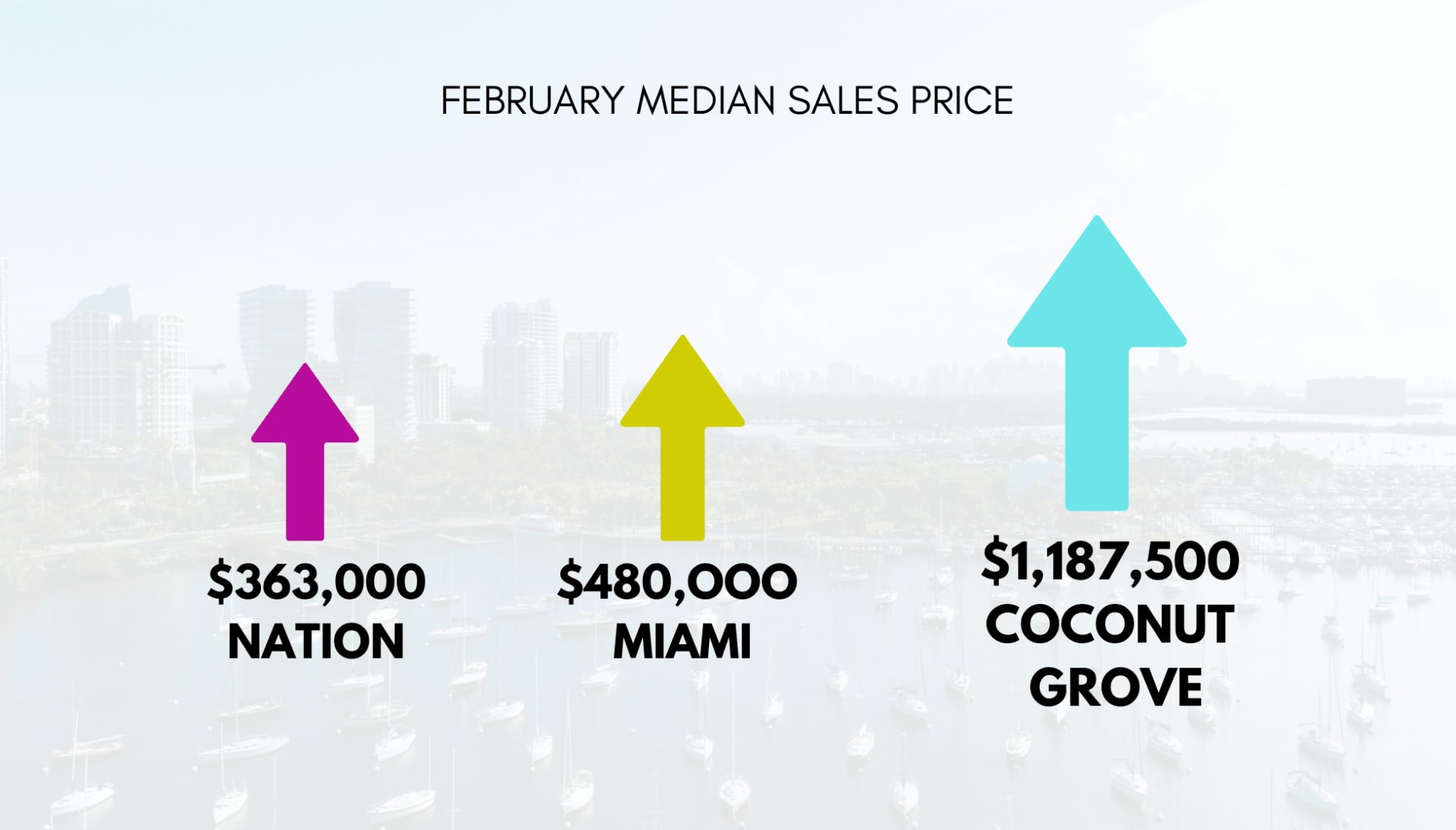 Regarding Coconut Grove, let's start with pending sales.
Pending sales are important indicators because they provide insight into the future direction of the housing market. Because pending sales represent homes that are under contract but not yet sold, they can provide valuable information about the current demand for housing. If the number of pending sales is high, it suggests that there is strong demand for homes and that the market is likely to continue to grow. On the other hand, if the number of pending sales is low, it may indicate that demand is weak and that the market may be slowing down.
Pending sales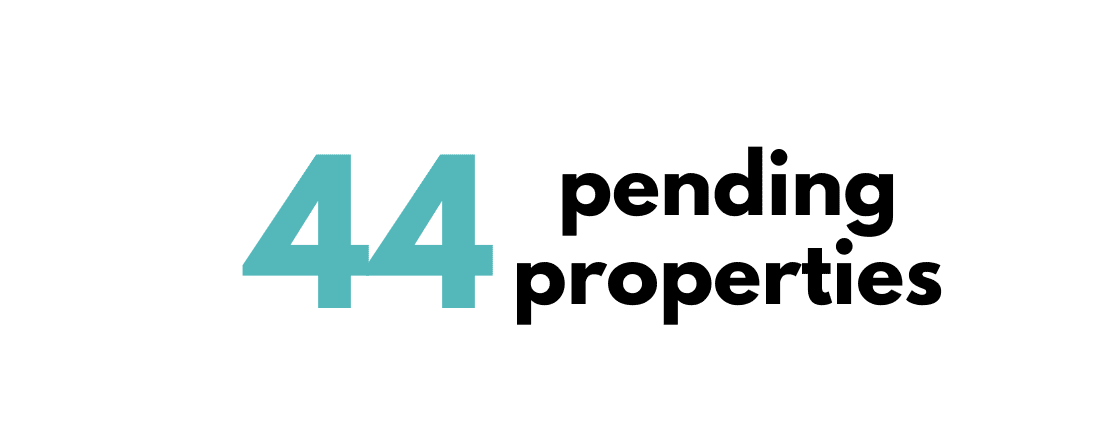 There are currently 44 pending properties, which suggests that the market is strong. Of these 44, 13 are single-family homes with a median list price of $1.99M and 31 are condos at a median list price of $1,450,000. Despite higher interest rates, there is great demand for Coconut Grove. Buyers are not on the sidelines. The pandemic migration still hasn't subsided. There is still great appetite for Coconut Grove.
Median Sales Price-deeper look
Let's take a closer look at median sale prices. Concentrating on median prices and not average prices might allow us to paint a better picture. After all, median prices are less sensitive to extreme values or outliers. Extreme high or low values have greater impact on averages than on median prices.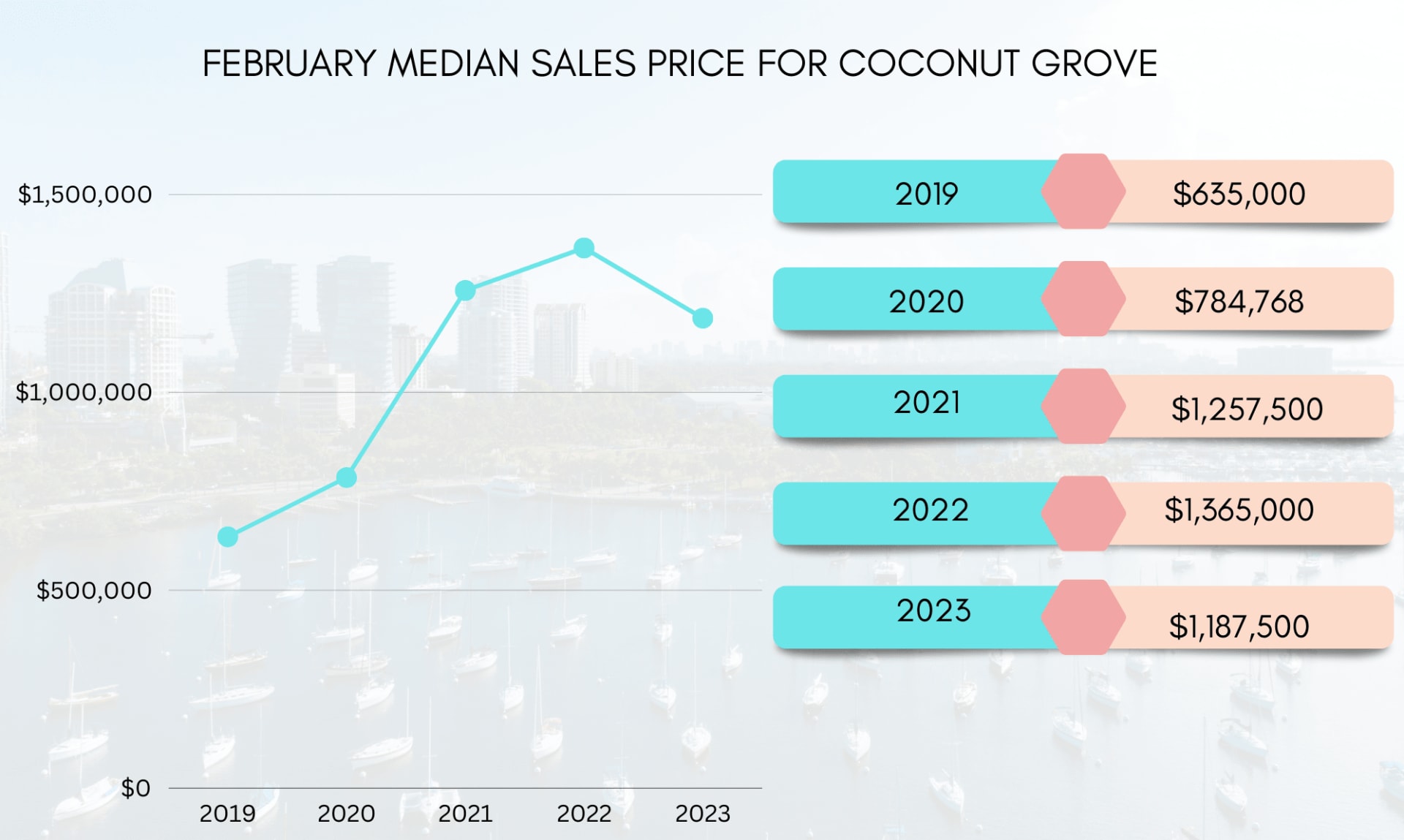 Coconut Grove's February median sales price for all properties is $1.187M., more than twice than Miami's median sales price of $480,000. It has been appreciating steadfastly since 2019. While the median price in Feb 2023 decreased 12.9% from $1,365,000 in February 2022, it is 86.9% more than pre-pandemic February 2019.
Single-Family home and condo/townhomes median sales price
The February drop in median sales price for Coconut Grove is in the condo market. Median price for single-family homes sold in Feb 2023 is $2,195,000, a 9.75% jump from last February, which was $2M. Condo's median sales price is down 7.3% $1,072,000 in February 2022 to $1,000,000 in February 2023.


Yet, an interesting data to point out is that highest price sold in February 2023 is $6,275,000 nearly $400,000 more than highest sale for Feb 2022, which traded at $5,890,000. On the other side of the spectrum, the lowest property to trade in February 2022 closed at $200,000 for 439 SF. In February of this year, it is $400,000 for 650 SF.
We should understand that existing median price only tells part of the story. It doesn't tell you that the median size of the properties sold in February 2023 is 1,669 sf or 13% smaller than the median size of 1,927 sf sold in February 2022. It also doesn't tell you that buyers may be paying more per square foot for less space.
The median sales price per square foot in February of this year hovers at nearly $800/SF, representing a 7% increase from same period last year.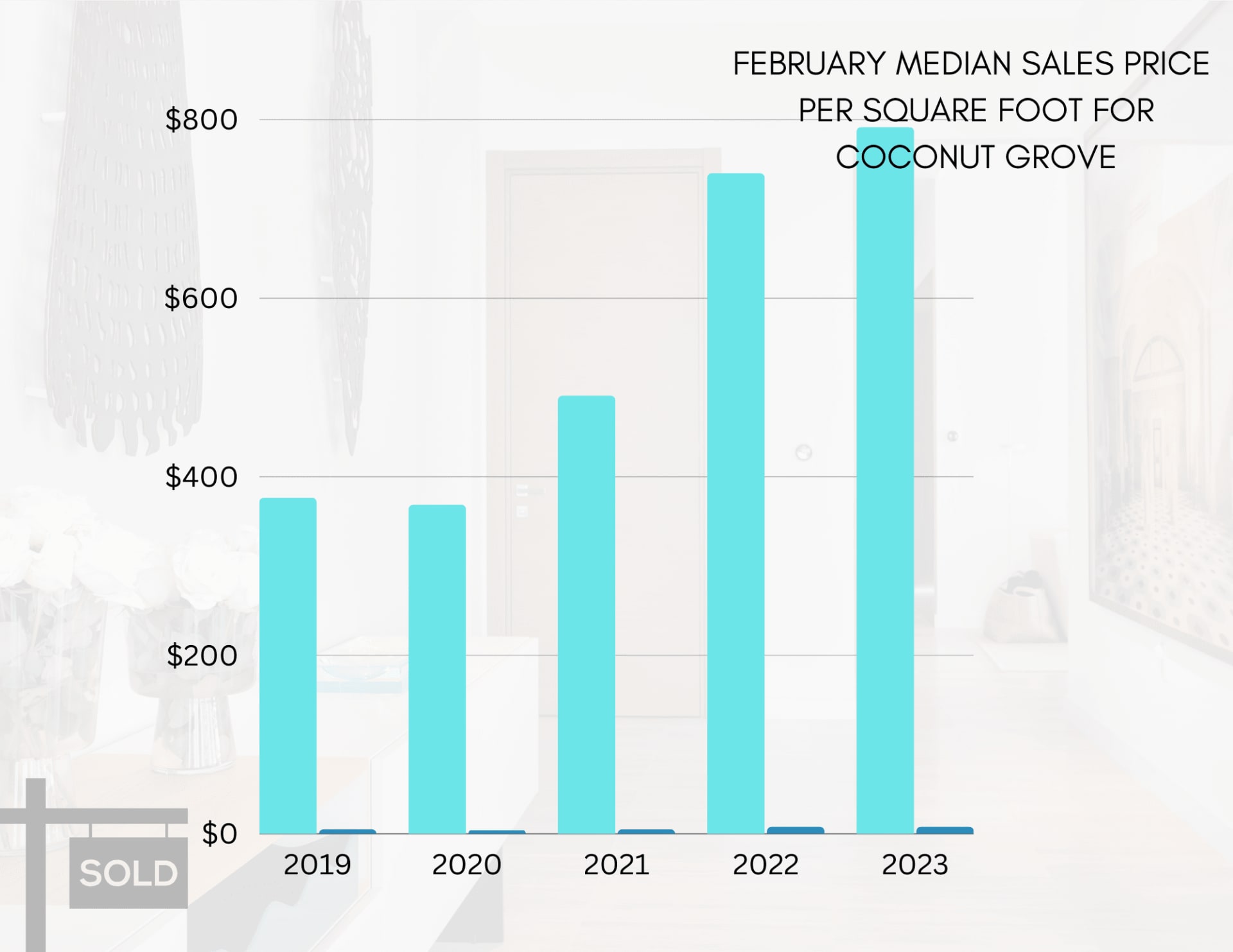 Sales Volume
A headline-grabbing stat is sales volume. Yes, sales volume is down about 50%. 24 properties exchanged hands (8 homes, 16 condos) in February 2023 vs. 53 (15 homes, 38 condos) sold during Feb 2022. We must be careful here to jump into any conclusions that might not correlate with reality. The fact of the matter is that volume may be down not because of lack of desire or demand. It may be down because of lack of supply. Coconut Grove is in an inventory crunch, especially for newer built homes.
Absolute sold prices are up, further indicator that inventory is still tight and demand is high which continues to affect pricing. Simply put, low supply and high demand create higher prices. Buyers still want to move and rather quickly to Coconut Grove whether from other areas in South Florida or from other states.
Days on the market
The fever pitch of 28 days for pending properties to close experienced in February 2022 is a tad more tempered at 42 days in February 2023. However, the velocity is still prevalent, telling us that Coconut Grove is a magnet. Also, as we can see, cash deals are still reigning (sales with financing can take at least 45 days to close). About 60% of Miami's transactions are cash.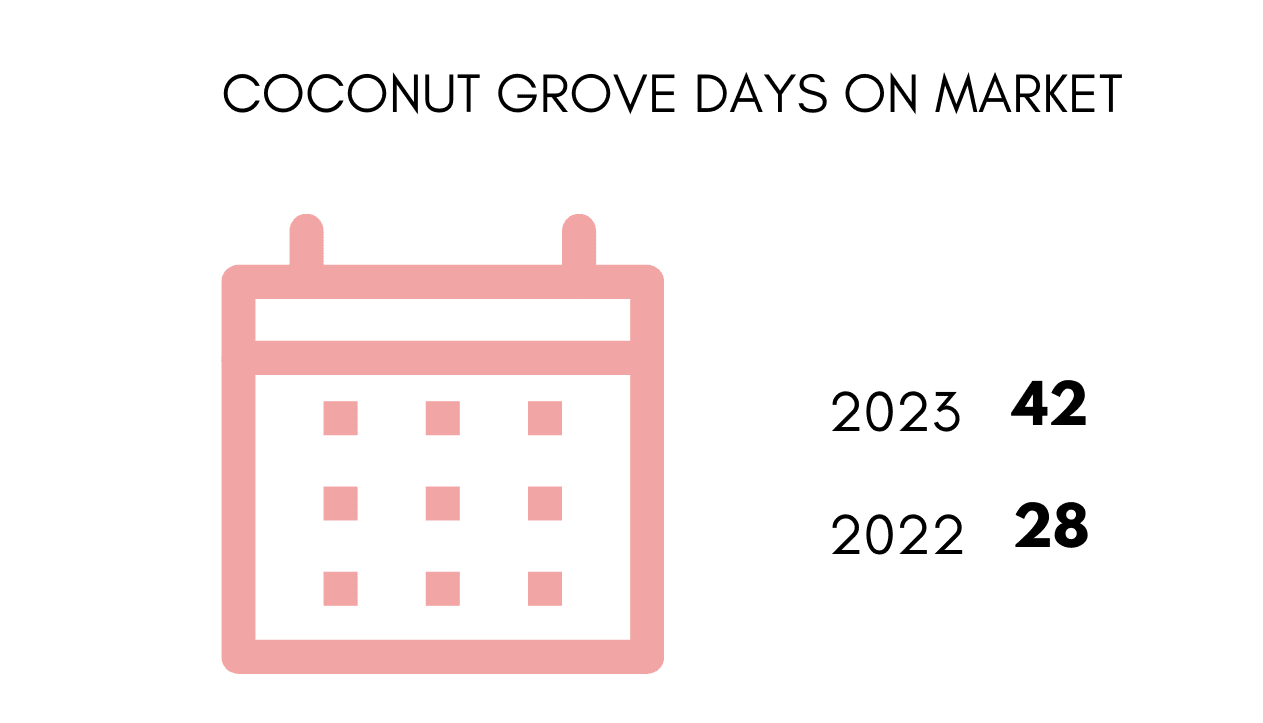 The secret is out
What we have been saying since we handled exclusive sales for Park Grove since 2014 until we delivered it, is no longer a secret – Coconut Grove is one of the best neighborhoods in South Florida.
It has a small-town feel, enjoys a privileged waterfront location, has among the best schools in the nation, boasts swaying palm trees that line the charming streets, offers over 11 parks making it the greenest area of Miami, the list goes on and on. You get our drift.
The Grove began experimenting its upswing with the delivery of the development Park Grove, which we were honored to be part of the exclusive sales team. Covid-19 solidified it as one the top primary residence market for relocating and local families alike.
Ready to relocate to Coconut Grove?
Moving to Coconut Grove is great for buyers interested in a neighborhood that's close to the beach and outdoor spaces, that offers a range of luxury real estate options, and whose community is welcoming and warm. When you're ready to start your search in the area, contact one of the experienced agents on
The APT Team
to guide you through the process.
Ready to sell your Coconut Grove property?
When you're ready to list and sell your Coconut Grove property, contact one of the experienced agents on The APT Team to guide you through the process.
Not
responsible for MLS, input or calculation errors or omissions. Information is not guaranteed. Equal Housing Opportunity.