Coconut Grove red hot real estate market in 2021
We have witnessed firsthand the transformation of Coconut Grove. We at THE APT TEAM, along with our other inhouse colleagues of Park Grove, have been instrumental in helping increase the values and revenue for the city. For nearly seven years we worked on the $700M Park Grove designed by Rem Koolhaas and Shohei Shigematsu of OMA, developed jointly by Related Group and Terra Group and sold exclusively by Douglas Elliman. We don't say this to brag (although we are a bit). We say it because we know the area. We sold it. We sell it. We understand where it was 7 years ago and where it is today.
Sales for 2021 (January 1-August 20, 2021) have shattered every record imaginable for Coconut Grove. A spec estate on 3488 Saint Gaudens Road was sold for $65M. This surpassed the $45.9M sale of 3085 Munroe Drive.
After we conducted this study, yet another notable sale was made. 3503 Main Lodge in Camp Biscayne sold for $19,000,000 on 8/20/2021. It was a mere 33 days on the market. With 11,253 Sqft, it traded at $1,688/Sqft.

We started seeing the trend increase for Coconut Grove late 2019, when we had sold over 75% of the One Park Grove residences. Yes, it's true that the market had downshifted a bit in 2019 but it started to pick up in the latter part of the year. We kicked off 2020 with less than 13 residences remaining to sellout the building and the entire development. Local empty nesters were moving into the area as were the Northeast transplants with kids who were relocating south to put them in our private school system (Coconut Grove is known to have some of the best schools in the nation).
Covid-19 kicked everything into high gear. We must confess we were a bit wary about the delivery of One Park Grove, which coincided with Covid-19 2020 peak. Instead of experiencing a lull or a downturn, Park Grove and Coconut Grove started getting an influx of activity and demand that has only increased exponentially ever since. The ability to work remotely (one of the unintended effects of Covid-19), the school system, green spaces (Coconut Grove has more parks and green areas than any other neighborhood in Miami, walkability, its neighborhood feel, its privileged bay front setting and a higher barrier entry than other zones in Miami are the main reasons that have lured so many buyers (both local and national) to make the move to Coconut Grove. A more favorable tax atmosphere has been an added plus for out of towers migrating south.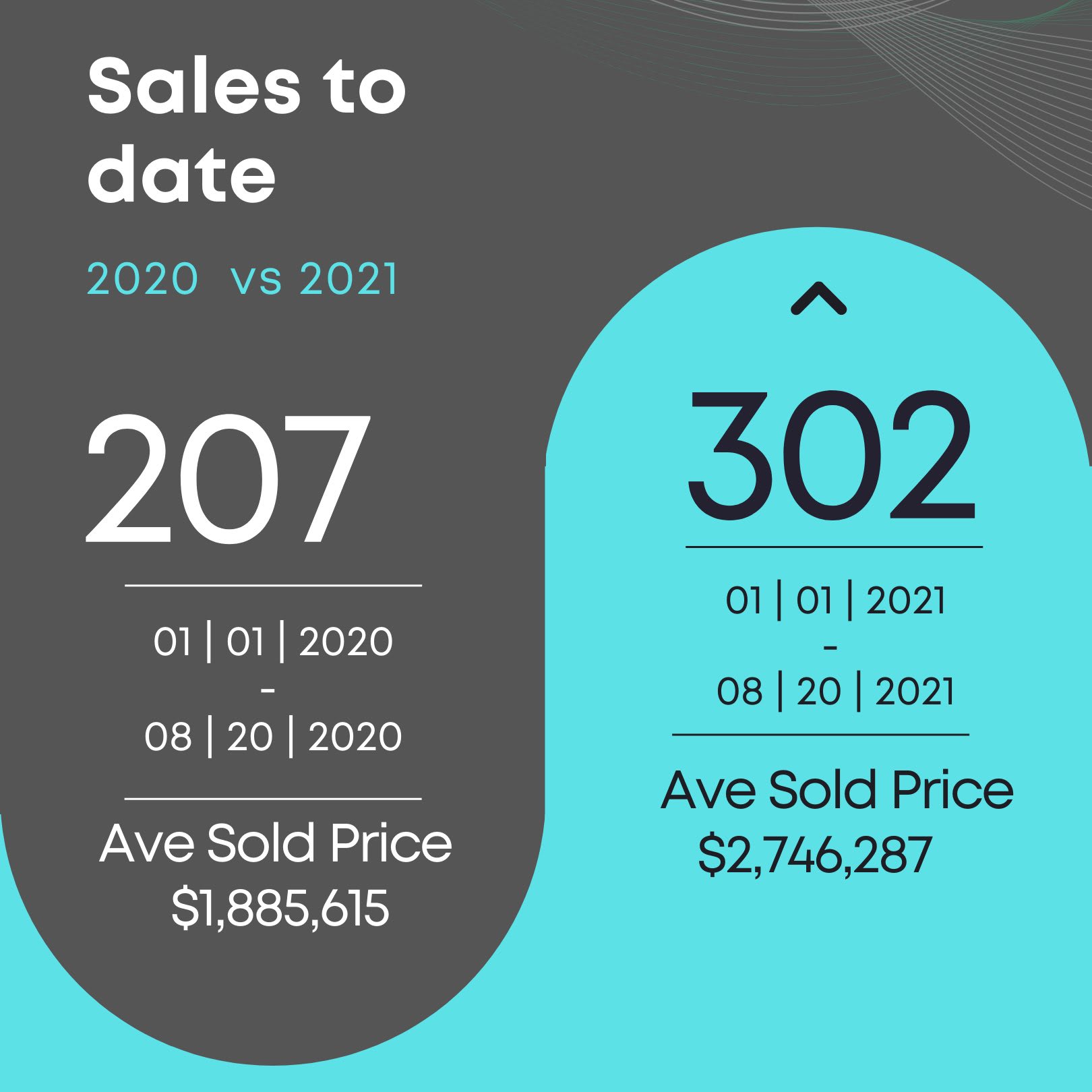 The market is at an all time high. The Coconut Grove phenomenon that took shaped during the onset of the pandemic is not dissipating. The number of sales is up 170% from same period last year and 46% from the total sales in 2020. So far this year, 302 properties in the $1M and over range have been sold compared to a total of 207 properties (single-family homes and condos) sold in 2020. If this is not impressive, let put it this way - During the first 7 months of 2021, 95 more properties have been sold than the total amount traded the previous year. We are not even considering the 41 pending contracts and the 27 properties that are active with contract.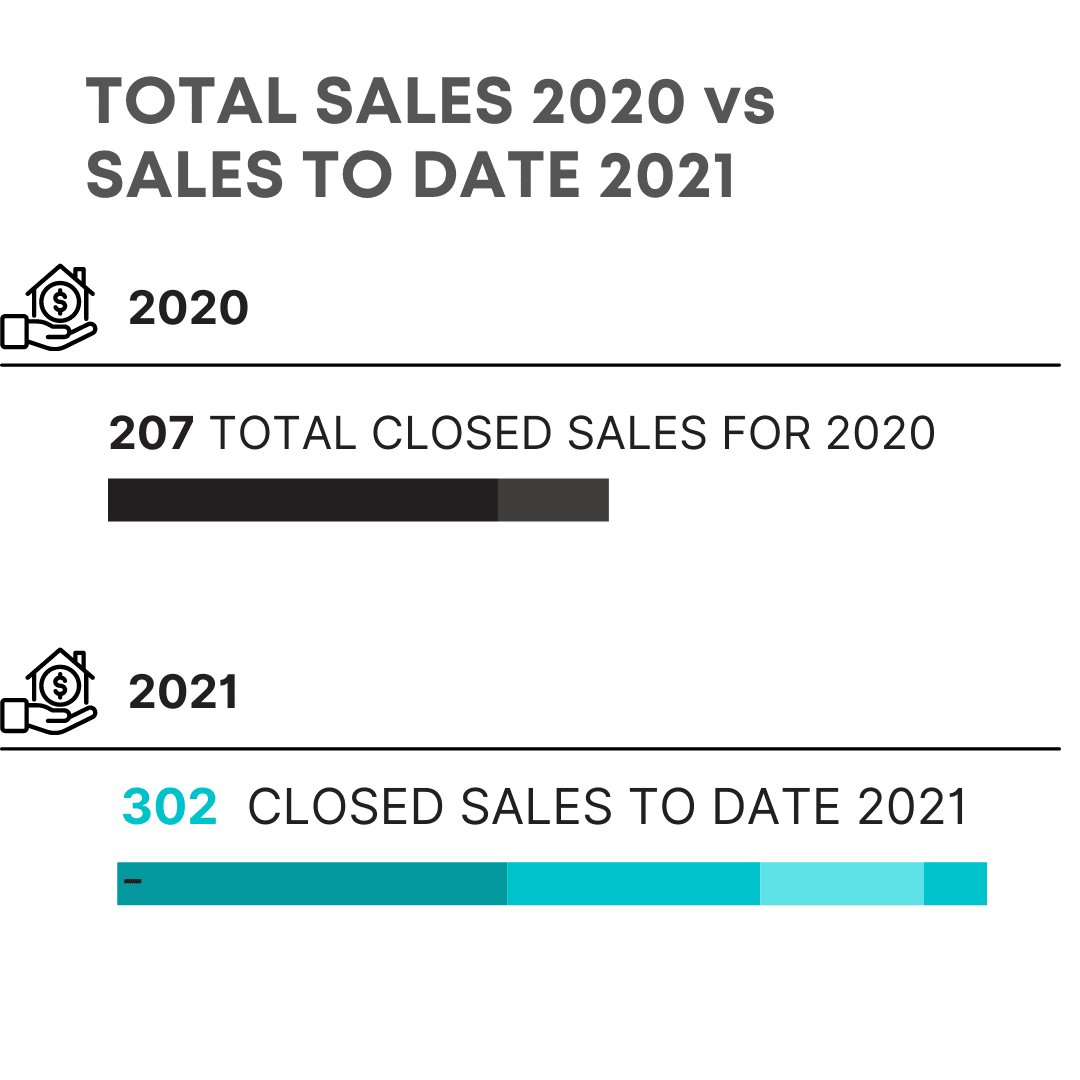 Property values for single-family homes & condos are appreciating
The Average Sold Price per Square Foot is an important indicator for direction and behavior of property values. The average sold price per square foot increased 34% from same period last year and 28% from prices sold for the entire 2020 to $732/SF. The Average sold price to date for 2021 is $2,746,287, a 41% jump from the average sold price for 2020 of $1,936,606.
The highest sale for

2020

: $9,600,000
The highest sale for 2021: $65M (off market) and $48M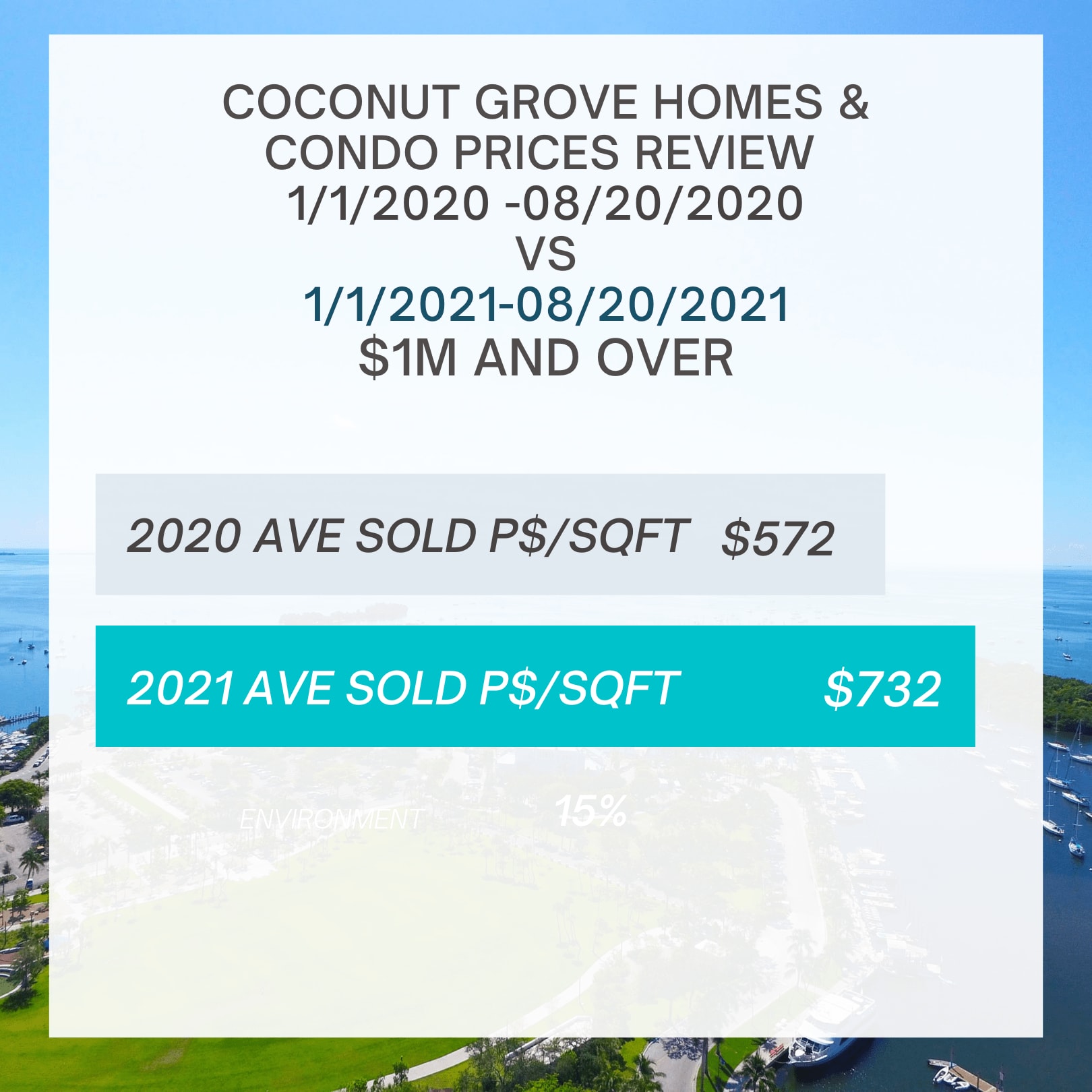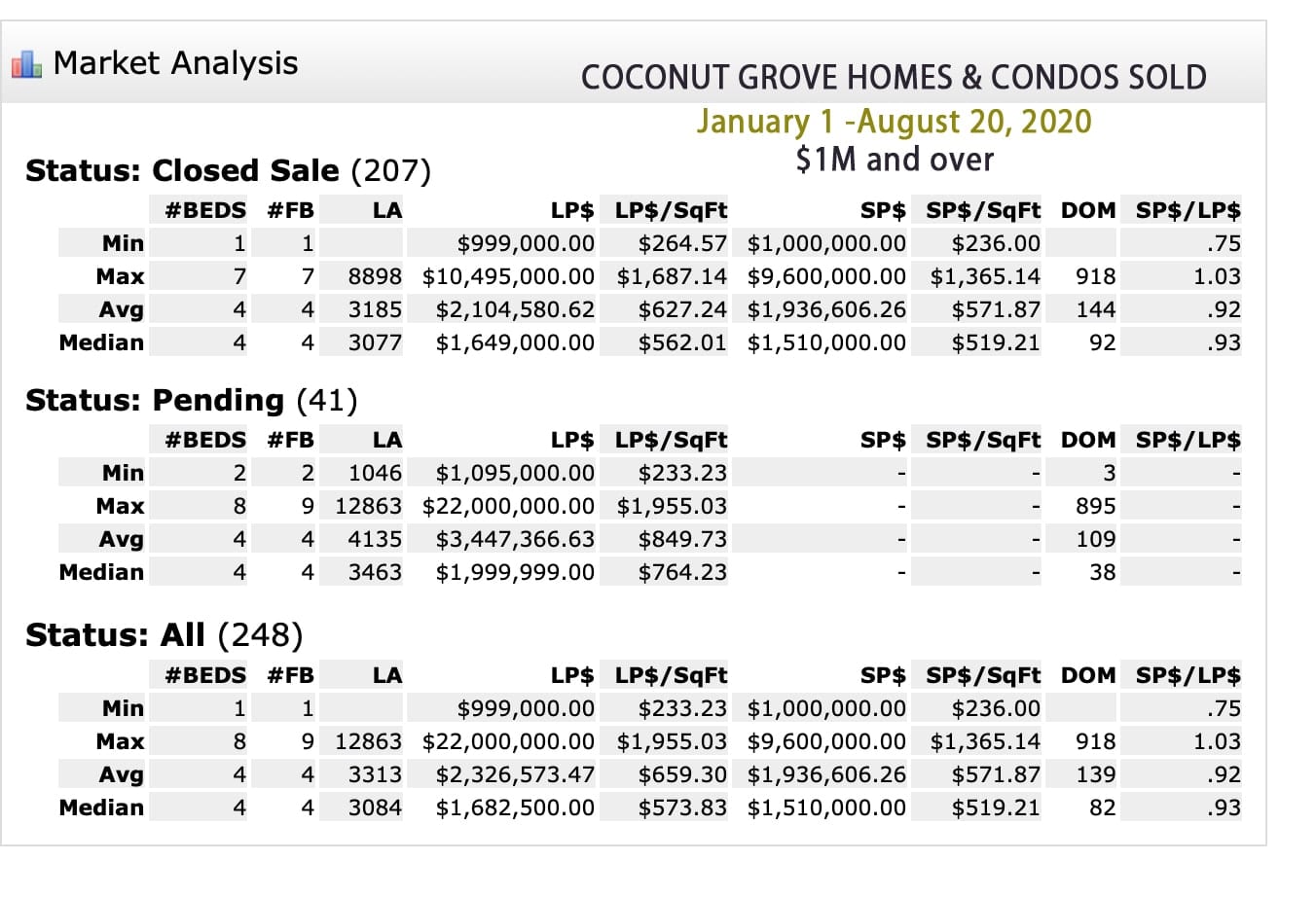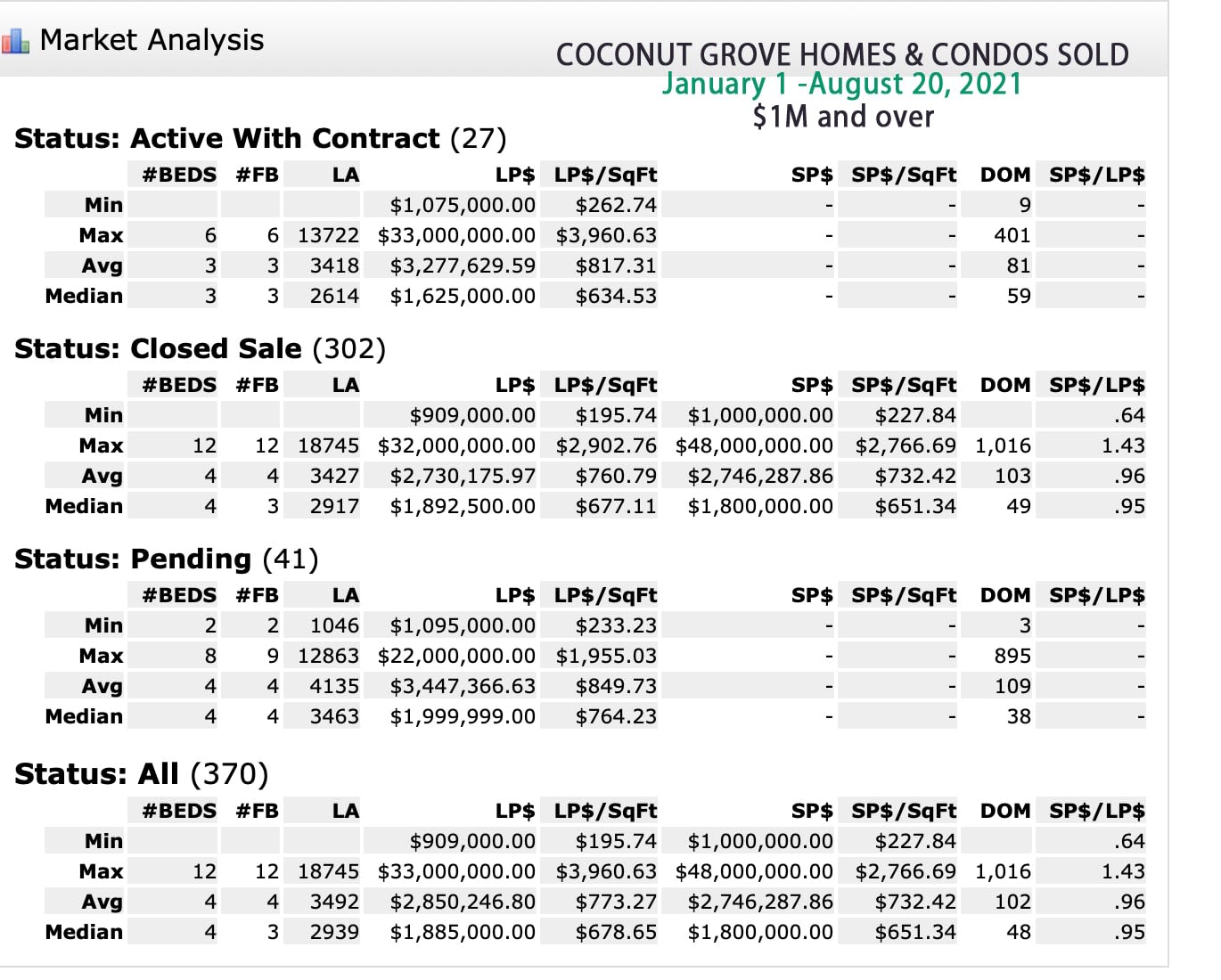 Days on the market downward trend
Days on the market are showing a downward trend for Coconut Grove single-family homes and condos. Days on market has dropped 32% from 144 in 2020 to 103 currently. Days on the market is another indicator of a seller's market. Properties are taking even less time to sell.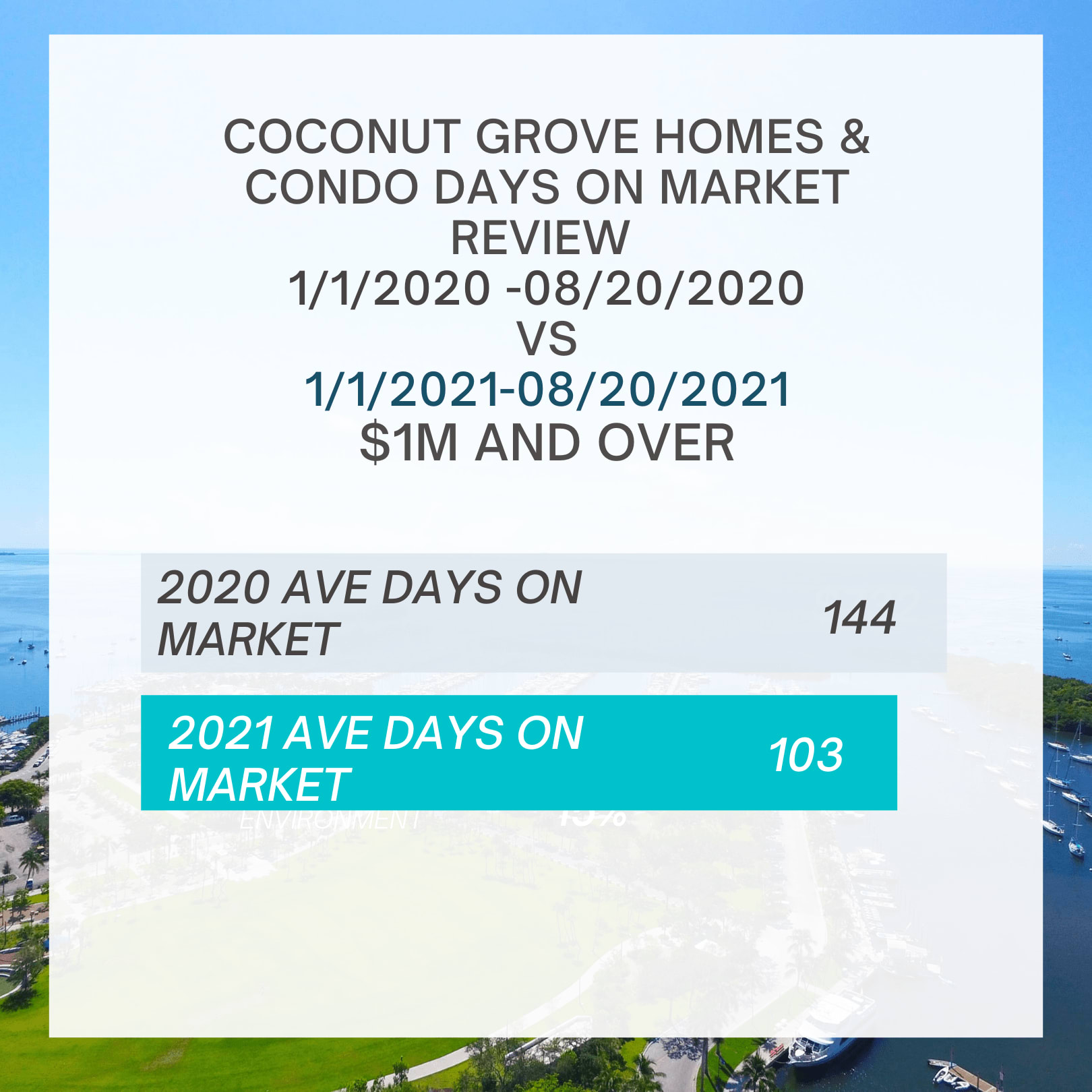 Active with contract
Active with contract is a status that has gained in popularity and virtually had never really been used until recently. What it means is that sellers can still entertain and accept back up offers. Active with contract is yet but another sign that the seller market is very frenzied.
Active with contract are for "Properties in which a written offer has been accepted but the Seller agrees to continue to show the property AND Accept backup offers. Sub-categories for Active Under Contract include, but are not limited to, Kick Out, Third Party Approval, Attorney Review Period, and First Right of Refusal".
Ever since we have been selling and addressing real estate, we haven't witnessed the flurry of bidding wars we are experiencing today. Both homes on dry lots and waterfront homes have been shattering records since last year.
Let's dig deeper into the sales and break them down by category.
The Big whales -waterfront homes
Waterfront homes in Coconut Grove have been the leading record breakers. Prices have surged. Records have been shattered. Whether bought as trophy properties, bragging rights or to enjoy the quintessential Miami life on the water, these homes are the hottest commodities. Waterfront homes sold in the January 1 - August 20, 2021 period have sold at an average price per square foot of $1,336. Average price for these properties have hovered at $9.8M.
Prices for waterfront homes in Coconut Grove have been in an upward trend since 2019. In 2019, the average price per sqft. was $802/Sqft. In 2020, the price averaged $912/Sqft and now we are selling at an average of $1,336 with some fetching upwards of $2,000/Sqft.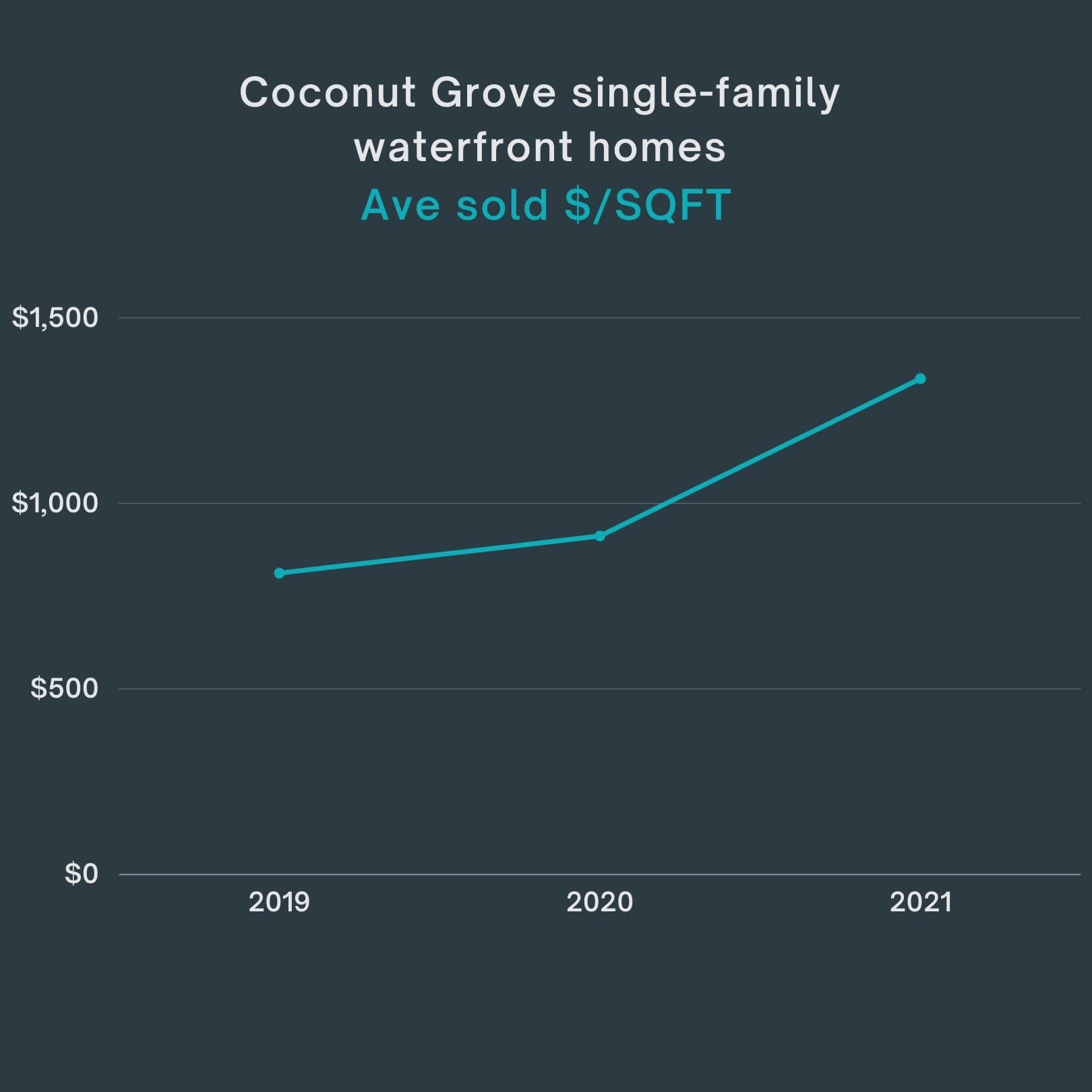 These figures don't include the sale of 3500 Curtis LN, structure which sits on 2+ acres on Klebba Bay Estates in Coconut Grove and was sold on 8/12/2021 for $48,000,000.
Dry lot homes elevated sales
Dry lot homes have also traded at elevated paces. Bidding wars have been sparked. Prices and volume thresholds have risen higher, with sold prices averaging $2,285,210 or $680/Sqft. View stats.
The 13,283 SF home on 3725 Leafy Way closed for an unprecedented $1,270/SQFT, closing at $16,875,000.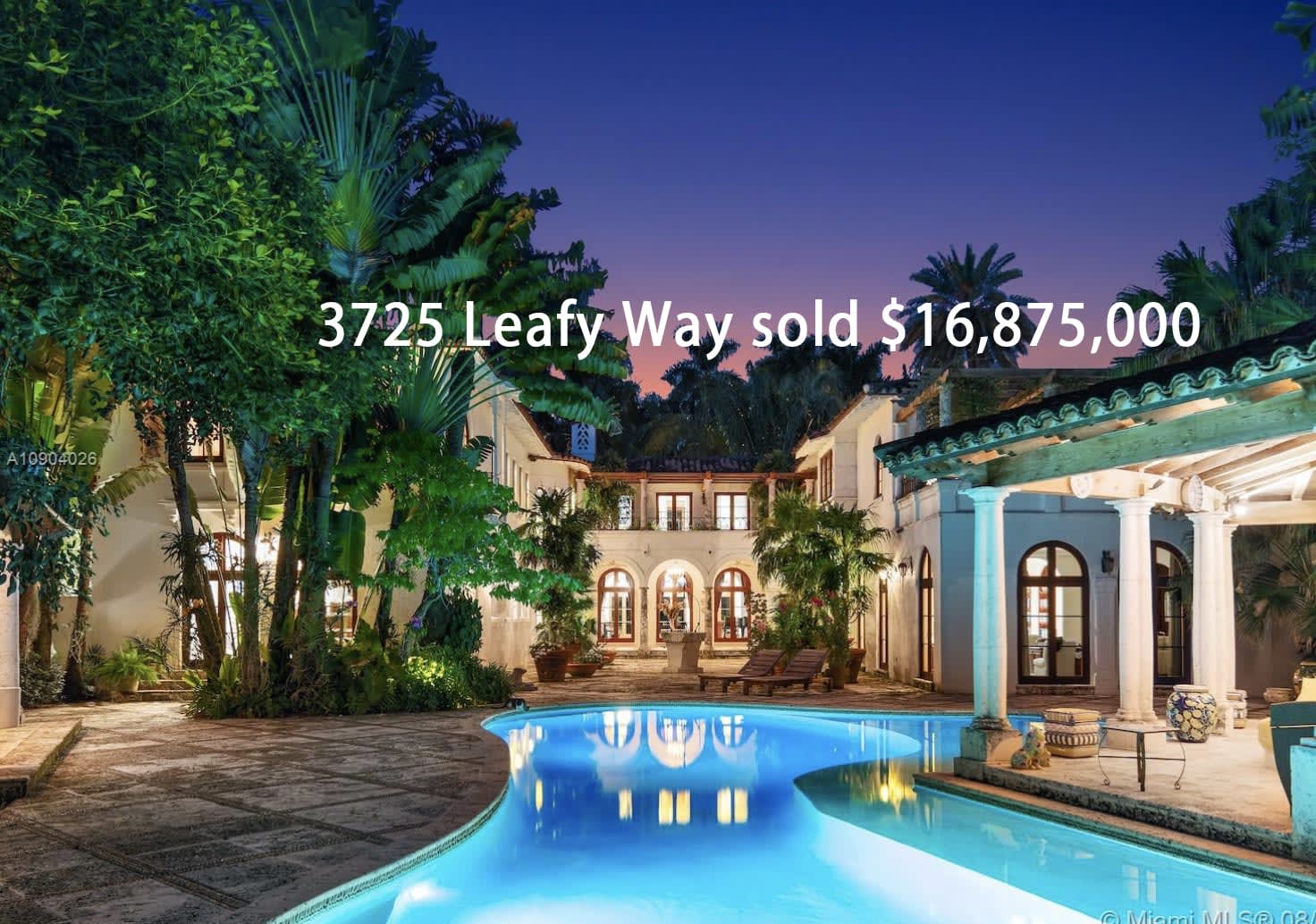 Waterfront condos have been setting new records as well
Waterfront condos have seen record sales and increased volume. The newly delivered, luxury 66 condo One Park Grove has led the pack with sales hitting $1,700+/Sqft. Grove at Grand Bay is also enjoying new price thresholds with condos trading steadily. Sales pace has picked up by 187% to 67 condos sold to date versus 23 condos sold same period last year. Average sold prices have also increased by 27% from an average of $710/Sqft to $899/SF.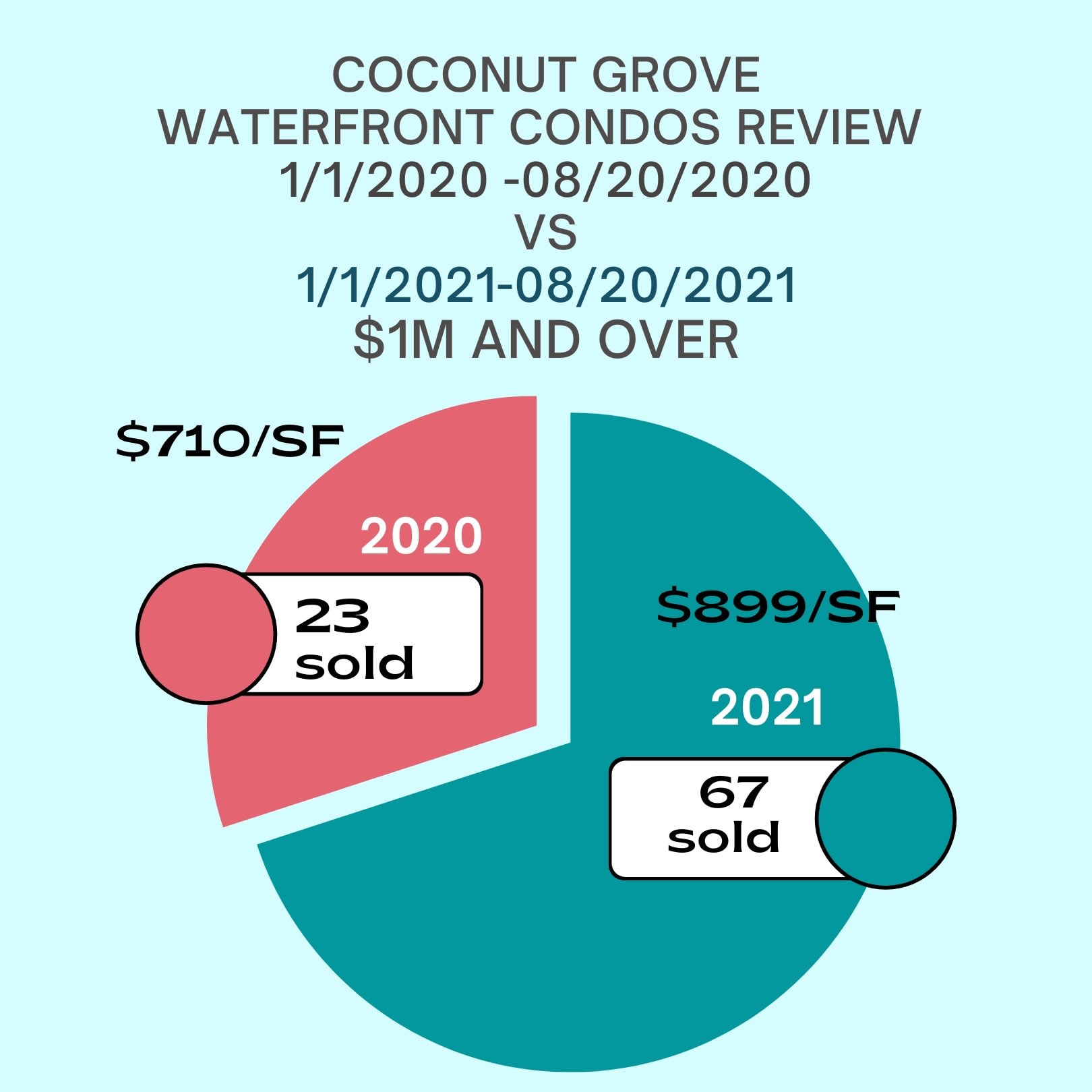 Download 2020 waterfront condo sales
Download 2021 waterfront condo sales
4 bed condo in Park Grove for sale
Click here for Coconut Grove availability
Click here for Miami most recent sales