Housing is sensitive to rising mortgage rates. Nevertheless, Miami May 2022 total home sales finished 21.9% higher than May 2018 (3,198 vs. 2,622). Many of the homes that sold in May 2022 had their rates established in March and April when mortgage rates were at 5%. 2018 marked the last time mortgage rates were at the level.
May 2022 second-best May in Miami's history
May 2022 was the second-best May sales month in Miami's history, as reported by the MIAMI Association of Realtors (MIAMI) and the Multiple Listing Service (MLS) system.
Even with higher mortgage rates, depleted inventory and higher prices, total closed sales in May 2022 outperformed every other May in terms of prices, velocity and almost every other metric except total sales. May 2022 was only outperformed by the record-shattering May 2021.
Total Miami's May 2022 total home sales decreased year-over-year (3,198 in May 2022 vs. 3,536 in May 2021) but performed significantly higher than every May outside of May 2021. 2021 and May 2021 sales increased so exponentially because of the pandemic-frenzied demand, 3% mortgage rates and higher supply (specifically in condos).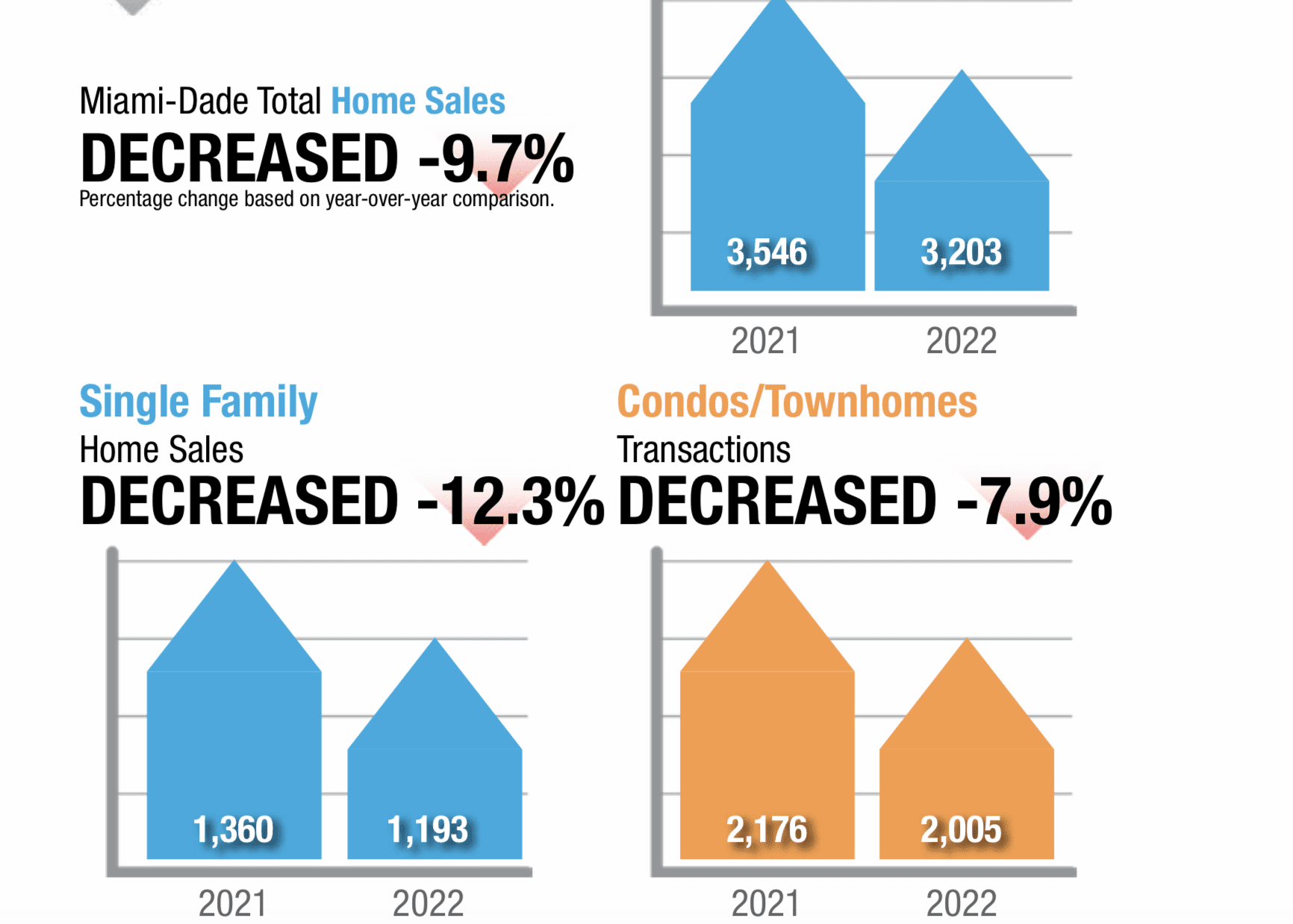 Miami sold 1,193 homes in May 2022 versus 1,360 in May 2021 (12.3% drop). However, median prices for single-family homes increased 15% to $575,000 from $500,000. Months supply of single-family home inventory is still way low at 2.2.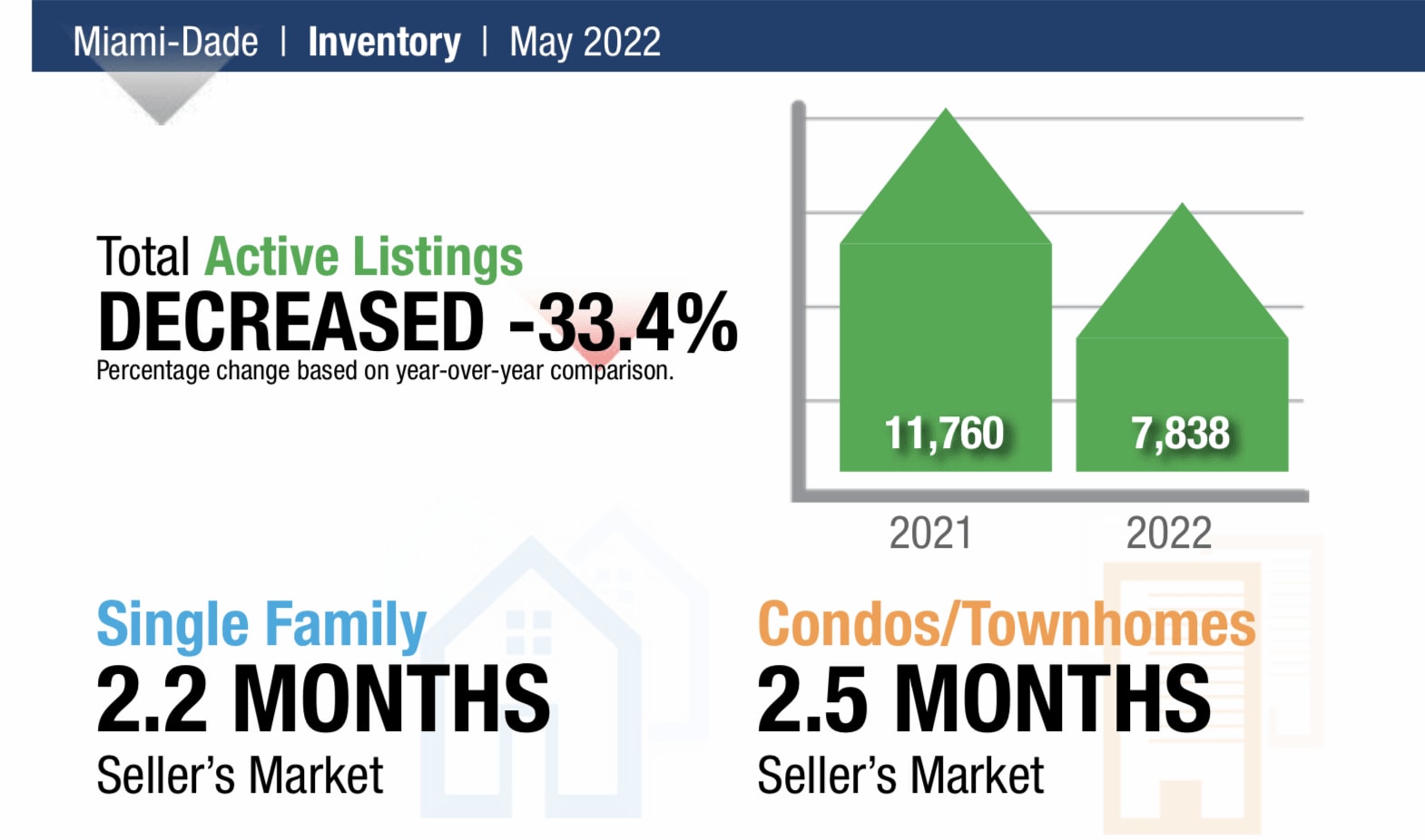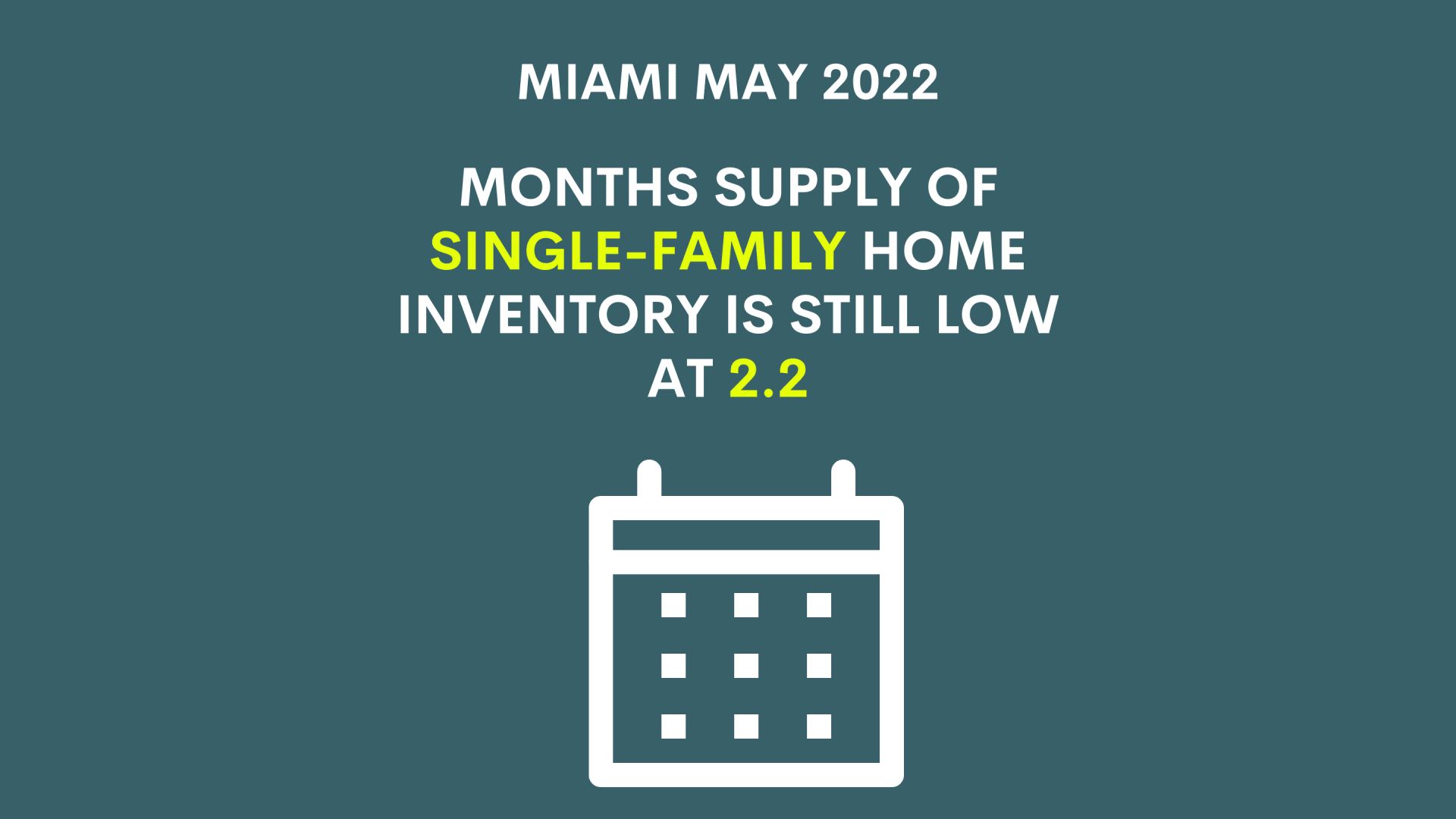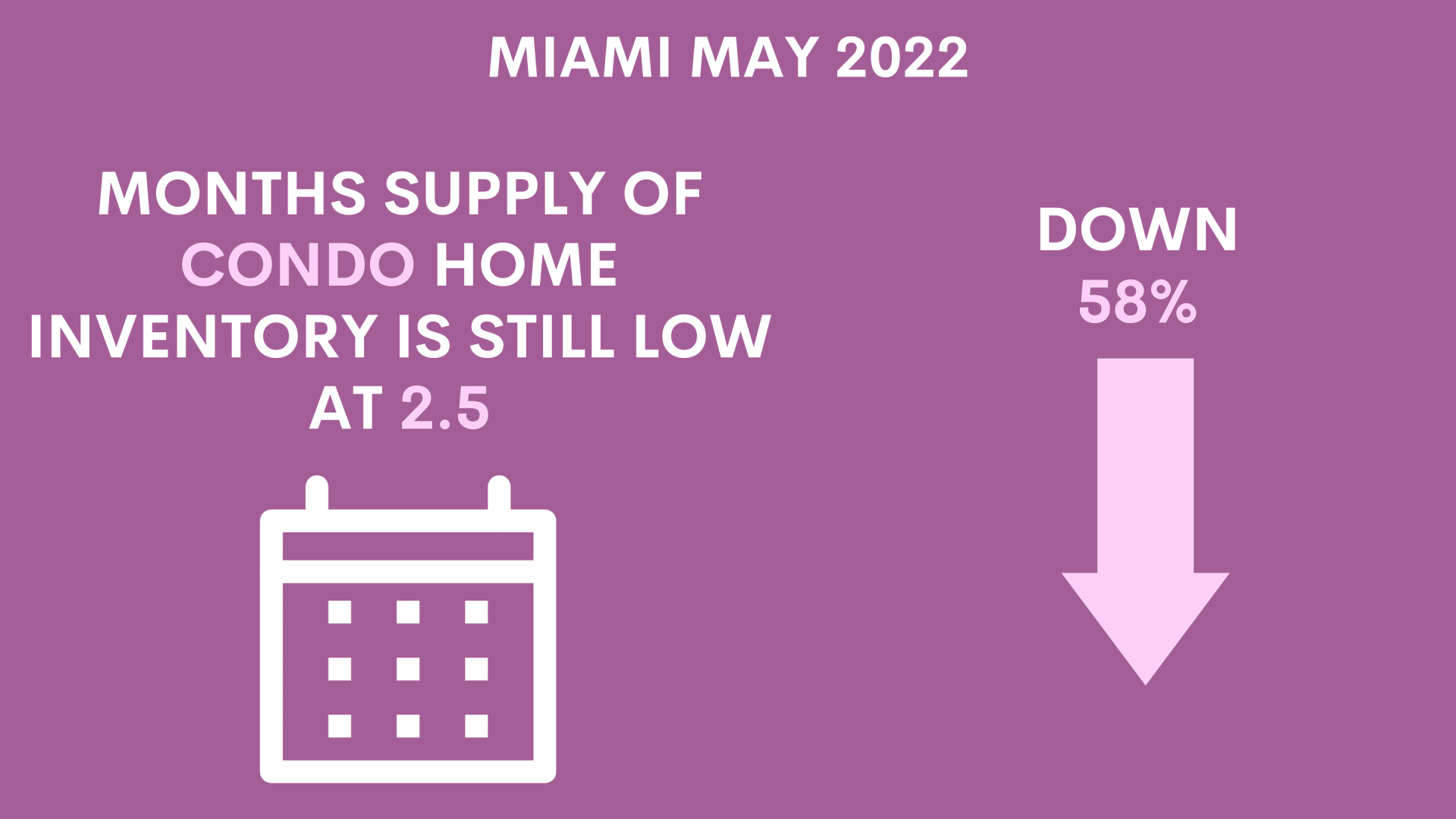 In the condo sector, there was a 7.9% drop. 2,005 condos sold in May 2022 versus 2,176 sold in May 2021. Median price increased by double digits to 27.7% from $325,000 to $415,000. The time it took to sell a condo dropped by 28.7% to 67 days from 94. Plus, the ticker here is that months of supply of condo inventory sharply declined by 58% to 2.5 from 6 months.
Here are other takeaways and excerpts from the report, and we quote
"The rapid rise in mortgage rates, from an average of 3% to 6% over the past six months, is tempering Miami real estate's historic pace," MIAMI Chairman of the Board Fernando Arencibia Jr. said. "Although top sales marks are still being achieved, higher rates are starting to restore balance to the market. For the first time since July 2019, Miami single-family home inventory rose year-over-year. Look for fewer bidding wars, more days on market and a cooling of the growth-rate of pricing in the months ahead."
Mid-Market $400K-$600K Condo Sales Jump
"Miami existing condo sales priced between $400K to $600K increased 29.9% year-over-year to 426 transactions in May 2022. Miami single-family homes priced between $400K to $600K decreased 4.5% year-over-year to 447 transactions in May 2022, due to lack of inventory.
Mid-market condo sales are increasing because that's where the higher inventory is. There are 2.6 months of supply for condos priced between $400K to $600K. That's the third-highest price range in supply, following $1M plus (6.2 months of supply) and $600K to $999,999 (3.9 months). Demand is so high that if Miami had more supply, it would have more sales.
Miami Luxury Condo Sales Rise

Miami existing condo luxury ($1-million-and-up) sales rose 8.8% year-over-year in May 2022 to 322 transactions, which are in a record-high range. Miami single-family luxury transactions decreased 5.1% year-over-year to 258 sales in May 2022 because of low inventory.
Miami luxury condos boast an inventory of 6.2 months of supply, portending more future growth in the sector given the high demand. There are 4.8 months of supply in luxury single-family homes.
Homebuyers leaving tax-burdened states to purchase in Florida (no state income tax), new-to-market firms moving here, low interest rates, the appeal of property as an inflation hedge, rising wages and accrued savings in lockdowns, strong equity market performance, a reassessment of housing needs and lifestyles because of the pandemic and expansion of remote work are all factors driving South Florida real estate demand.
Rising Mortgage Rates Should Eventually Slow Price Growth Nationally, in Miami
Home prices are determined by supply and demand. Lower supply and higher demand create higher prices. Demand for Miami real estate is at all-time highs. Inventory for Miami single-family homes (2.2 months) and condos (2.5 months) are low.
Locally, the greater share of Miami luxury sales is also part of the reason for the large year-over-year increase in median prices.
To battle national inflation, the Federal Reserve has aggressively raised rates this year and has plans for more hikes. High inflation and the Fed's tightening policy are the main drivers behind rising mortgage rates.
Mortgage rates have risen from 3% in January to 6% in June. On the same $300,000 mortgage, the monthly payment has risen from $1265 in December to $1800 today, according to NAR.
According to Freddie Mac, the average commitment rate for a 30-year, conventional, fixed-rate mortgage was 5.23% in May, up from 4.98% in April. The average commitment rate across all of 2021 was 2.96%.
The mortgage rate is projected to land at 5.3% by 4Q 2022, according to NAR. That is still low compared to an all-time average of about 8% in the U.S.
Long term, the hope is higher rates will lead to more days on the market (gives buyers more choices). Higher rates will eventually lead to a moderation of the growth rate of pricing. With the growth rate of pricing cooling, total inventory could grow later. Historically, inventory expands six months after rates rise, but today's market is unlike any other.
Miami home prices haven't begun to moderate because inventory is low. Also, one of the supports for home prices is rents and rents are rising strongly.
Is the housing market like 2008?
Stay on top of South Florida, Miami and Miami Beach market.
Don't miss a beat with THE APT TEAM.
Got questions? Email us at [email protected]