Miami Beach: It's known for constant fun, natural beauty, and loads of entertainment. But it's also diverse, with its many different neighborhoods, each offering a unique experience.

So, which Miami community is right for you? We're taking you through the best Miami has to offer.


Coral Gables
Coral Gables is one of South Florida's oldest areas and is full of historical beauty. George Merrick established the area in 1925 with a vision of creating a center of luxury and recreation. Today, it remains a favorite of visitors and residents alike. Also known as "City Beautiful," Coral Gables has a number of luxury subdivisions like Cocoplum, Tahiti Beach, Gables Estates, Gables by the Sea, each with its own character. It's certainly one of the more prestigious and desirable family-friendly Miami neighborhoods, offering some of the most sprawling estates in the area, like a $50M home in Gables Estates.

One of its most notable features is the giant Venetian pool, carved from a rock quarry in the 1920s and adorned with grottos and bridges. (Coral Gables doesn't have ocean views, but it does have this stunning piece.) For botany lovers, there's the Fairchild Tropical Botanic Garden, which has a wide range of exotic tropical plants. There are also a lot of bike paths, as well as areas to walk. Stroll along the European-inspired sidewalks of Miracle Mile as you pop into chic stores or grab a coffee at a sidewalk cafe. Living in Coral Gables transports you to another time and place.
Downtown Miami/Brickell
If you really want to be in the center of it all, there's no better place than Downtown Miami and its neighbor, Brickell.

This area has a lot of high rises and apartments, which average about $400K. It's undoubtedly a hub for modern glitz and glam, but it also has a strong tether to history. The DuPont Building and the Freedom Tower (which is now the Museum of Art and Design at Miami Dade College) are impressive products of the 1900s development boom. Downtown is also home to several museums, like Perez Art Museum Miami and The Phillip and Patricia Frost Museum of Science. Kids love the aquarium and planetarium!

The best shopping in the area is at Brickell City Center. The 107,000-square-foot Saks Fifth Avenue has everything you could ever want, and the dining area is a playground for foodies. Enjoy fresh fish at Pubbelly Sushi or gourmet Italian at Casa Tua Cucina. For outdoor lovers, Bayfront Park is a huge draw to this area. Stroll along the bayfront or relax on a grassy knoll. If you get hungry, Bayside Marketplace, an open-air center for dining and shopping, is right next door!
Bal Harbour
If you'd rather escape to a smaller, luxurious village, Bal Harbour real estate may be right for you. Located at the northern tip of Miami Beach, it's a coveted area with several luxury resorts and gated communities. The median home price here is $1.4M, putting it at the top of the Miami Beach communities. You may have heard of its resorts, which include a stunning Ritz Carlton property and a five-star St. Regis.

Another major draw is the shopping at Bal Harbour Shops, a two-story outdoor shopping experience offering the most popular high-end stores around. Take a peek in Balenciaga or buy some shoes at Tory Burch. You can also eat at one of the Harbour's fantastic restaurants, like Carpaccio and Makoto. Bal Harbour provides designer living with an ocean backdrop.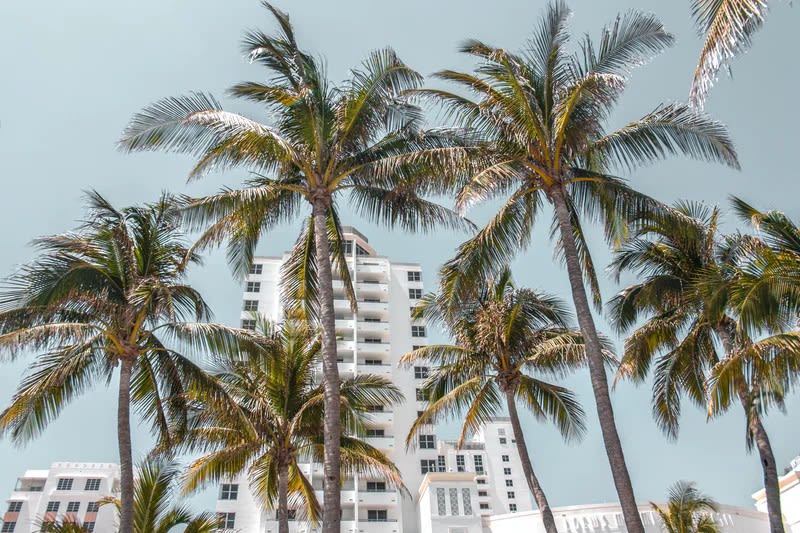 Key Biscayne
Life in Key Biscayne is ideal for those who feel at home in lush, natural areas. Just across the Rickenbacker Causeway is a beautiful oasis with plenty of beaching and boating opportunities.

With a median home price of $1.5M, however, Key Biscayne doesn't skimp on luxury. This exclusive island is also home to the Ritz Carlton Resort, which boasts upscale amenities and stunning stretches of beach.

Key Biscayne is also known for its coastal barrier reef as well as the two parks bordering the island: Crandon Park and Bill Baggs Florida State Park. Bill Baggs is home to the historic 1825 Cape Florida Lighthouse, which is open for tours. Both parks provide beautiful views, scenic escapes, and places to walk, bike, and explore.
Coconut Grove
Coconut Grove is the perfect blend of tropical beauty and deep history. Its bohemian vibe dates all the way back to the mid-late 1800s, and history infuses all parts of the neighborhood. Since its inception, Coconut Grove (or The Grove as named by the locals) has attracted residents due to its breathtaking surroundings, natural beauty, and privileged waterfront setting. Today, the Grove is internationally known for its peerless real estate, including the highest sale to date in Miami in 2021 for a $65M spec home. Here, you will find unmatched opportunities for sailing, shopping, entertainment, dining, and attractions, as well as proximity to some of the area's best private schools and its central location.

Wander through the farmers' markets, boutiques, and art galleries as you soak up this area's laid-back charm. The Coconut Grove Saturday Organic Market serves up delicious vegan food and health and wellness treats. GreenStreet Cafe is a popular all-day breakfast spot — perfect after a long day of shopping at the CocoWalk Shopping center, which has a ton of boutiques, both big and small. There are also plenty of opportunities to get outside in "The Grove."

Vizcaya Museum & Gardens combines stunning views of Biscayne Bay with the regal elegance of a European mansion. There's also The Barnacle Historic State Park, the oldest home in Miami-Dade County. Stroll through and keep an eye out for the many beautiful bird species that call the park home. The median home price in Coconut Grove is $1.3M, making it one of Miami's higher-priced residential areas.
Palm Island
Palm Island is one of three islands connected to Miami by the MacArthur Causeway. It's a 15-minute drive from Downtown Miami and is home to some of the most elite residents around. To live here is to enjoy one of the many architecturally diverse mansions, from Mediterranean to Art Deco. It connects to Hibiscus Island and is surrounded by Star Island, so there's nothing but luxury in this area. Homes here average $18.5M.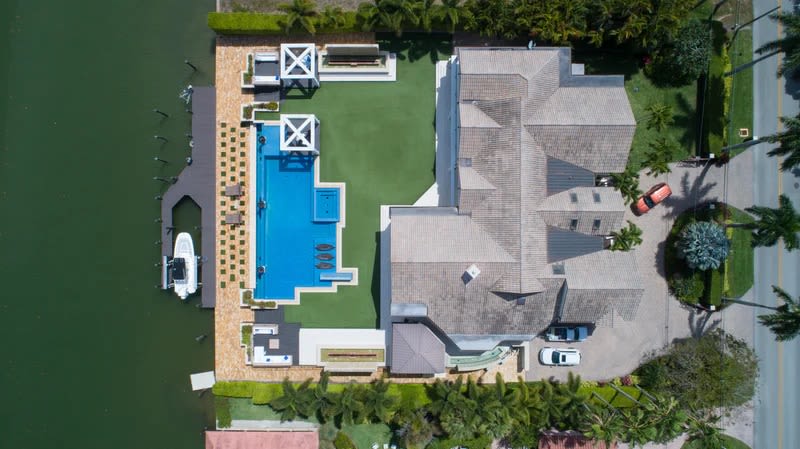 Star Island
Star Island is, as the name suggests, a home for stars. It is a posh and exclusive enclave accessible only by one bridge that houses some of the most magnificent estates and has been home to famous celebrities and Miami's elite. The island is only accessible via MacArthur Causeway and the adjacent Bridge Road. Star Island boasts some of Miami's most stunning waterfront mansions. It's a quick ride from South Beach and Downtown, making it the ideal spot for those who want both privacy and access to glamour. The typical home price here is over $28M. Emilio and Gloria Estefan sold their $35M home in July of this year.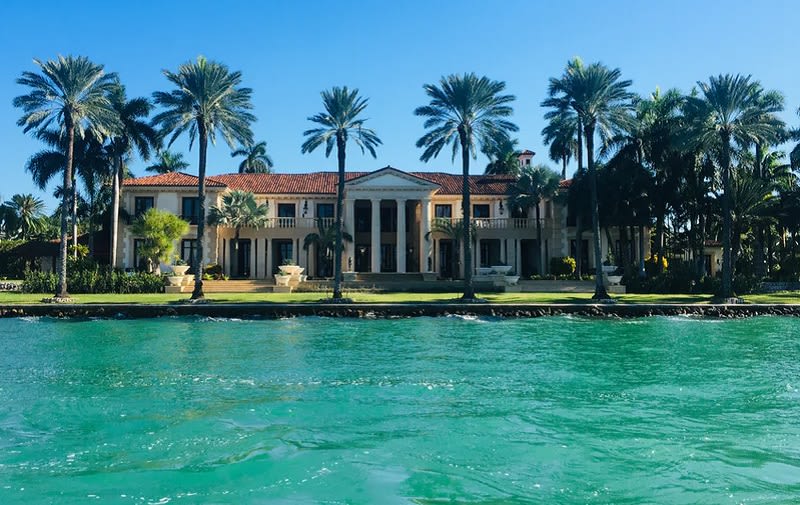 Hibiscus Island
For another example of ultimate luxury, consider Hibiscus Island. Located just north of Palm Island, this exclusive residential area is only accessible via the MacArthur Causeway. Dozens of waterfront luxury homes line this man-made island, which was a popular spot for new builds in the 1930s.

While the island itself is purely residential, it's not far from some of the best parts of Miami. Downtown Miami is an easy drive away, as is South Beach. The island's mansions are stunning examples of architecture, and each one is unique. The median home price here is $6.8M, solidifying the island's reputation as one of the ritziest options in South Florida.
Looking to invest in Miami Beach real estate? Contact The APT Team for the area's most exclusive listings.