Miami is one of the most exciting and diverse cities in the country and attracts newcomers from all over. This cultural capital is desirable for its tropical weather and sun-splashed activities — think of hitting all those wide beaches, golfing on lush championship courses, and boating on Biscayne Bay and in the Florida Keys. There's also a vibrant food and entertainment scene, ranging from the nightlife of South Beach to the Latin flavors of Little Havana.
There are dozens of Miami neighborhoods to
choose
from — maybe you're single and are scoping out luxury condos on South of Fifth. Or, perhaps you have a family and prefer the homes in Coconut Grove, a safe, comfortable neighborhood with great schools and fun parks. Other desirable neighborhoods include Coral Gables, Hibiscus Island, and the resort-like Venetian Islands.
The best way to find a Miami neighborhood is to hire a licensed real estate agent who has several years of experience helping clients find communities that meet their housing and lifestyle needs. A talented agent will take the time to get to know you — they'll learn what you're looking for in a house and what neighborhood characteristics are essential to you, like schools and commute times. Once you've found an agent, you'll be ready to explore Miami's vibrant neighborhoods. We at THE APT TEAM have been addressing Miami's real estate for over 15 years and know the area like the palm of our hands.
Miami Beach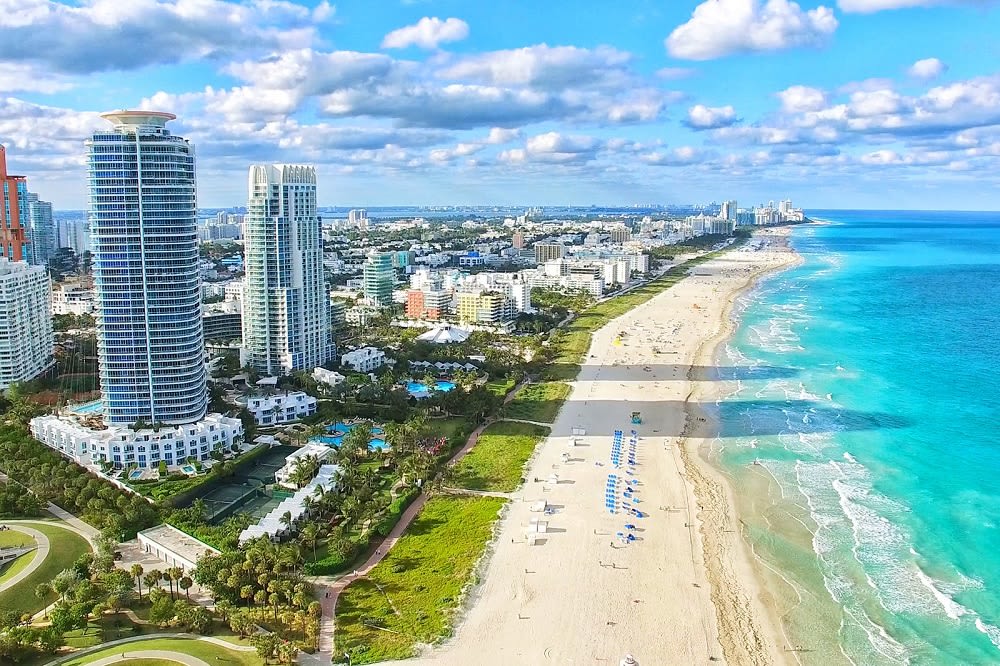 Mention Miami to pretty much anyone and they'll instantly think of
Miami Beach,
with its Art Deco hotels, gorgeous beaches, and the beautiful people and celebrities it attracts. Residents of Miami Beach condos are in the heart of the action, with easy access to beaches, upscale dining and shopping, and hip clubs where music blasts all night long. Miami Beach is known for its condo living, featuring high rises along the beach and single-family homes throughout the neighborhood. Highly walkable, many residents prefer strolling through this coveted neighborhood, as parking can occasionally be challenging to find.
While many people consider Miami Beach and South Beach the same, there is a distinction. Miami Beach sits on a barrier island separated from the mainland by Biscayne Bay. South Beach is the southern portion of that island and is considered a more trendy destination.
South of Fifth
South of Fifth,
or SoFi, is an exclusive and affluent part of South Beach. As its name suggests, the neighborhood consists of the area south of Fifth Street, stretching several blocks to the island's southern tip. Residents of South of Fifth condos love that their community is quieter and a little off the tourist track, all the while offering an incredibly luxurious lifestyle. Some of the most desirable addresses are Continuum South Beach, Murano at Portofino, Icon South Beach and Ocean House. Find your
South of Fifth condo
that best suits your needs.
SoFi has several new condo developments featuring stylish towers that rise above the beach and South Pointe Park, which stretches along the island's southern tip. The views from these condos are breathtaking — those with western views can watch boats come and go from the area's large marina and yacht clubs. SoFi is very walkable and has many excellent restaurants, shops, and
bars
.
Coconut Grove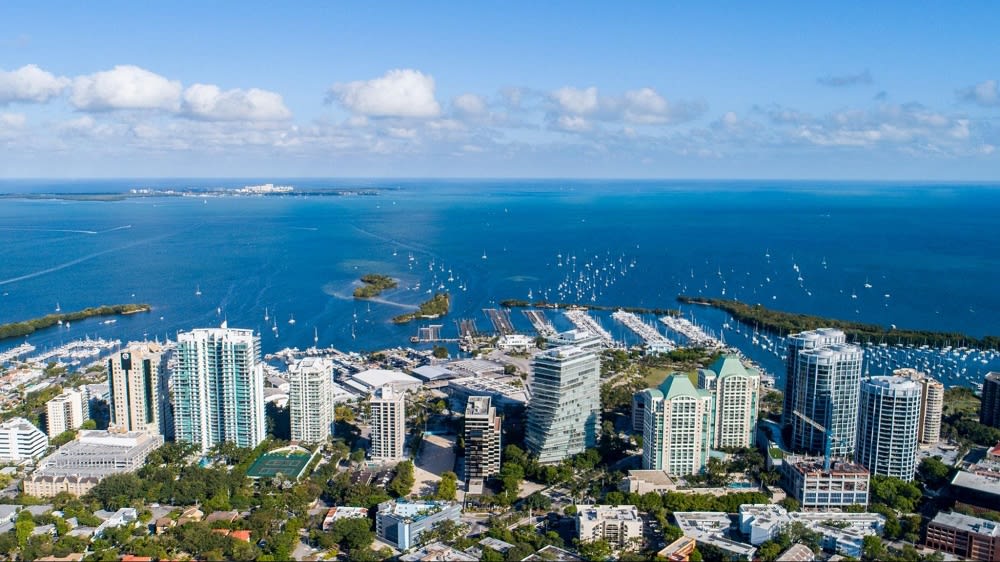 Coconut Grove,
also known as "the Grove," is one of Miami's oldest neighborhoods and most unique. Located on a gorgeous stretch of Biscayne Bay just south of downtown Miami,
Coconut Grove
offers lush tropical landscaping and is known for its bohemian vibes, leftover from when it was an artist hub several decades ago. Coconut Grove single-family homes are perfect for raising children. The Grove also offers many attractions like fun parks and a waterfront fit for boat enthusiasts.
Coconut Grove provides a small-town vibe while situated in the heart of a bustling metropolis. Besides attracting families, it's an excellent place for young professionals who prefer a comfortable lifestyle rather than the party scene over on South Beach. It has easy access to downtown Miami and other neighborhoods and boasts a high-achieving school district.
Coral Gables
Coral

Gables
is another beautiful, posh neighborhood that offers a luxurious lifestyle. Both families and professionals seek Coral Gables real estate, which has many 1920s-era houses and buildings built in the Spanish style. Located next to Coconut Grove, Coral Gables features many open spaces and stretches from Biscayne Bay to just west of downtown Miami. This lushly-landscaped neighborhood is home to the luxurious
1920s Venetian Pool
— where residents can cool off on hot, humid days — and the
University of Miami
, a private research university with nationally-renowned sports teams.
Coral Gables
is home to the landmark Biltmore Hotel and of the best residential neighborhoods of Miami.
Hibiscus Island
Hibiscus Island
is located on one of the artificial islands of Biscayne Bay and features exclusive, gated communities of luxury estates. Nestled along the water between the mainland and Miami Beach, these homes are among the most prized real estate in the area and offer unmatched privacy and luxury. Most Hibiscus Island homes feature direct water access with private docks and stunning views of the surrounding area.
Hibiscus and its twin, Palm Island, were dredged and created in 1922 by the Army Corp of Engineers. Designed to run parallel, you can reach Hibiscus Island via MacArthur Parkway and Fountain Street, which runs through Palm Island. Residents have easy access to downtown, South Beach, and many other parts of the metro area.
Venetian Islands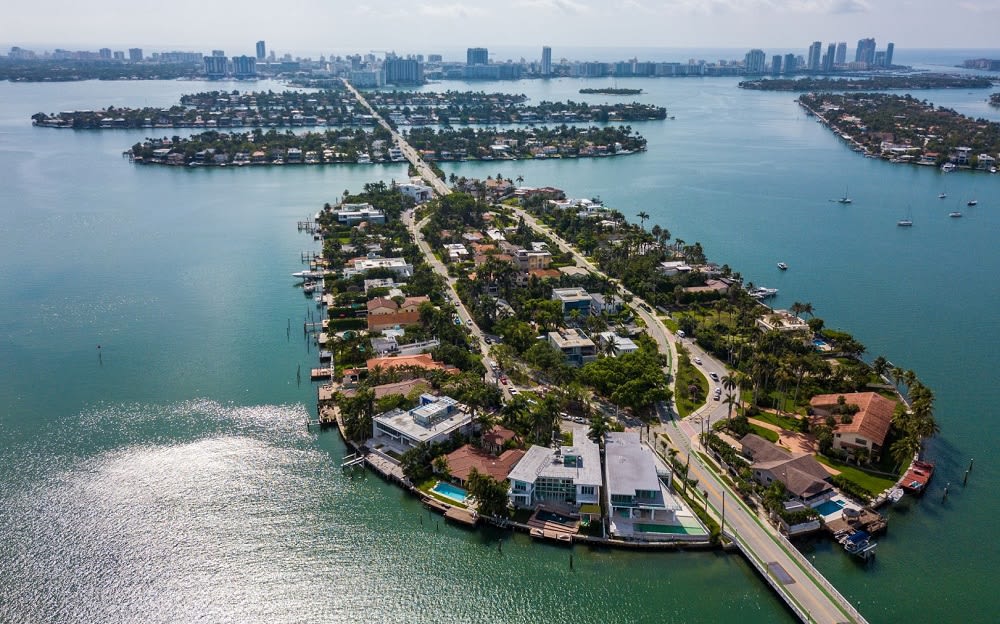 The Venetian Islands
sit just north of Hibiscus Island in Biscayne Bay. The luxury homes in this beautiful Florida community are some of the most exclusive properties in Miami. This community is known for its lavish mansions and estates, many with private docks and swimming pools. From west to east, the islands that make up the Venetians are Biscayne, San Marco, San Marino, Di Lido, Rivo Alto, and Belle Island.
While the above are the best-known Miami neighborhoods, others in the area may best suit your needs. Whether you're in the market for
Miami Beach
new construction condos or eyeing Coconut Grove homes for sale, let the experienced pros of
The APT Team
use find the right fit for you. Contact us today to find your next dream home in Miami!