Coconut Grove is Miami's oldest neighborhood, and is affectionately referred to by locals as simply "The Grove." As a luxury community that enjoys both a rich residential history and many modern attractions, it has long been considered one of Miami's hidden gems, and one of the best residential hotspots in all of South Florida. It's pedestrian friendly, also the greenest area of Miami with over fifteen parks and gardens.


Cocounut Grove is one of the most desirable places to live, enjoying an impressive uptick in real estate value and an increased demand for real estate. Inventory is scant as
people migrate
to the community's year-round sun and luxurious amenities. In Coconut Grove, you'll find one the highest priced homes for sale —
The Adrienne Arsht
estate at $150M.
Coconut Grove is known for its privileged bayfront setting, sailing, lush landscaping, and plentiful housing options, including luxury homes and a wide selection of condos. Coconut Grove is located just south of downtown Miami on a long, beautiful stretch of Biscayne Bay, affording residents easy access to the water and all it offers.
Lifestyle
Coconut Grove
has been described as having the energy of a large city and the atmosphere of a small town. It features a variety of verdant parks and a walkable downtown area lined with cafés and local boutiques. As a neighborhood, Coconut Grove has everything residents need to enjoy a great walking or biking lifestyle, as well as convenient proximity to downtown Miami and an accessible public transportation system.
CocoWalk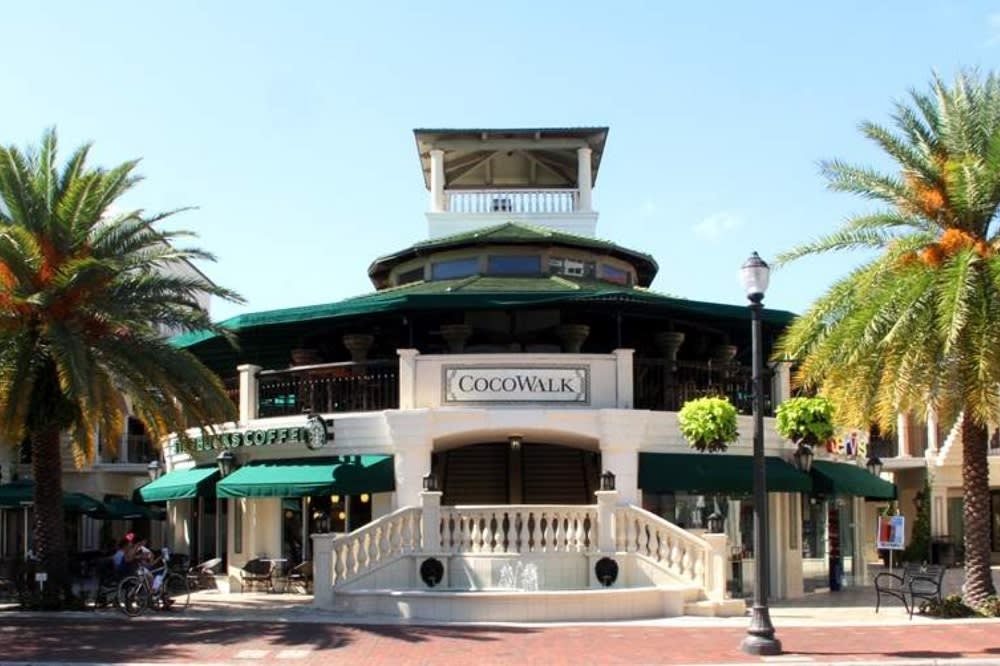 The redone CocoWalk is a popular commercial center located in the heart of downtown Coconut Grove, featuring shops, restaurants, theaters, and offices. CocoWalk is spread out over three floors, and attracts a plethora of tourists and residents throughout the year. Beyond shopping and pampering, the CocoWalk office spaces are in a convenient, trendy location for business teams to get together and collaborate. This mixed-use area provides the ultimate in luxury and convenience, and it's recently been
fully leased
.
Regatta Harbour
Along one of the most desirable waterfronts in all of Miami,
Regatta Harbour
is an enticing transformation of Coconut Grove's historic Dinner Key – creating a dynamic, multifaceted destination for locals and visitors to socialize, dine, shop, and more with unrivaled views of Biscayne Bay.
Waterfront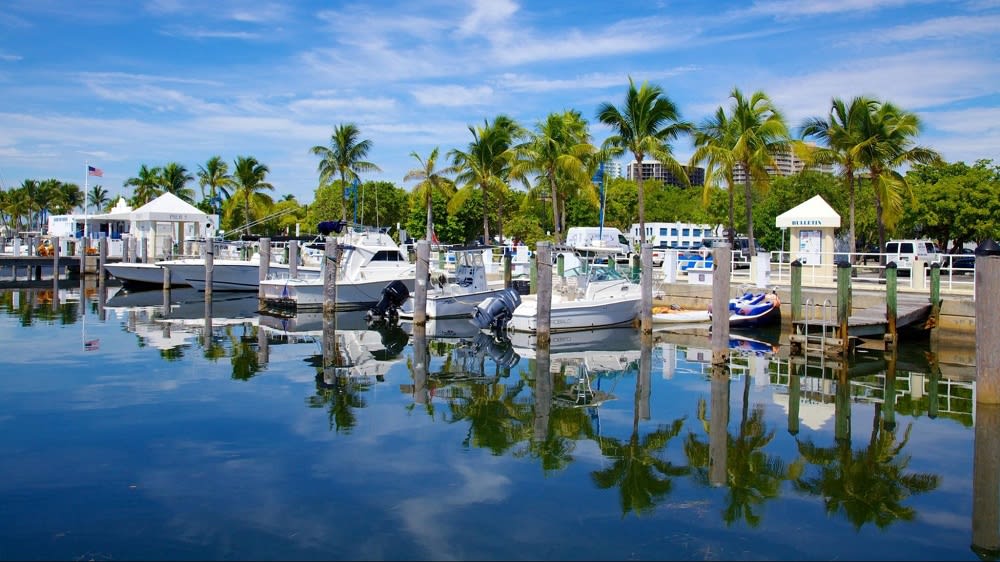 Credit: Vrbo
One of the biggest attractions available to Coconut Grove homeowners is the city's waterfront, lined with marinas and yacht clubs. The waterfront is protected by Virginia Key and Key Biscayne and features a number of exciting recreational activities. Many residents house their boats on the waterfront, which provides them access to all of Biscayne Bay, the Atlantic, and the Caribbean.

For residents of Coconut Grove who don't own a boat, there are yacht clubs and charter companies where individuals can rent sailboats, take lessons, or schedule some deep-sea fishing. The major clubs are the Biscayne Bay Yacht Club, Coral Reef Yacht Club, and the Coconut Grove Sailing Club.

Coconut Grove's location and incredible climate make it an ideal town for sailors of all stripes to train and compete, and it's often referred to as the "Sailing Capital of Miami." Members of the U.S. Olympic team train at the U.S. Sailing Center located in Coconut Grove, and both professional and amateur sailors from around the world come to town to compete in the Miami Sailing Week, Orange Bowl Regatta, and the Columbus Day Regatta.
Fabulous parks
David T. Kennedy Park:
Located on the Coconut Grove waterfront,
David T. Kennedy Park
facilitates many outdoor activities, including beach volleyball, workout sessions in the outdoor gym, strolls on the park's many walking paths, and time with your furry friends at the off-leash dog area. David T. Kennedy Park also offers a large, open lawn and expansive waterfront vistas.
Peacock Park:
Located just south of David T. Kennedy Park,
Peacock Park
draws residents from all over Miami to enjoy the playground equipment and recreation building—which offers a range of games including foosball and ping pong. The park also features facilities to host softball games, soccer matches, and basketball games. Visitors can walk along the boardwalk bridge for some fresh air and awesome views of Biscayne Bay.
The Kampong:
The Kampong
is a nine-acre botanical garden that fits in perfectly in lush, tropical Coconut Grove. It features Asian and Spanish-inspired botanical gardens with exotic plants from around the world. The Kampong is part of the non-profit National Tropical Botanical Garden, which also includes four gardens in Hawaii.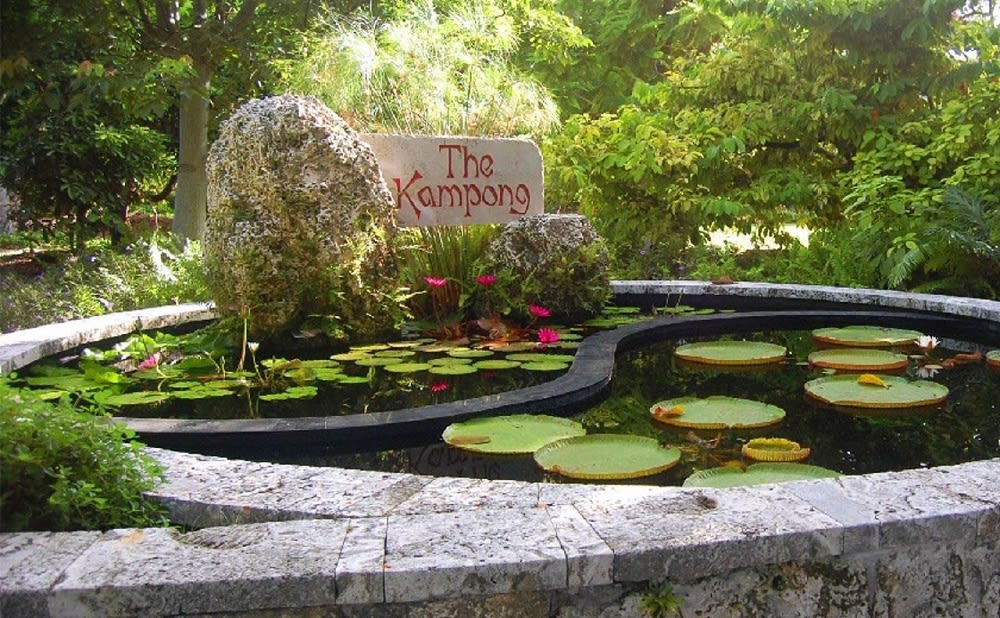 Vizcaya Museum & Gardens:
Residents of Coconut Grove luxury homes often bring visitors to the
Vizcaya Museum & Gardens
, a National Historic Landmark that features an Italian Renaissance-style villa on Biscayne Bay that used to be the winter home of Chicago industrialist James Deering. The interior of the mansion has hundreds of pieces of European antiques and artworks from the 16th and 17th centuries. Located on the grounds are 25 acres of manicured gardens and intricate hedge mazes.
Community engagement
Farmer's market:
The Glaser Organic Farms' weekly market is held every Saturday on Grand Avenue. Residents of Coconut Grove can head to the market to purchase fresh local produce as well as food prepared by local vendors. There are also a variety of sweet treats available, including ice cream and coconut water.
Coconut Grove Arts Festival:
The
Coconut Grove Arts Festival
, which is considered to be the premier arts festival in South Florida, is held on downtown streets during Presidents' Day Weekend. It annually attracts more than 350 artists to display their crafts, including paintings, sculptures, glassware, jewelry, and mixed media. The festival also includes a food pavilion, family zone, and live music.
Looking for Coconut Grove luxury homes for sale?
If you're interested in purchasing a Miami luxury home in the unique community of
Coconut Grove,
allow the top-performing realtors at
The APT Team
to guide you through a smooth transaction from start to finish. With deep local expertise, intuitive negotiation, and excellent customer service,
The APT Team
will make finding your Coconut Grove dream home feel like an extended vacation.
Contact The APT Team today
!
Vita Residences
Miami's most renowned luxury developer, Ugo Colombo of the CMC Group, is delighted to introduce his most sophisticated residential condominium to date, Vita at Grove Isle. This exclusive sanctuary of just 65 condominium residences perfectly located on a 20-acre private island in Coconut Grove. With exquisite detailing and the highest quality of materials and craftsmanship, Vita offers all the benefits of elevated island living just offshore of Coconut Grove.
From floor-plan flow and technological functionality to hand-selecting marbles at quarries in Italy and choosing manufacturers of the finest cabinetry and interior accessories, every detail is a reflection of his unique perspective on timeless luxury and unparalleled quality.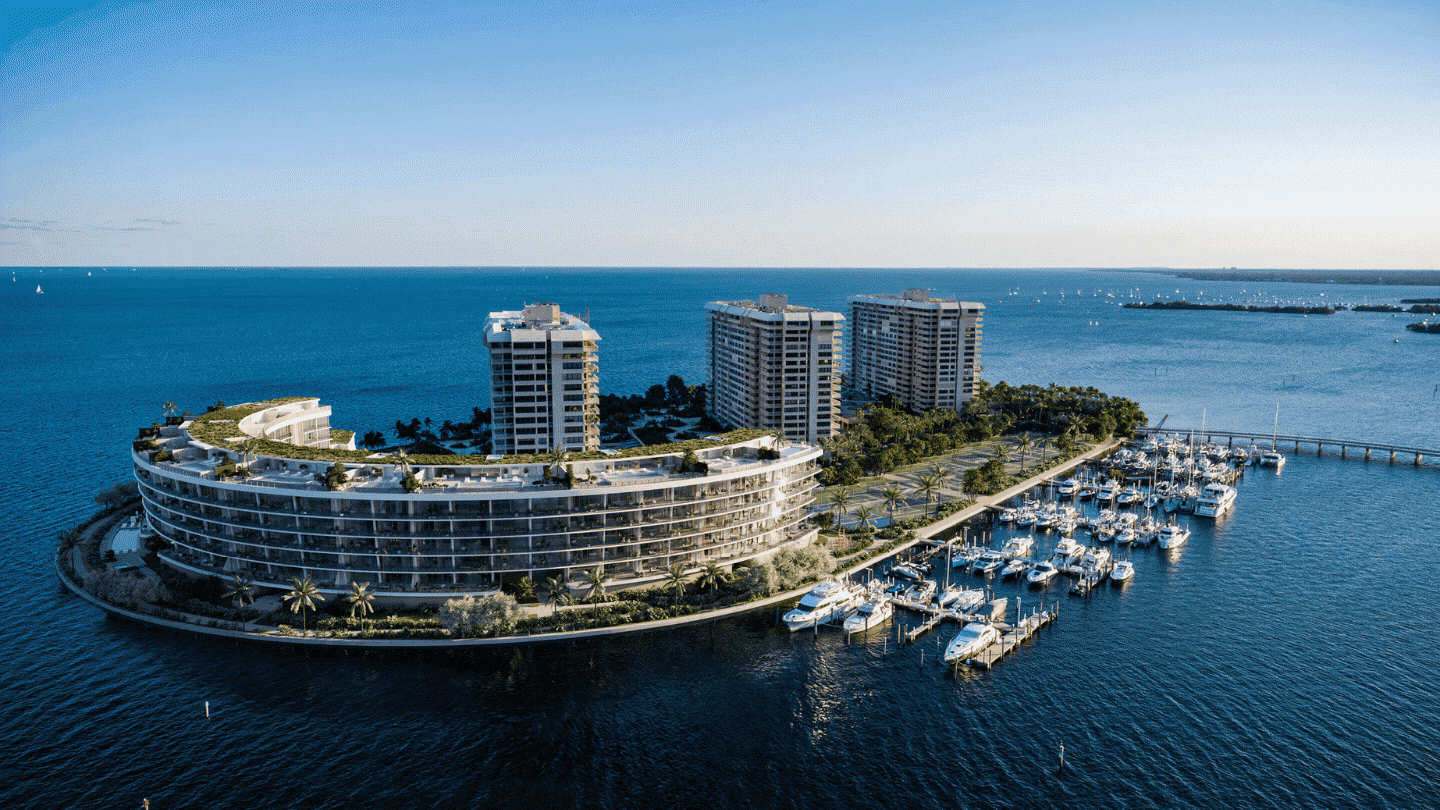 Residences feature 11'3" floor-to-ceiling height with 10' clear-
finished drop ceilings throughout with
A private elevator opens directly into each residence, Precision crafted lift-and-slide glass doors,
Kitchens designed
by Molteni,
Master bedrooms, master bathrooms, and living areas all face
spectacular unobstructed water views
and 13-foot-deep terrace to enjoy those views.
Residents of Vita enjoy access to an extensive and thoughtfully curated collection of indoor and outdoor amenities as well as
personalized services. Prices start at $3.9M. Availability and prices subject to change at anytime without notice.
This is a great opportunity to get in on the ground floor of this exciting development. Vita will make a wonderful new home or a great opportunity with the South Florida real estate market continuing to stay hot!

*Header credit: Condé Nast Traveler