Miami real estate market completely skyrocketed in 2021. The pandemic migration yielded great demand which catapulted prices and values. Available inventory decreased and months of inventory tightened, given way to the current market conditions.
For the month of March 2022, there was a whopping 47.% decrease from March 2021 in active listings. There were over 13,000 properties listed for sale in March of last year and only 7,000 on March 2022. Median prices have also increased for Miami-Dade - by 9.9% for single-family homes, and 31% for condos/townhomes.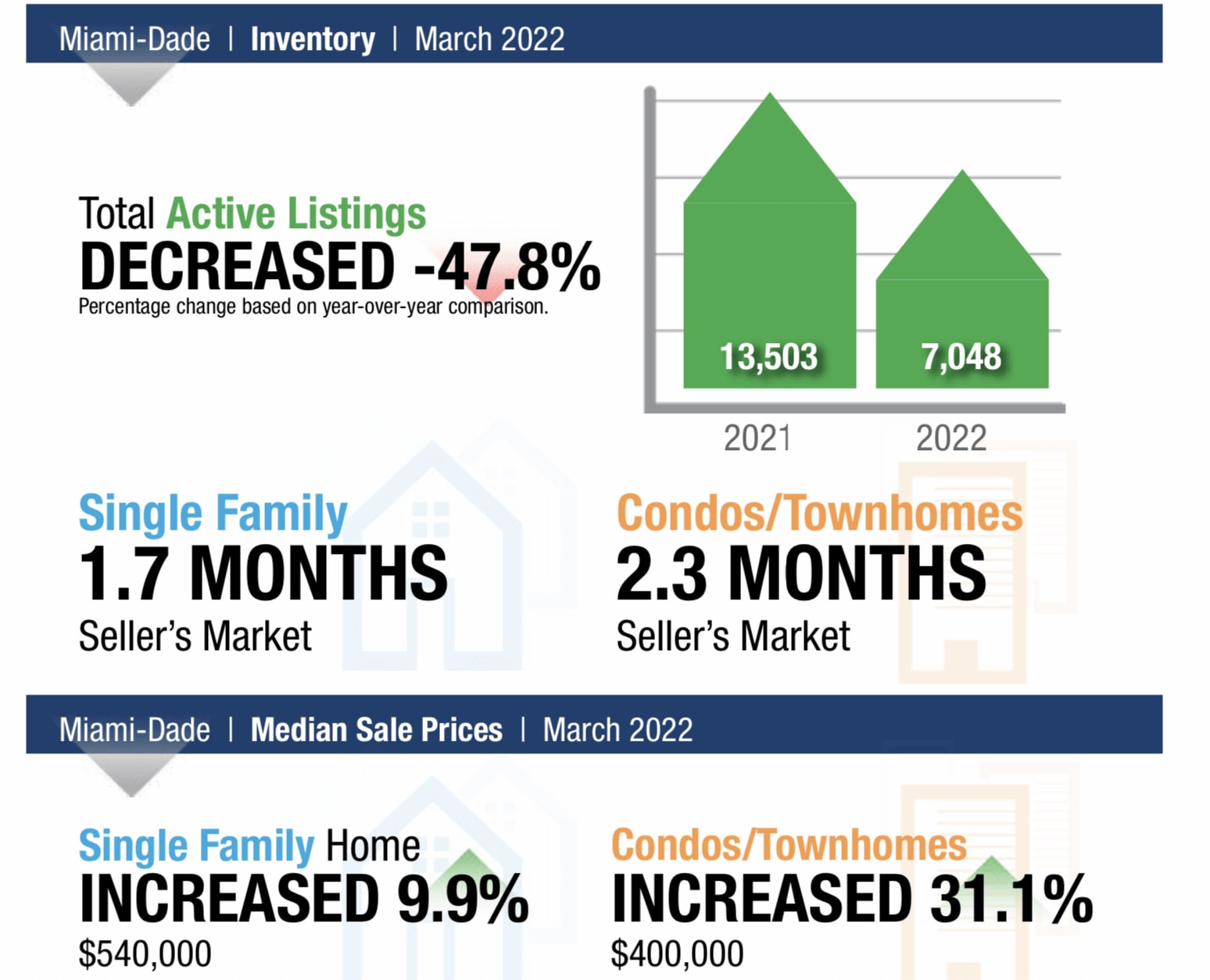 Coconut Grove real estate has been fierce
Coconut Grove was and remains one of Miami's most active real estate areas, with prices doubling or tripling. Appetite for Coconut Grove is so big that hedge funds didn't waste anytime filling Related Group's office at 2850 Tigertail Ave in Coconut Grove. Business woman and philanthropist Adrienne Arsht listed her massive 20,000 sf compound for $150M late January of this year. Should it trade for less, it will still set records.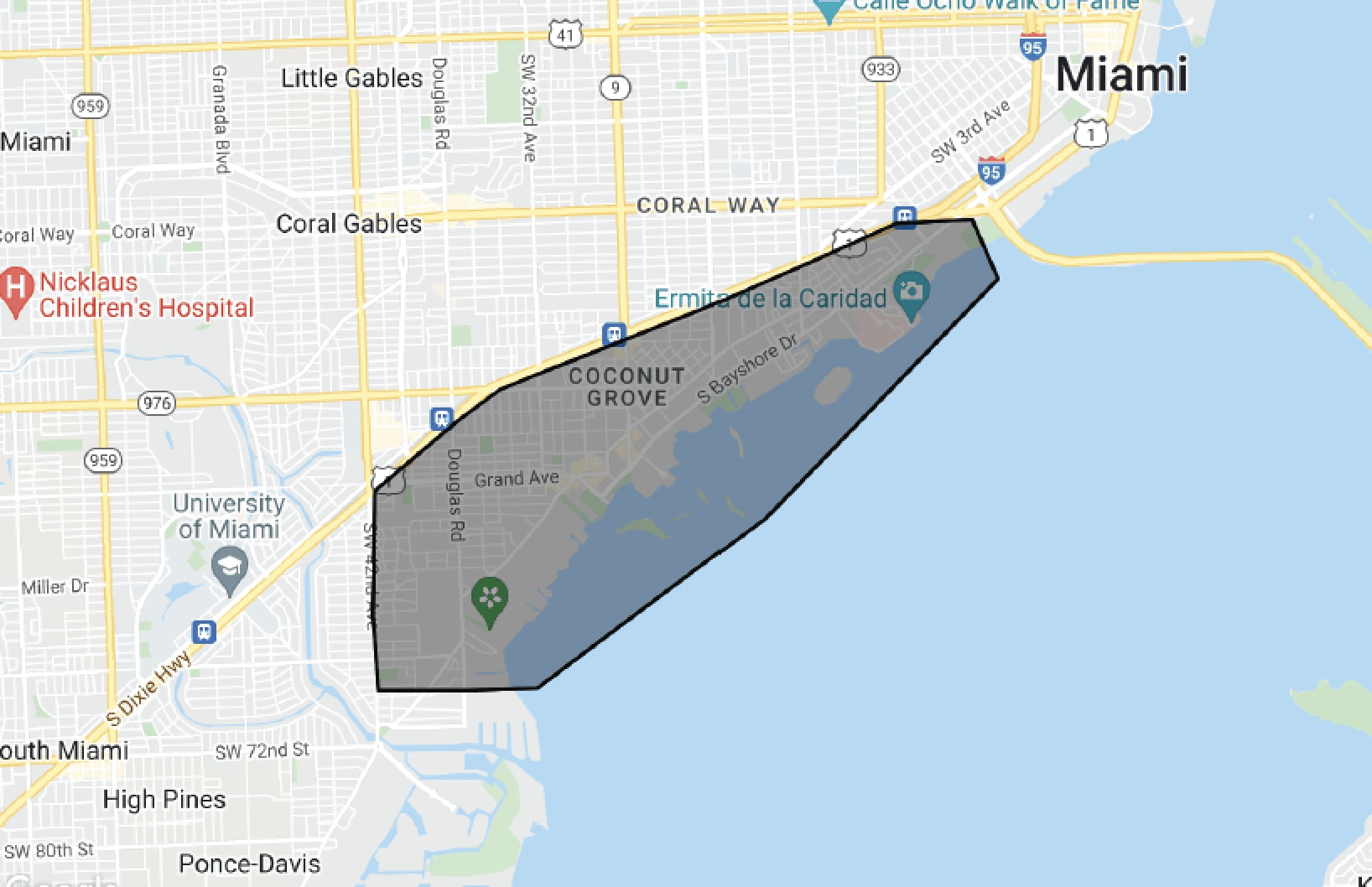 The median price for Coconut Grove has increased to $800,000s, almost double than the median price for Miami-Dade.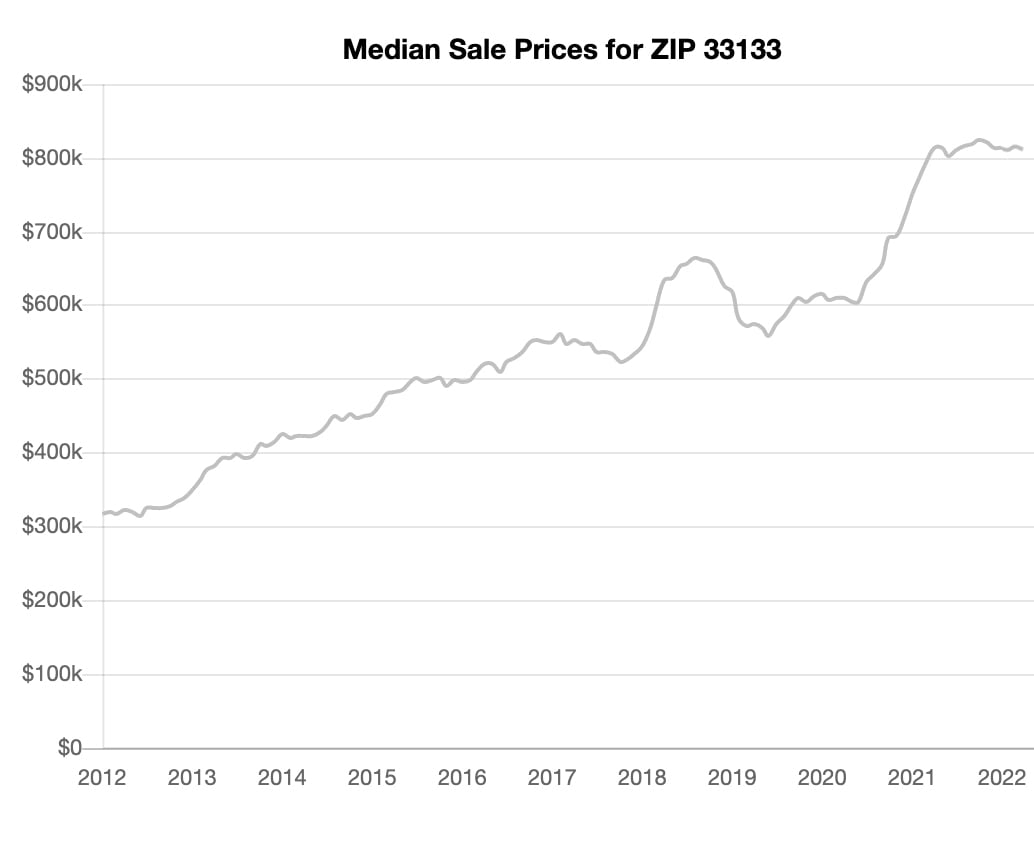 One of the preferred Coconut Grove real estate properties is Park Grove. We were privileged to be part of the exclusive in-house sales team that sold over $600M worth of Park Grove Coconut Grove real estate. For those of you who may not know, "Park Grove is a very distinct, amenity-rich development that offers 5-star world-class amenities from butler services to fine art." It is located on Bayshore Drive. It was designed by World-Renowned architect OMA Rem Koolhaas and developed by Terra Group and Related Group. The amenities at Park Grove are 2nd-to-none with stunning bayfront pool, state-of-the-art fitness center, wellness lounge with full service spa, lush and lush grounds throughout by Enzo Enea.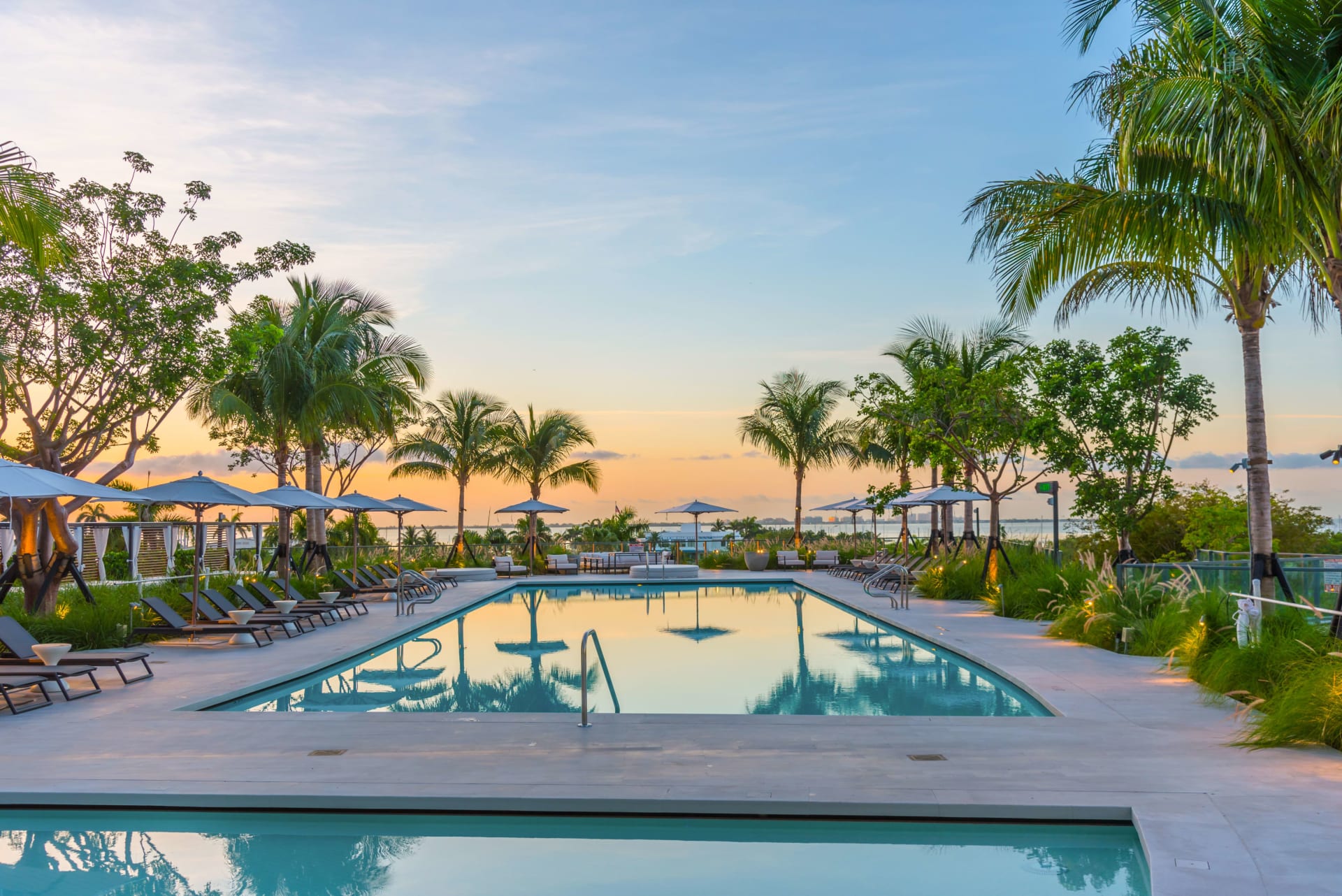 One Park Grove, the last tower of Park Grove, was delivered during the height of Covid. Since it was delivered in May 2020, it has been really hard to find inventory for sale or even rent in the One Park Grove 2811 S Bayshore Dr. building. One Park Grove real estate enjoys high demand with scanty if not zero options. Since late last year, it has been virtually impossible to find a residence in One Park Grove for sale or rent and one that has traded for that matter.
We have done over 5 contracts in the past year for Two and One Park Grove and to this day we can't stress enough that we need inventory to satisfy the needs of our clients. Without exaggeration, we receive about 6 calls weekly from people requesting Park Grove real estate.
As of May 12, 2022, there is only one residence active (A) for sale in One Park Grove. This residence is a flow through B line condo on the 4th floor and it is being offered at $4.9M. 8A is active with contract (AC), meaning that there is a contract already on it and should this contract fall through, someone else can purchase it. It was contracted over a year ago and prices hadn't gotten to the levels they are right now. However, the real reason why it hasn't closed yet is because it has a tenant and it will probably close once tenant vacates or owner assumes tenant.
In Two Park Grove, there are only three condos for sale at an average price of $1,568/SF. . Other than the 6,927 square foot UPHA at $18,000,000 or $2,599/SF, the current availability is for the smallest size residences (the C line options).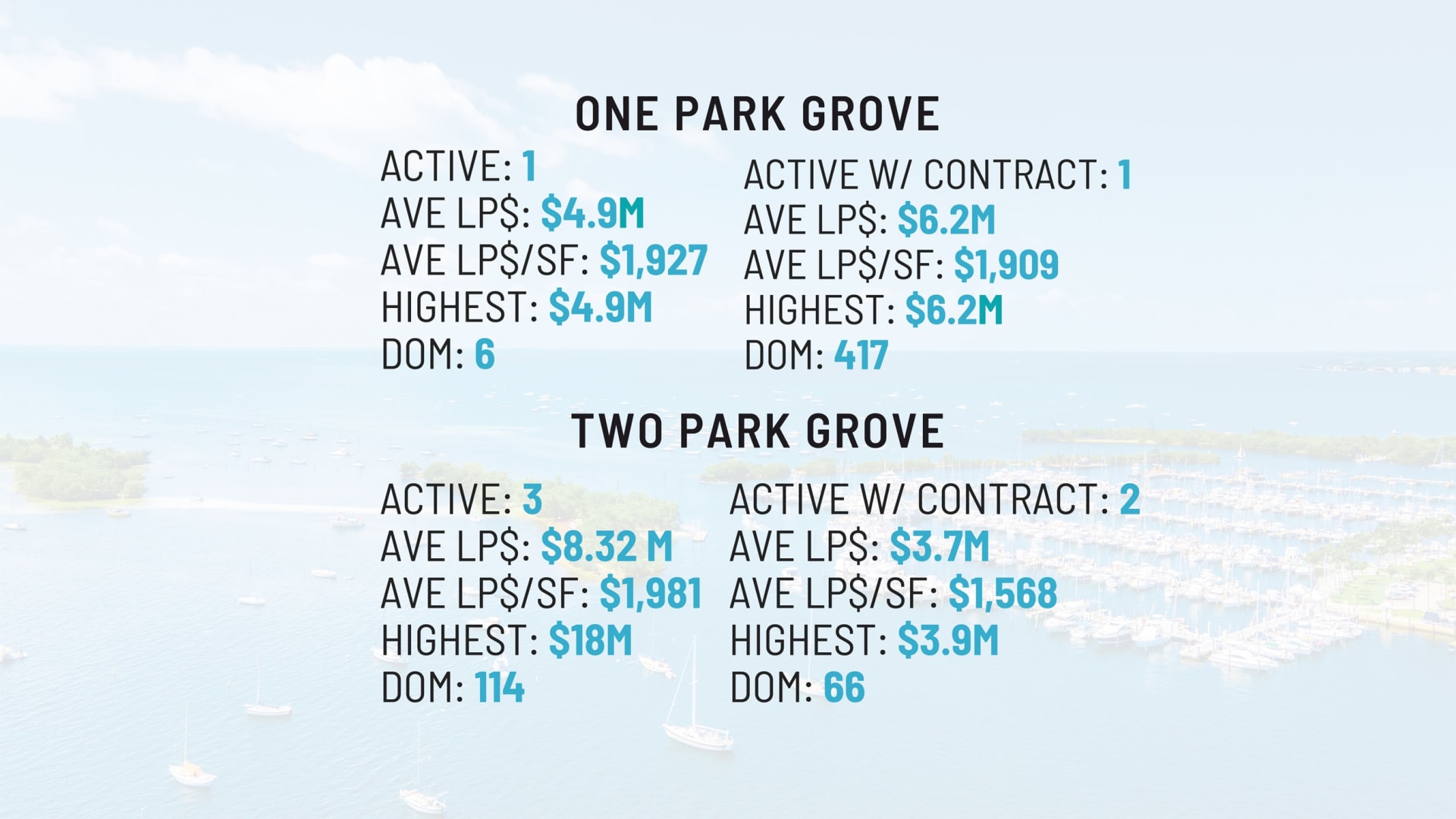 Park Grove sold
The frenzied appetite for Park Grove has shot up prices, and depleted supply which continues to increase prices and taxable value. As we see below for Two Park Grove Coconut Grove sales, the condos in this tower have doubled in prices. 11A in Two Park Grove closed in April 2022 over $2,000,000 than it was purchased for in 2017, trading at $5,200,000. The average sold price has risen to $4.8M in Two Park Grove. No sale listed in the MLS has been made to date in One Park Grove because none has gone to market. Had a residence been put for sale, it would have surely been snatched. By the way, a 2,232 sf C line condo in One Park Grove traded off market for over $4M on a low to mid floor.
Two Park Grove sales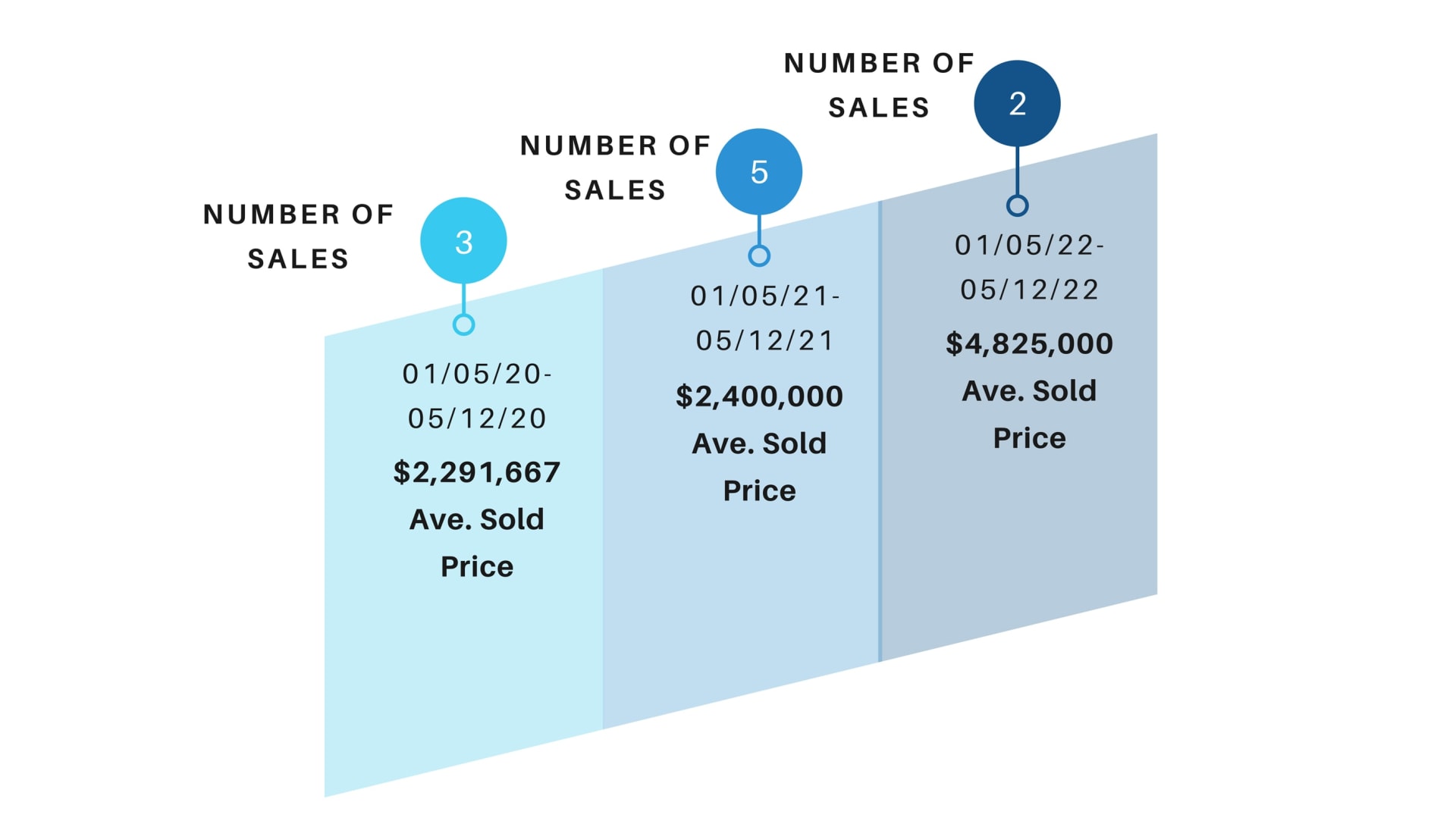 If you're ready to sell or rent your Park Grove condo, contact The APT Team today.
As THE PARK GROVE ORIGINALS, we have a list for potential buyers, tenants and contacts ready to act on a moment's notice.