Miami means business
Miami has evolved in the last couple of years. This is no longer a secret. From a tourist destination to the gateway to the Americas to what is today: the Capital of capital, the City of tomorrow. Come explore with us what makes Miami a global hub for business and why it is a city like no other.
Miami has a thriving business climate, and it is considered one of the most, if not the most, dynamic and diverse business hubs in the United States.

Key characteristics of Miami's business climate:
Entrepreneurial Spirit: Miami has a vibrant startup community, with many entrepreneurs and innovators launching new businesses in the city. There are a number of startup accelerators, co-working spaces, and networking events that help support the growth of the startup ecosystem in Miami.
Pro-Business Environment: Miami has a pro-business environment, with low taxes, business-friendly regulations, and a supportive government that actively encourages investment and economic growth. It has favorable tax policies. The absence of state income tax and relatively low property taxes make it an attractive destination for both businesses and individuals.
International Focus: Miami is a gateway to Latin America, the Caribbean, and other parts of the world, and it has a strong international business community. Many multinational corporations have their Latin American headquarters in Miami, and the city is home to a large number of international banks, law firms, and accounting firms.
Diverse Industries: Miami's economy is diverse, with a range of industries contributing to the city's growth and success. Some of the key industries in Miami include finance, healthcare, logistics, hospitality, and technology.
Cultural Diversity: Miami is a melting pot of cultures and languages, and this diversity is reflected in its business community. This diversity brings a unique perspective to business, fosters creativity, and helps to create a welcoming environment for businesses from all backgrounds.
Overall, Miami's business climate is characterized by a strong international focus, a supportive environment for entrepreneurs and startups, a diverse range of industries, a pro-business environment, and a vibrant and diverse culture.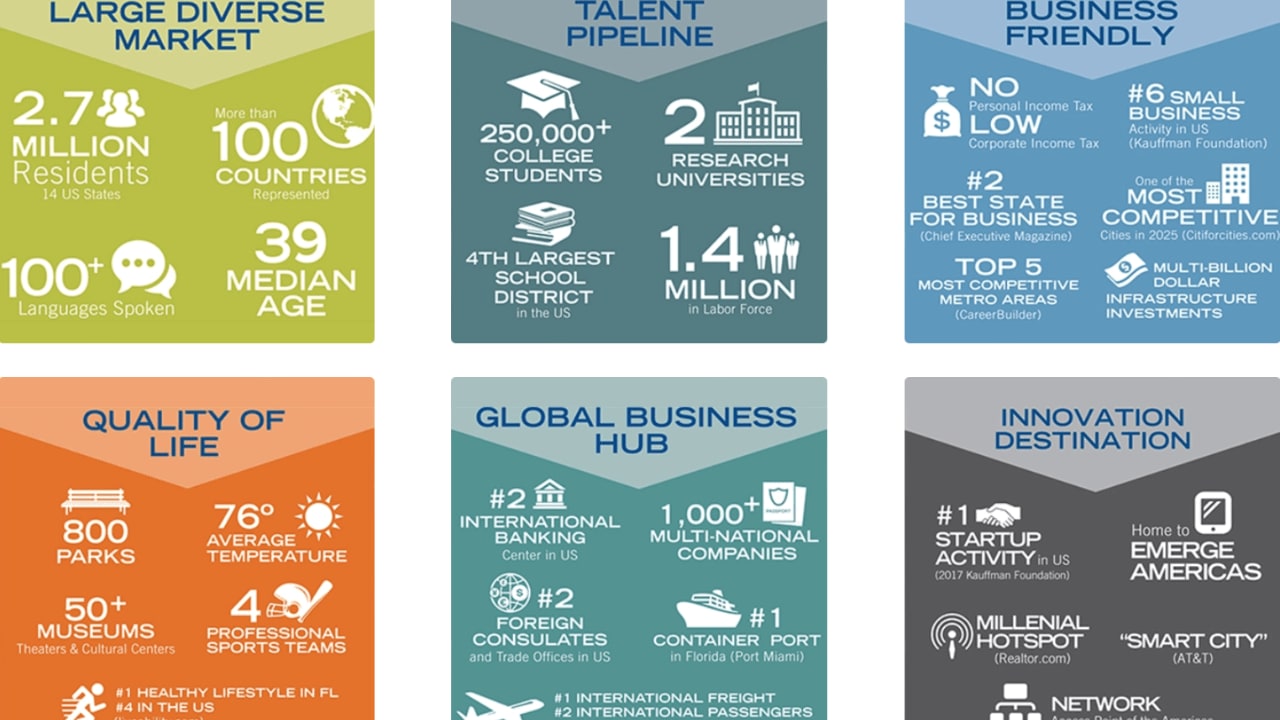 Business
#1 Happiest place in the U.S to work, Forbes
#1 Best City for Business in Latin America, America Economia
#2 Best state for business, Chief Executive Magazine
#3 Most international consulates, trade offices and binational Chambers of commerce of U.S. cities
#3 Job growth in financial services in the U.S, Headlight Data
#3 Florida corporate tax environment, Area Development
#4 Lowest private sector unionization rate, Unionstats.com
#4 Best Tax climate, Tax Foundation, U.S. Chamber of Commerce
# 6 Small business activity nationally, Kauffman Foundation #8 Business Friendliness – Major American Cities of the Future 2015/16, fDi Magazine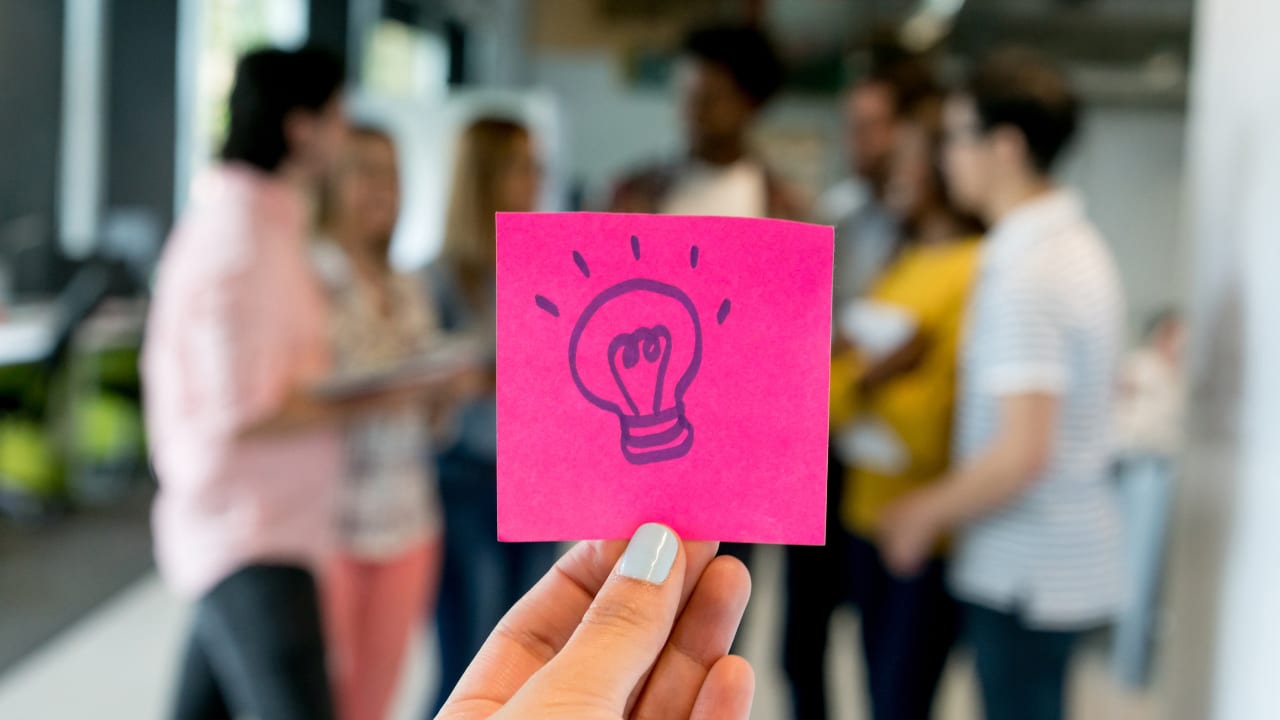 Entrepreneurship/Innovation
#1 Most start activity, Kauffman Foundation Index
#2 In the nation for tech job creation – Florida, EMSI and Dice
#9 Among U.S Cities for anticipated Tech hiring in first half of 2018, Robert Half Technology
Connectivity
#1 Most international freight in U.S., Miami International Airport
#1 East Coast Port to Be Ready for Post Panamax Ships
#1 Top most transit accessible U.S airport, Mobility Score
#2 In the nation for international passengers
Lifestyle
#1 Florida County for healthy lifestyle choices, Livability.com
# 2 Most desired city for millennials, Realtor.com
#4 Healthiest city in U.S., America Economia
#5 Walkability nationwide, Walkcore.com
#8 America's Best Cities, Resonance (U.S. Place Equity)
#10 Top U.S cities where employees are the happiest, Forbes #13 Nation's coolest cities, Forbes
Healthcare
#1 Bascom Palmer Eye Institute's National Ranking in Ophthalmological care, US News and World Report
#1 Mount Sinai's heart-attack survival rate among Florida Hospital, according to the Federal Centers for Medicare and Medicaid Services and the State's Agency for Health Care Administration
#10 Jackson Memorial Hospital's Miami Transplant Institute ranks among busiest transplant centers in the nation
Top 100 – Baptist Health Systems consistently ranks among "Best Companies to Work for", Fortune Magazine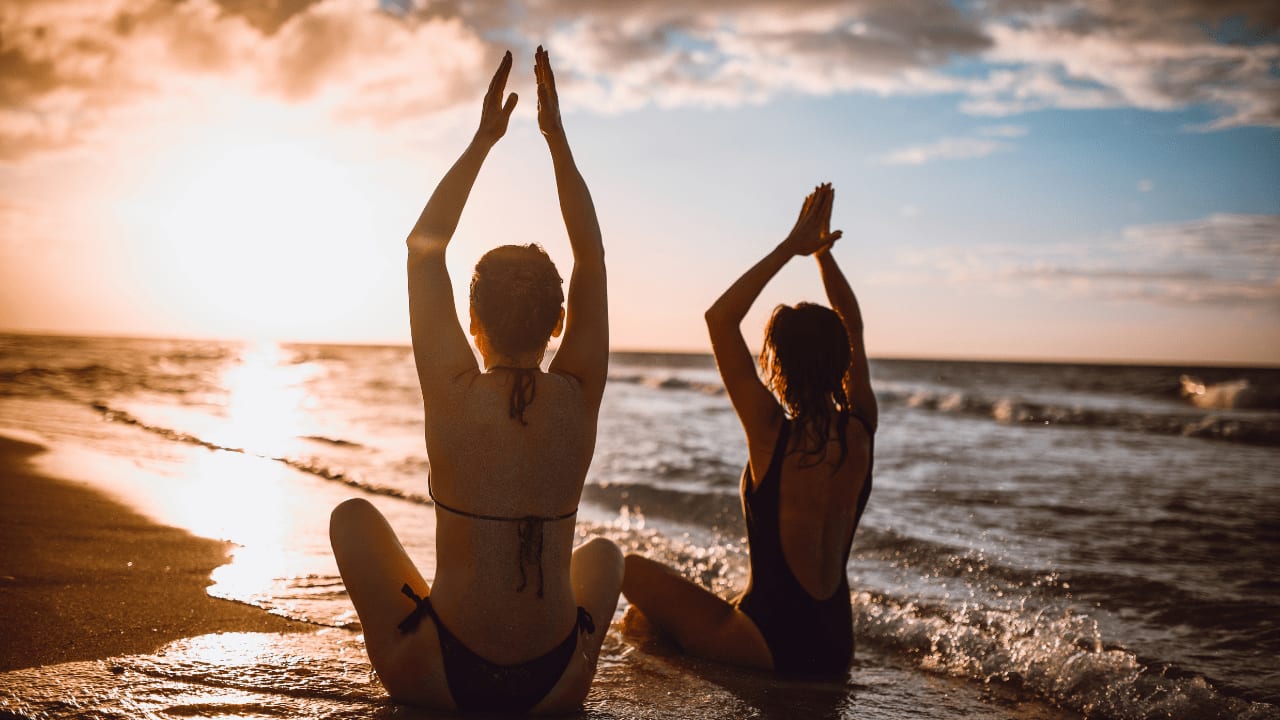 Ranking and ranking pic source: Beacon Council
About Beacon Council
As Miami-Dade County's official economic development partnership, the Miami-Dade Beacon Council is charged with bringing new, job-generating investments to the community, while assisting existing businesses in their efforts to expand. By doing this, The
Beacon Council
facilitates the creation of quality jobs for each and every resident of Miami-Dade County. (Beacon Council bio)
Tags:
#miamibusiness #miamiadvantage #miamihedgefunds #miamitech #brickellmiami #wynwood #francissuarez #mayorfrancissuarez #miamiformula1
#miamicompanies #relocate #startups #finance #theaptteam #adrianapintotorres #tractferrer #douglaseliiman