2021 will go down as maybe the single greatest year in the long history of South Florida real estate. The past two to three years have seen a massive increase in every possible metric and category, not only year over year but month over month.
The pandemic has acted as a structural market all over the country but especially in South Florida, inverting a soft market to one of the strongest ever seen. The rise of remote work and many companies moving their headquarters to South Florida has been a major factor in this rise as people all over the country are choosing to move to Florida for the year-round great weather and tax-friendly stats. November 2021 was Miami's best year ever.
We are still experiencing strong demand. Actually, we are experiencing peak demand. But, real estate is cyclical and the far-flung acceleration of prices we have experienced can't sustain the same levels indefinitely. Market might go through a bit of price correction. This is not to say that market will shift anytime soon. What this means is that one should strike while the iron is hot. And herein lies the question-SHOULD I STAY OR SHOULD I SELL?
Scarcity for new product is still at hand. There are over 15 new developments under construction, in the launch, construction or delivery phase to meet the inventory shortage. However, this is not to say that all these buildings will be delivered concurrently. They have different time frames, milestones and prices. This simply means that as these developments are delivered, there will be more opportunities for buyers. The net of options widen for them. More properties, more competition.
In short, the answer is: yes, the moment is ripe to sell, especially because all these new developments haven't yet been delivered. Market is unprecedented so it would be foolish not to consider the options of not cashing out.
Check the Miami Real Time Market Stats March 2022 vs March 2021 stats for condos/townhomes brought to you by Miami Realtors and Trendgraphix.
"Miami condo sales surged for the 17th consecutive month in February 2022"
Active Inventory down over 50%
As released by the Miami Association of Realtors, Feb 2022 months supply of inventory was 2.6, down over 70% from same period last year when it was 10. Active inventory was less than half of what it was in February 2021. Median time to contract in February 2022 was down as well. It took but 38 days to go to contract versus the 60 days it took in Feb 2021. Yes, the time is ripe to sell.
Feb 2022 Active inventory 5,272
Feb 2021 Active inventory 11,735

New Developments coming into the inventory mix
Below is a list of the new developments currently in the reservation, contract, construction or delivery stage. This list doesn't include any new development planned, permitted or yet to be launched.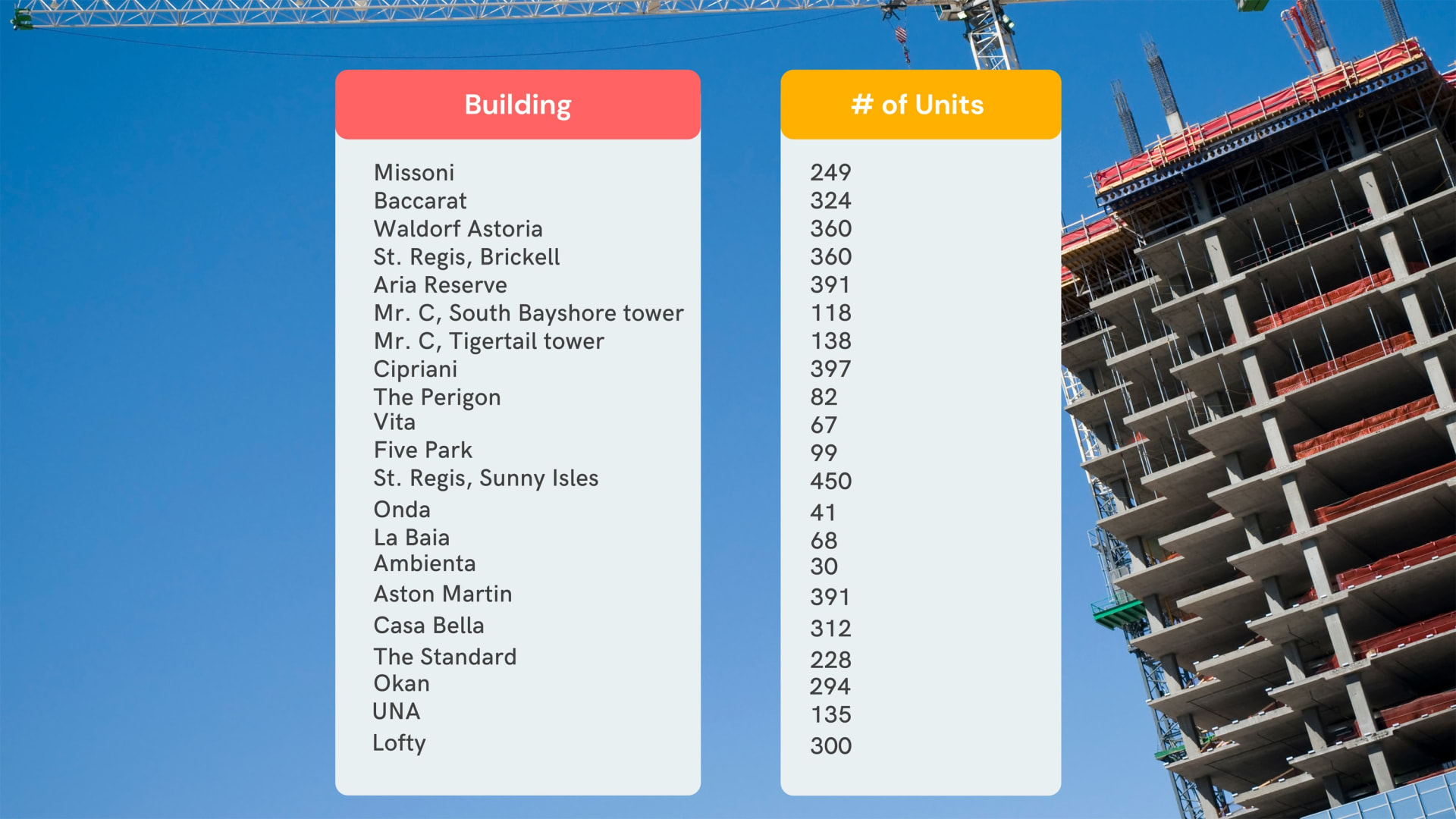 If you're interested in learning more about market, how much is your property worth and what is expected for 2022, let The APT Team with Douglas Elliman give you the real time, up to date market performances and comparables. Contact Adriana Pinto-Torres either by phone at 786.493.1388 or email [email protected] or [email protected] and Tracy Ferrer at 786.214.0099 or [email protected]