ONE PARK GROVE
Experience the height of luxury living with this stunning 2,546 SF, 3 bedroom with den condo in One Park Grove. Nestled in the heart of Coconut Grove, this building has quickly become one of the city's most coveted addresses and offers access to all the amenities you could ever need. From breathtaking views to a wealth of comforts and services, this property is the perfect choice for those seeking the pinnacle of Miami real estate.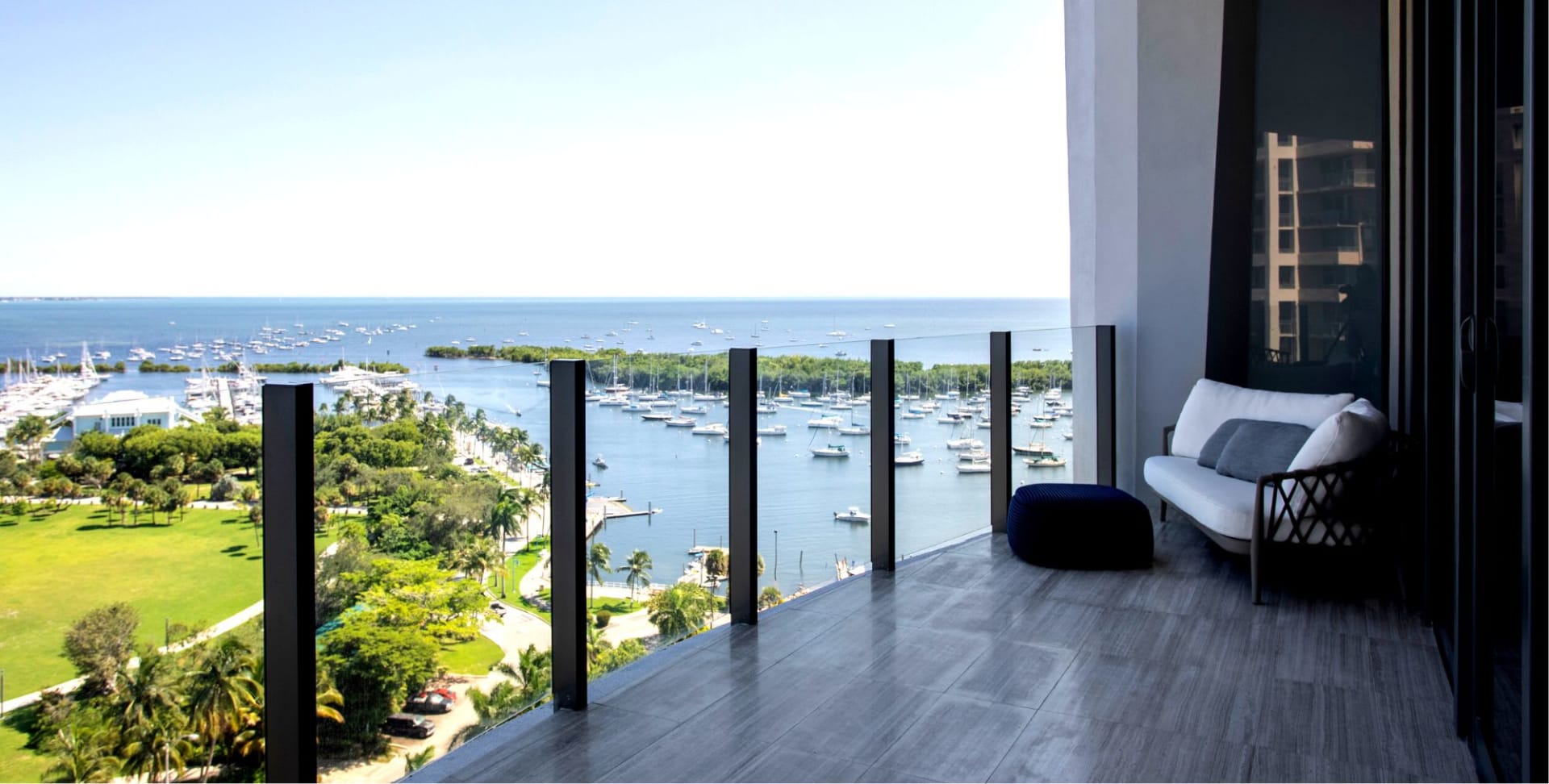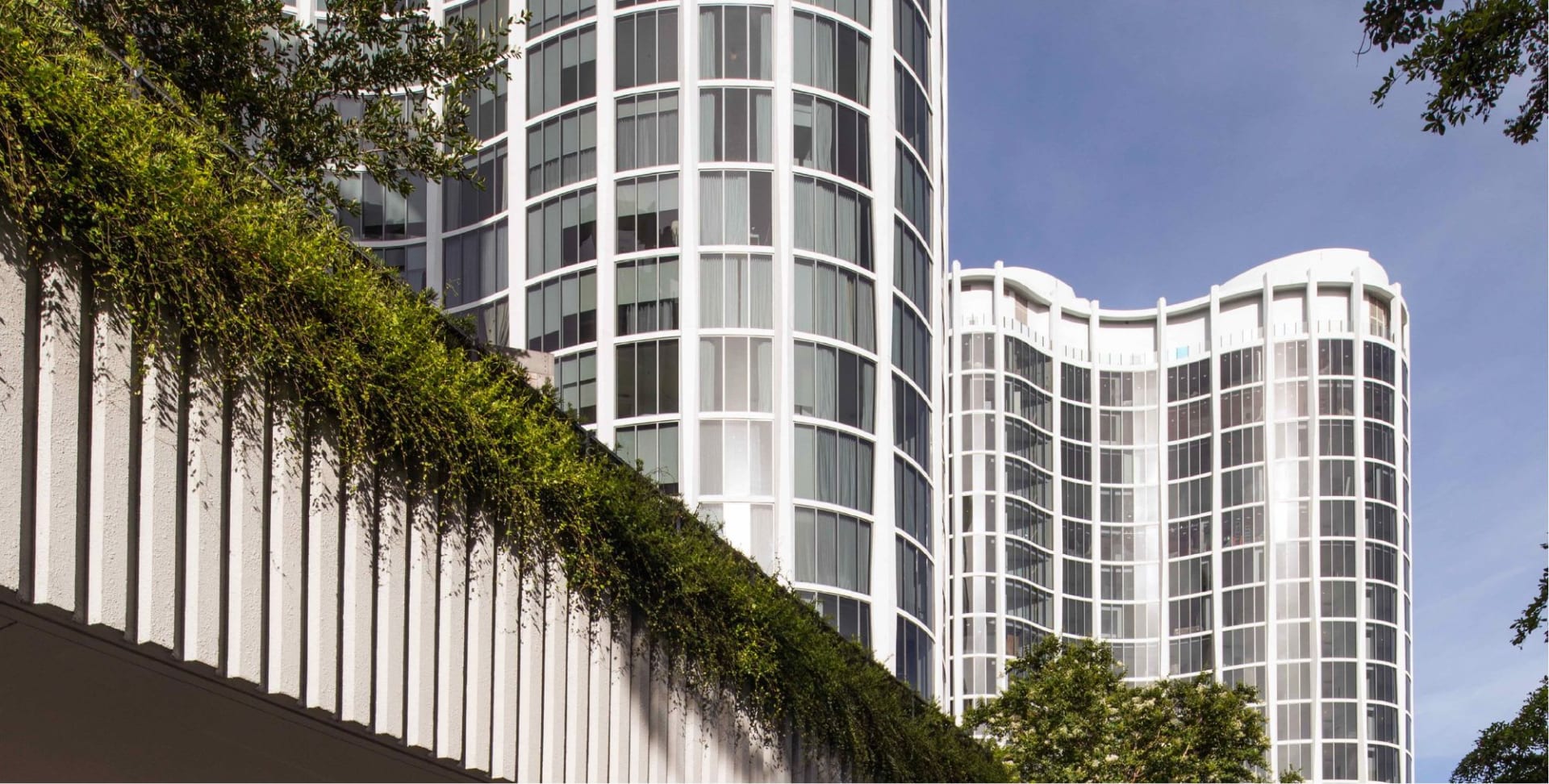 Photo Source: For Terra Group by Robin Hill
Photo Source: For Terra Group by Robin Hill
Designed by renowned architect Rem Koolhass and Shohei Shigematsu of OMA, One Park Grove is a masterpiece of contemporary design, featuring sleek lines that emulate palm tree trunks, modern finishes, and state-of-the-art amenities. The lobbies and common areas designed by Meyer Davis add a welcoming sense that carries you across 50,000 sf of amenities as if they were extensions of your home. The lush gardens and grounds by Enea designs extend 5 acres, which envelope Park Grove in a beautiful, tranquil setting. The tower boasts an impressive array of amenities, including a fitness center, spa, pool, lounge, and more. This is truly a Miami luxury home.

ONE PARK GROVE #14D
One Park Grove is known for its unparalleled luxury and sophistication, and this condo is no exception. From the moment you step into #14D from your private elevator foyer, you'll be greeted by breathtaking views of the bay and Miami skyline. With a spacious open floor plan and 12 feet glass walls this condo is perfect for entertaining guests or simply relaxing in style.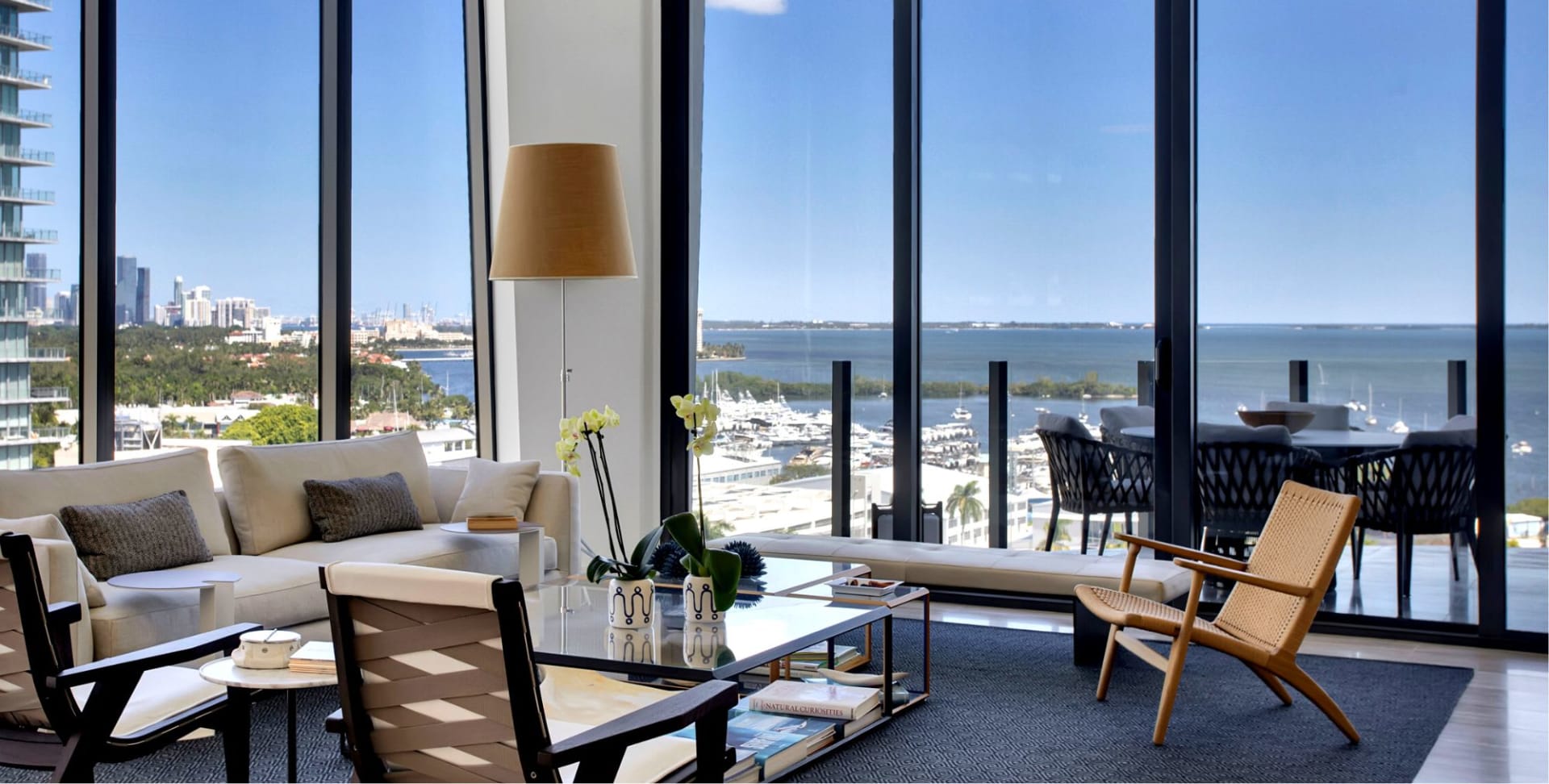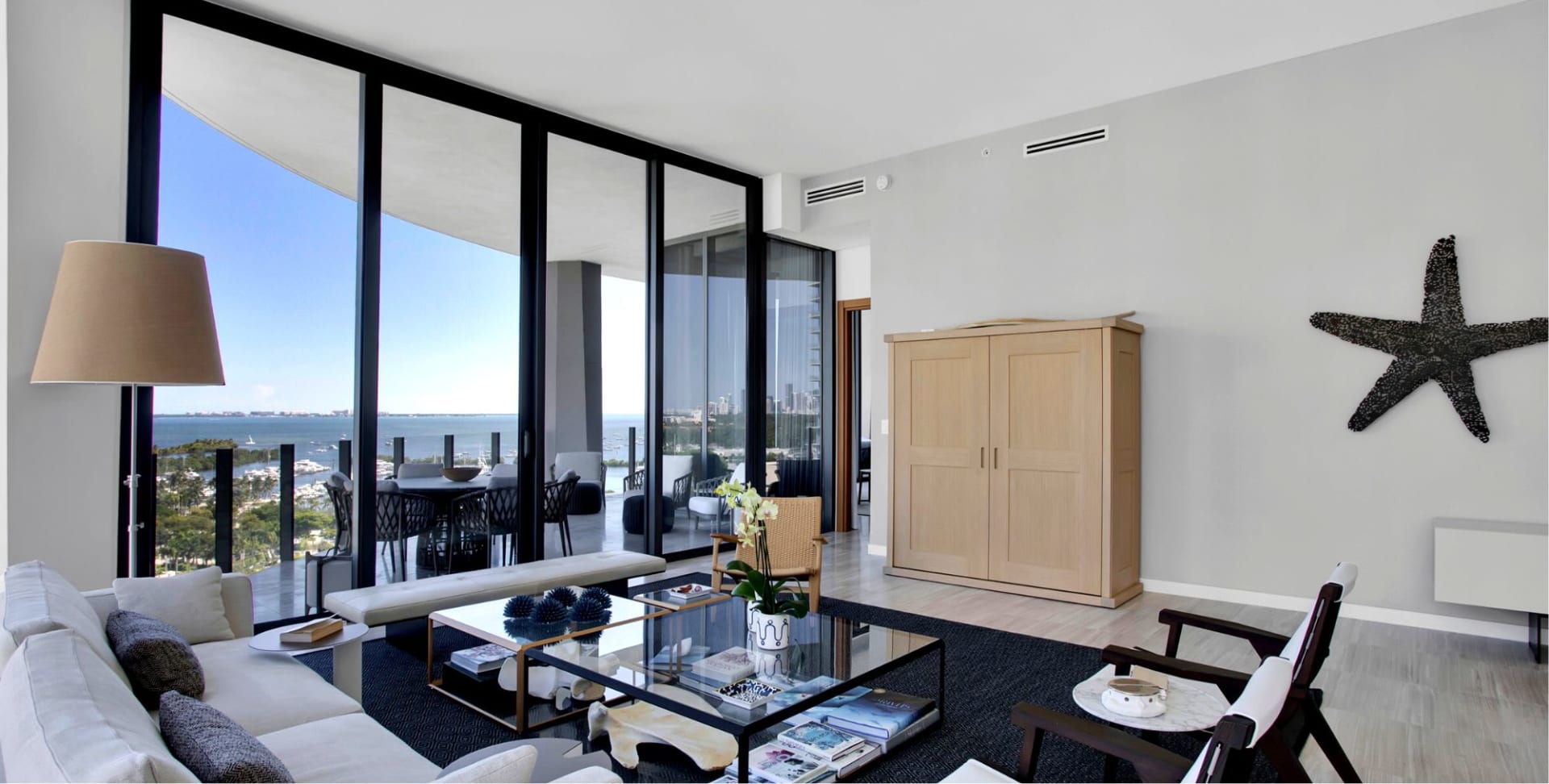 Luxury living at its finest in One Park Grove #14D. This stunning 3 bedroom with den condo is sure to delight with gorgeous views, a lifestyle like no other, world-class amenities and pristine finishes. Enjoy the best of Coconut Grove and Miami's vibrant real estate market with this luxurious condo in One Park Grove.
The kitchen is a true chef's dream, with top-of-the-line stainless steel appliances, Wolf gas ranges and ovens, custom cabinetry. The living room and dining area are equally impressive, with high ceilings, expansive windows, and plenty of natural light that floods the space.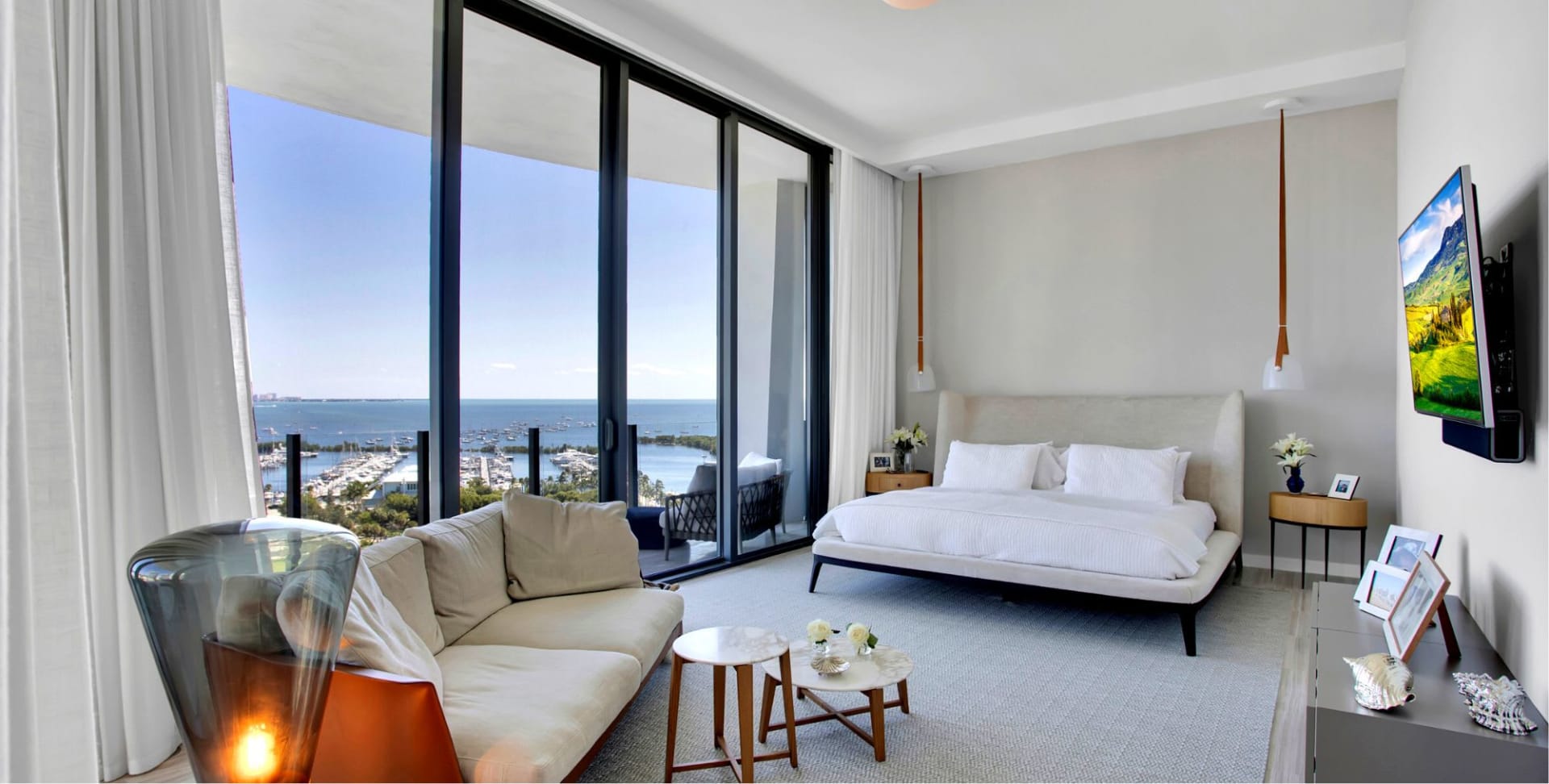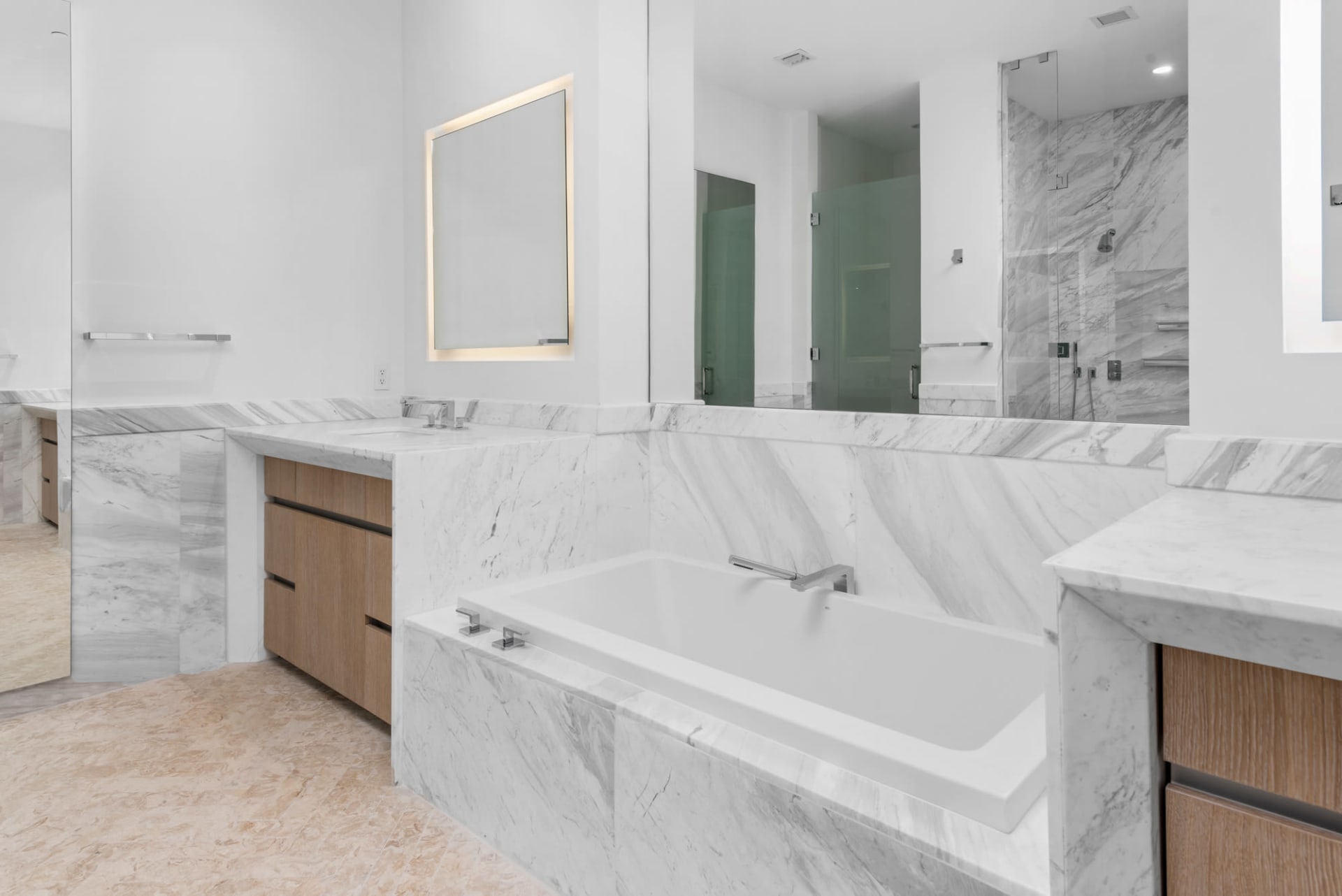 But perhaps one the most impressive features of this condo is the primary suite. With its own balcony overlooking the bay and a luxurious en-suite bathroom designed by Sofield Studios complete with dual water closets and a soaking tub, this is the ultimate retreat.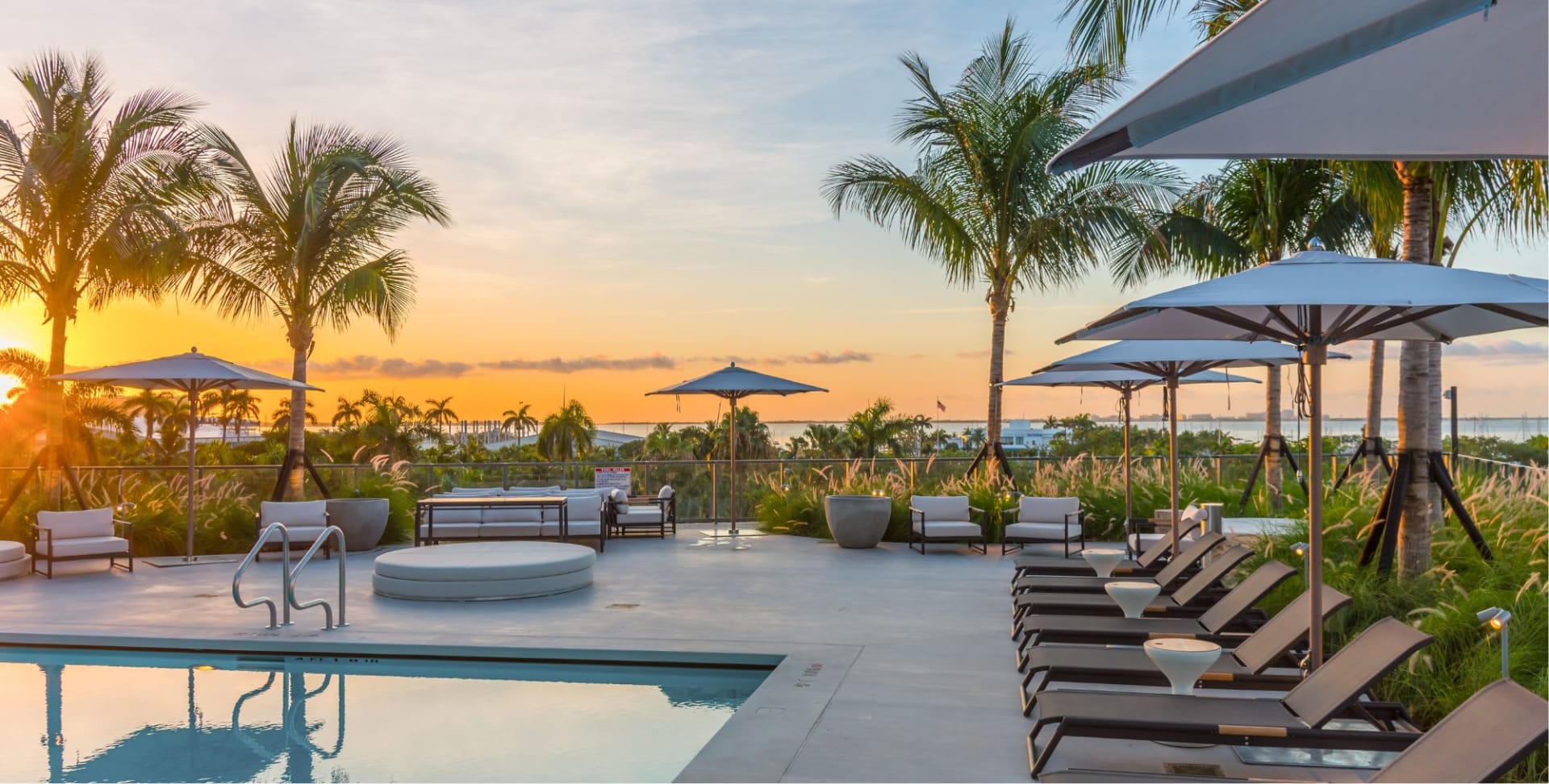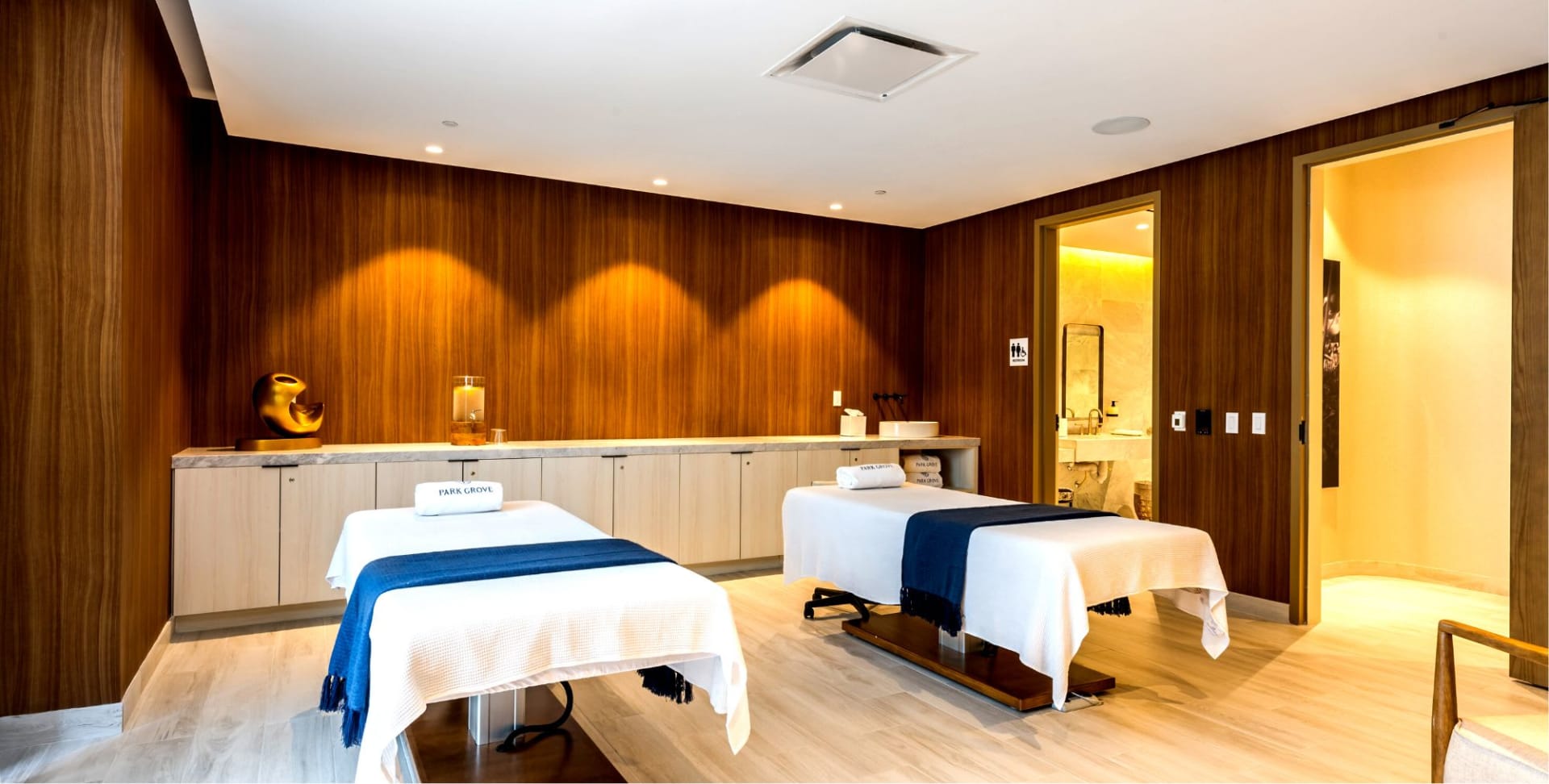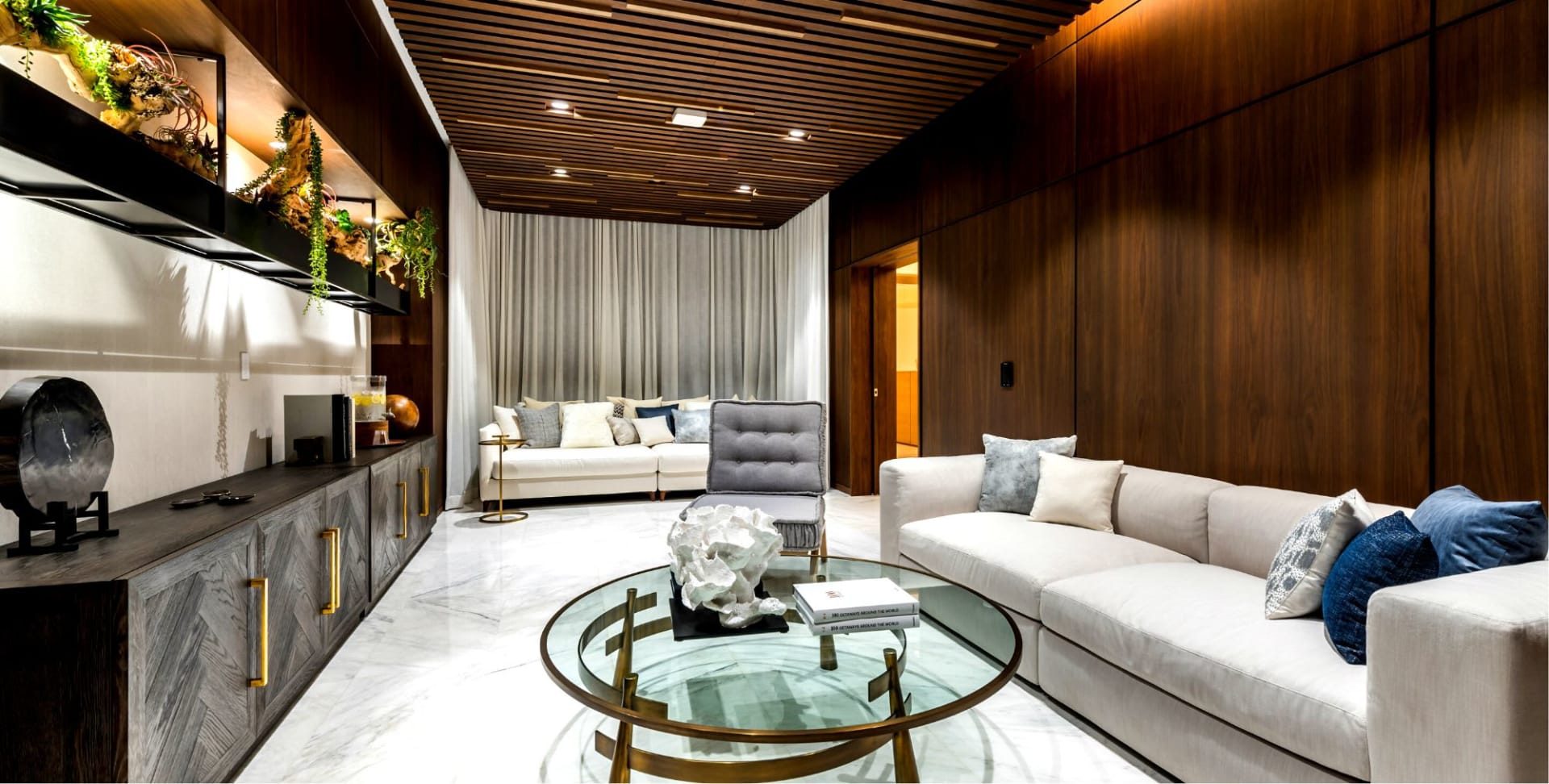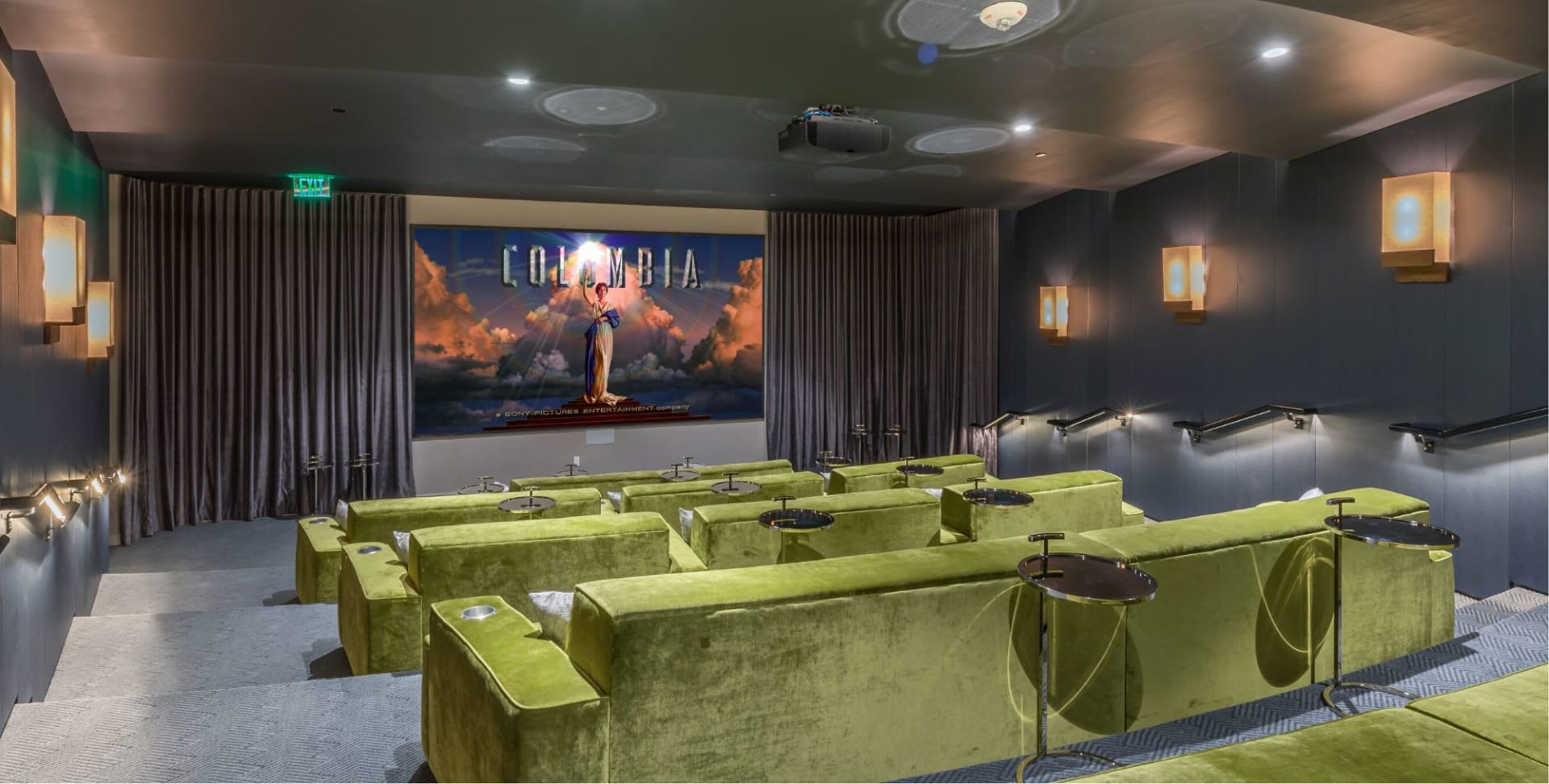 World-class amenities
Of course, living in One Park Grove #14D means you'll have access to all the incredible amenities that this luxury address in Coconut Grove has to offer. From the bayfront pool and sundeck to the private resident Alluva restaurant, fitness center, wellness lounge with treatment rooms, steam, sauna, spa, screening room, board room and library lounge, you'll have everything you need to live your best life.
Park Grove's location just off Biscayne Bay is privileged. Their residents begin their day with breathtaking views and complement their afternoons and evenings with the best 5-star services.
Designed by World-Renowned architect OMA Rem Koolhaas
Concierge and Valet Service
Private Business Center with Meeting Rooms

Lush Landscaped Gardens by Enzo Enea
Sculpture Garden
Artwork by Notable Sculptors and Artists
Lobbies and Amenity Area designed by Meyer Davis
Luxurious Pool with Private Cabanas
Bayview Dining Room for Private Events and private restaurant
Wine Cellar and Wine Lockers for Residents
Indoor/Outdoor Yoga Spaces
Large Conference Room/Boardroom with Video Conferencing Capabilities and Integrated Media Systems
Library
Fitness Rooms, Reception, and Mail Room for each Residential Tower
Resident's Lounge for Events

Children's Indoor and Outdoor Play Area
Private Screening/Media Room

If you're interested in Coconut Grove luxury homes, there's no better choice than One Park Grove. This luxurious condo community is located in the heart of Coconut Grove, one of Miami's most sought-after neighborhoods. With its vibrant arts scene, stunning waterfront parks and world-class dining and shopping, Coconut Grove is the perfect place to call home.
One Park Grove #14D is the perfect choice for anyone looking for a luxurious and contemporary condo in Miami's most desirable neighborhood. With its stunning bayfront views, incredible amenities and unbeatable location, this 3 bed bayfront luxury condo is sure to exceed your expectations. Don't miss out on this incredible opportunity to live the Miami lifestyle of your dreams.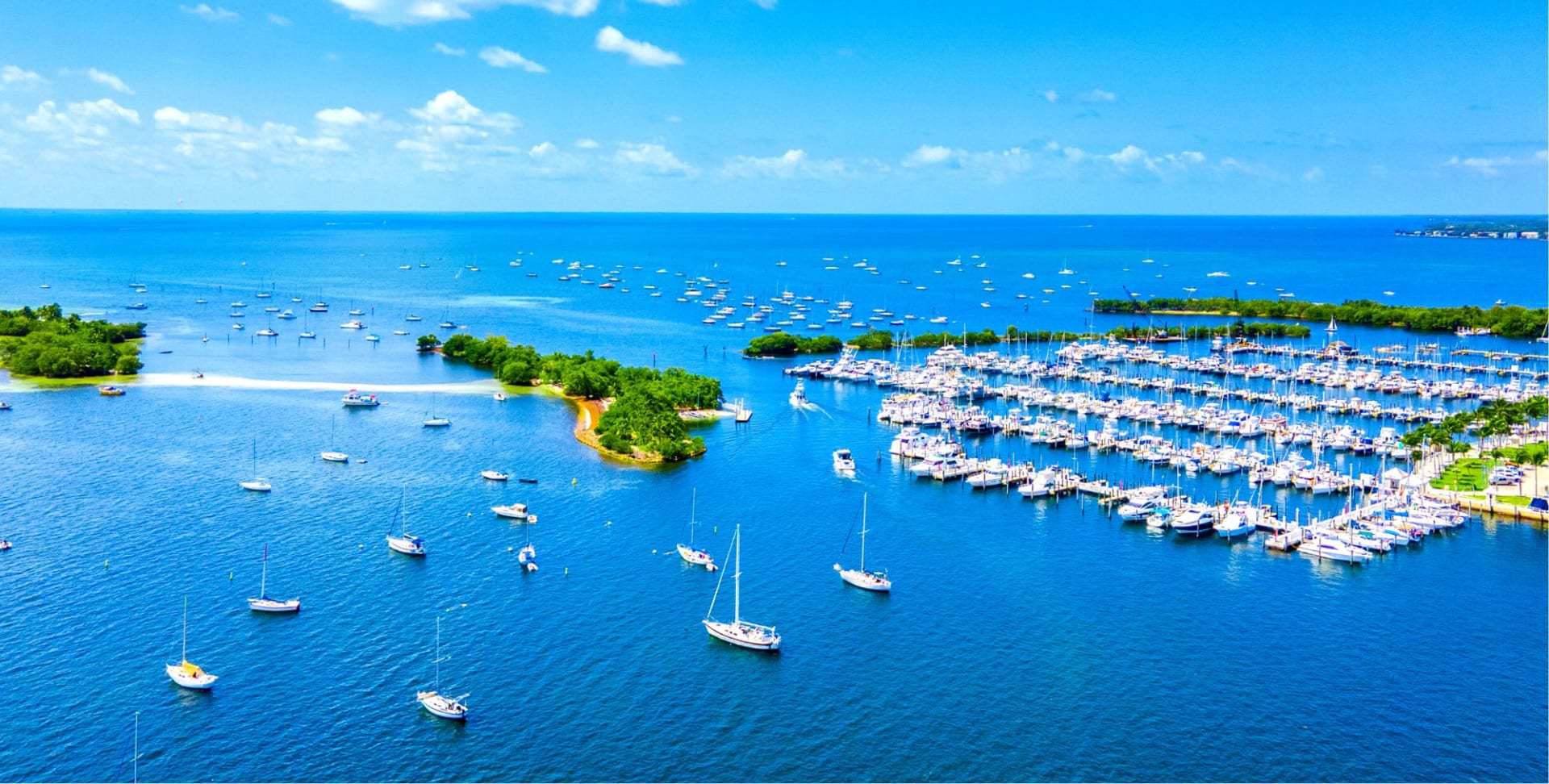 Coconut Grove
Founded in the late 1800s, Coconut Grove or "the Grove" as it is affectionately known has provided an oasis of tranquility in the thriving, cosmopolitan city of Miami. Residents started migrating since Covid to Coconut Grove and since then, they haven't stopped moving to this beautiful neighborhood. As a matter of fact, Coconut Grove is in more demand today than it was in the height of the pandemic, bringing robust market conditions of Coconut Grove with record highs for pricing and sales is across the board for homes and condos. Last year, Coconut Grove had the highest sale when Ken Griffin, the CEO of Citadel paid $106 million for two estates on a combined waterfront lot.
Coconut Grove, Miami's Hotspot for Real Estate per Variety Magazine
Ready to relocate to Coconut Grove?
Moving to Coconut Grove is great for buyers interested in a bayfront neighborhood that has many green spaces, offers a range of luxury real estate options, and whose community is welcoming and warm.
If you're dreaming of a luxurious life in a stunning bayfront condo, look no further than One Park Grove in Coconut Grove, Miami. This exclusive residential tower is the epitome of sophistication and style, offering residents unparalleled luxury and breathtaking views of Biscayne Bay. And with this gorgeous 3 bed bay front #14D condo available for sale, you could be living in the lap of luxury sooner than you think.
Contact one of the experienced agents on
The APT Team t
o tour this home and for more details.