"The consistent and continued demand for Miami real estate market continues to generate excitement and attention at domestic and out of state levels. The international buyer is itching to come back to Miami" Adriana Pinto-Torres
It was a record smashing 2020 and 2021 will prove to be even more earth shattering. While the driving force has been the domestic market, the international market has pent up demand. It is not a question of if, but a matter of when we will again see the influx of the international sector.
We at THE APT TEAM have enjoyed record-breaking quarters, one after the other. Yes, it is amazing to tout our own horns and have bagging rights. But, what is most important is that breaking records establish a precedent. They are market definers and move the needles.
One of our record breakers is the most recent sale of 120 N Hibiscus Dr., Miami Beach. 120 N Hibiscus Dr is located on Hibiscus Island, one of the premier Miami Beach single-family neighborhoods. It is a beautiful, two-story Miami Beach home with enclosed garage on a prime 9,500 SF corner lot.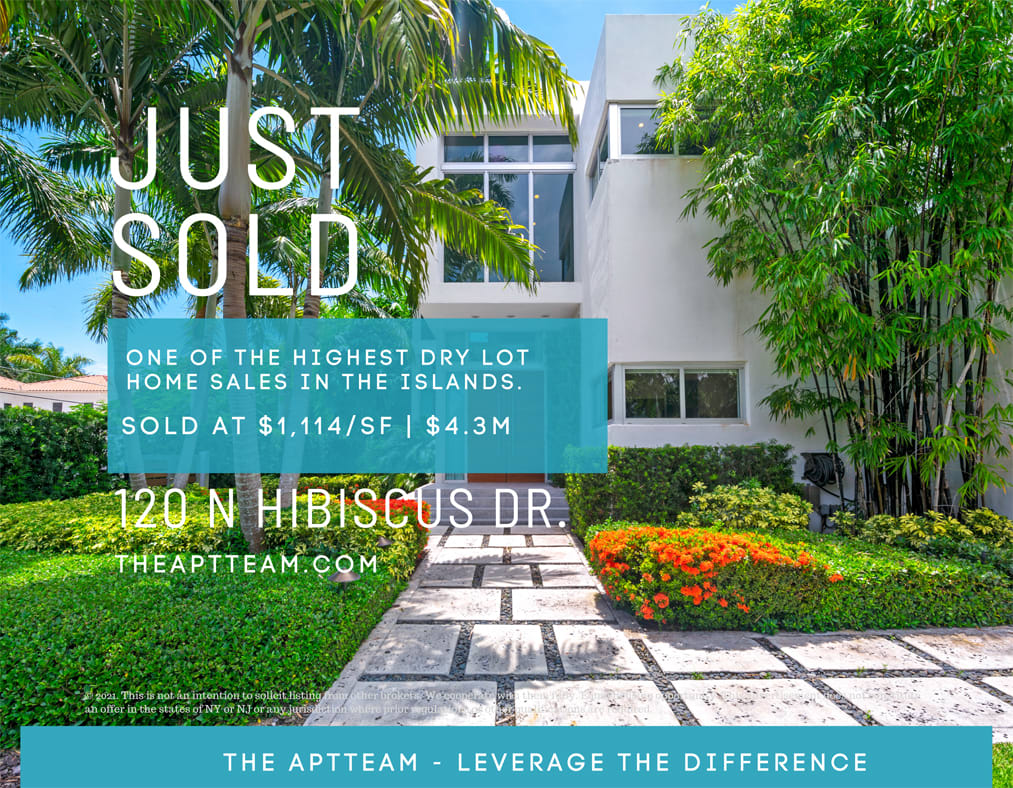 While the MLS is lagging a bit and it is showing as pending (see below for stats), 120 N Hibiscus Dr has closed at $1,114 SF or sold for $4,300,000. This is the third highest dry lot home sold in Hibiscus and Palm Islands in the past 180 days and is amongst the highest dry lot homes sold in Miami Beach in the past 2 years.
The blended average sold and pending price for the 9 dry lot homes sold and contracted (pending) in the past 180 days is $3,378,666 at $764 SP$/SF. 120 N Hibiscus Dr. (highlighted in teal was listed at $1,165/SF or for $4,499,999 and it closed for $1,114/SF or for $4,300,000.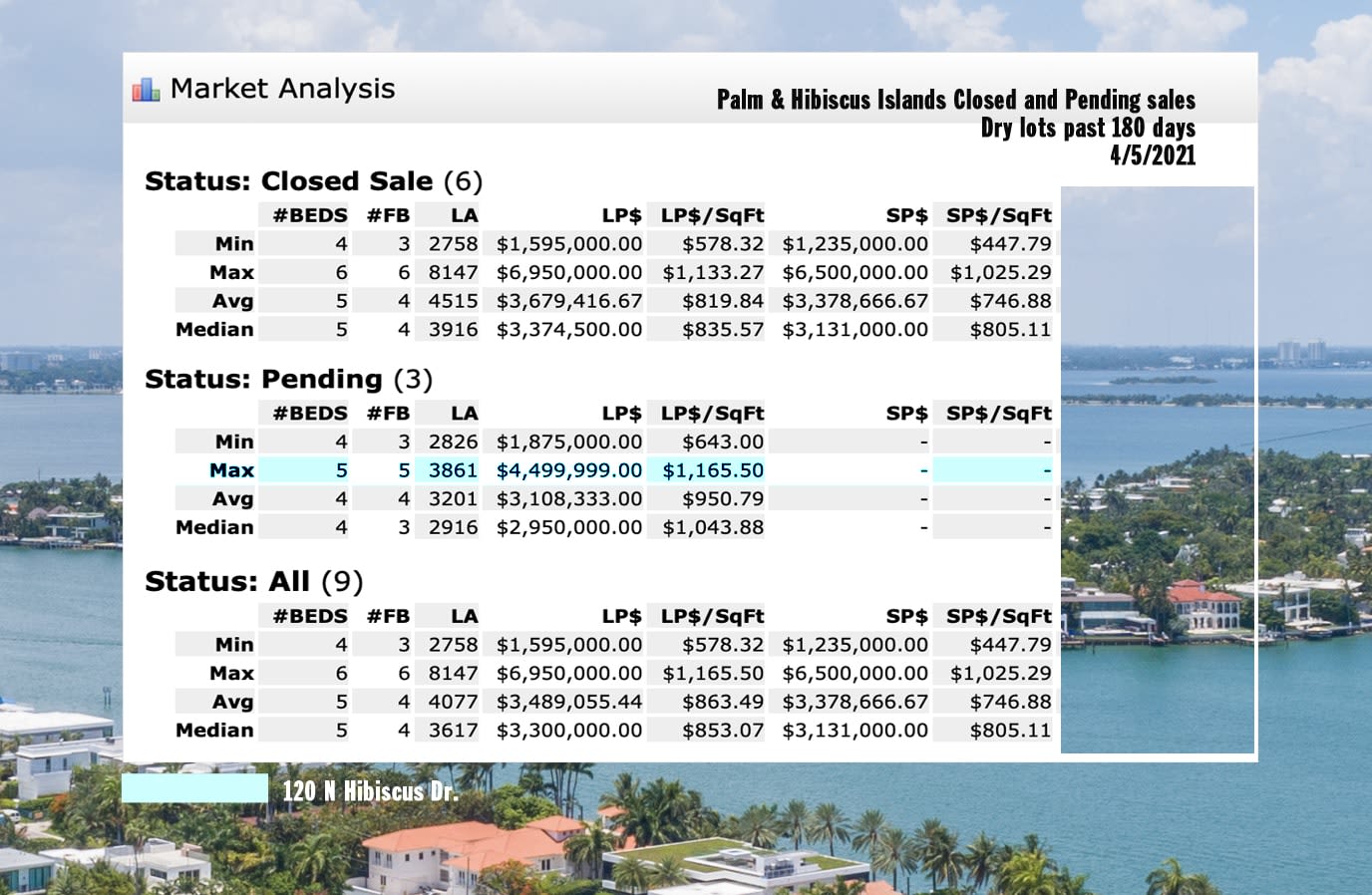 The sale of the 5 bed 120 N. Hibiscus Dr, Hibiscus Island home at $1,114 per square foot is nearly 50% more than the other dry lot homes sold and put under pending status in the past 180 days.
We expect prices for dry lot homes will to continue to rise as a result of this sale and for the significant appeal that currently exists for Miami real estate. Plus, there still is insufficient supply of newer homes to satisfy buyer demand and significant new listings in the lower price tiers to push prices downwards. Upward price trend for single-family homes will continue.
Housing prices in the Miami Beach/Barrier Islands have moved higher than ever. The ultra luxury, waterfront home has outperformed the overall market with blistering sales and unprecedented velocity. Upward price trend for single-family homes will continue.
Description of 120 N Hibiscus Dr., Miami Beach, FL 33139
Greatly landsca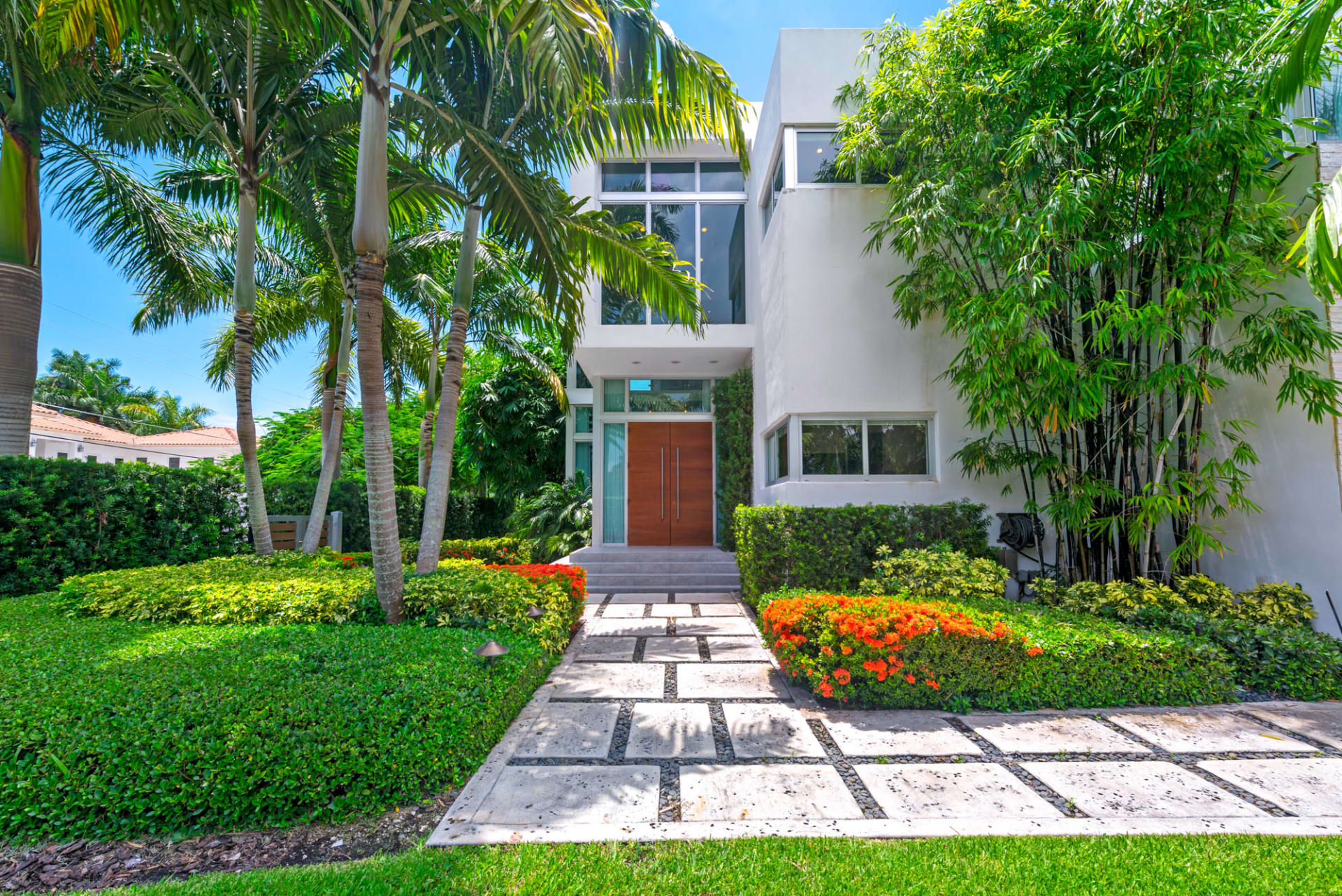 ped on a 9,500 sqft prime corner lot, this strikingly modern two level 5 bed and 5.2 bath turnkey residence with adj. area of 4,090 sqft awaits you. Combining functionality and beauty, 120 N Hibiscus Dr., features a gorgeous design with glass walls that overlook the resort inspired backyard with pool, fire pit, grill and lounging areas. Upstairs is the clean-lined master bedroom boasting spa like bathroom with floating tub and enclosed glass shower, two bedrooms and fitness room. Complemented by a sleek open kitchen, office, air conditioned two car garage, rooftop terrace, stone flooring and stunning accents, this home is fit for perfect living in the desirable Hibiscus Island.
"The APT Team offers full-service real estate service to its clientele and they distinguish themselves from the very competitive market in Miami for their excellence, innovative solutions, personal dedication and contacts with developers and investors. They also have an unprecedented work ethic and have no issue rolling up their sleeves.
Experience and commitment to clients are APT Team's top priority. After all, your real estate search is only as good as your realtor".