Introducing the first release of Park Residences at Five Park. Residences will range in size from 1-3 beds with park, bay, ocean & city views starting at $1M through $7M.

Five Park

Five Park is ushering in the new generation of living in Miami Beach, redefining luxury, lifestyle and life. Sprawling views, wellness spaces, private enclaves, household help, and community-based programming all exemplify life at Five Park. Add-in its prime location in the South of Fifth community, and this is the best true contemporary luxury has to offer.

Find yourself living in one of the most exclusive addresses in the city as soon as End of summer 2024 with the best in lifestyle, services, and amenities right at your door.

When it comes to services, all residents have access to a 24-hour concierge, valet, and butler, so no need will go unmet. At Five Park every facet of life is attended to with attention to detail and the highest level of discretion. A private beach club by operational experts The Boucher Brothers ensures life at Five Park feels effortless and effervescent. A choreographed team of beach butlers will transport owners via house Moke to your own stretch of sand and sea in South of Fifth peppered with lounge chairs and umbrellas for a view of your choosing.
In understanding what the buyer of today needs and wants, Five Park has just released the Park Residences which range in size from 1-3 bedroom condos. Equally beautiful, these Park Residences are for the same type of buyer in the Canopy tier but perhaps in a different phase or stage of his/her life. The Park Residence buyer doesn't want to sacrifice quality, location, comfort, convenience and luxury and may not need larger spaces as the 01 in the Canopy tier.
Just released, Park Residences is drawing lots of interest and demand. There really hasn't been a mid rise or high rise new building delivered in South of Fifth since Glass was delivered at the end of 2015. Glass rises 18 stories and Five Park will rise 48.
Five Park's Park Residences will go from the 8-22nd floors.
01 | 3 beds | 3.5 baths | 2,178 SF starting at $2.99M
02 | 2 beds | 2.5 baths | 1,357 Sf starting at $2.89M
03 | 3 beds | 4 baths | 2,335 SF starting at 4.8M
04 | 1 bed | 1.5 baths | 1,000 SF starting at $1.6M
05 | 2 beds | 2.5 baths | 1.516 SF starting at $2.6M
06 | 1 bed | 1.5 baths | 1,1010 SF | starting at $1.4
07 | 2 beds | 2.5 baths | 1,451 SF | starting at $2.5M
08 | 1 bed | 1.5 baths | 878 SF | starting at $1.05M
All prices and availability subject to change without notice
Five Park Park Residence floor plate
Canopy Residence Mix

01 Line: 4 Bedroom, 4.5 Bath - 3,186 sq ft - Starting at $8,300,000
02 Line: 3 Bedroom, 3.5 Bath - 2,930 sq ft - Starting at $7,700,000
03 Line: 3 Bedroom + Den (convertible four), 4.5 Bath - 2,615 sq ft - Starting at: $6,900,000
04 Line: 2 Bedroom, 2.5 Bath - 1,434 sq ft - Starting at $3,118,000
PH102 Starting at $19,000,000
PH202 Starting at $18,000,000
PH201 | 6,000 SF $20,000,000
PH202 | 6,000 SF $19,000,000
All prices and availability subject to change without notice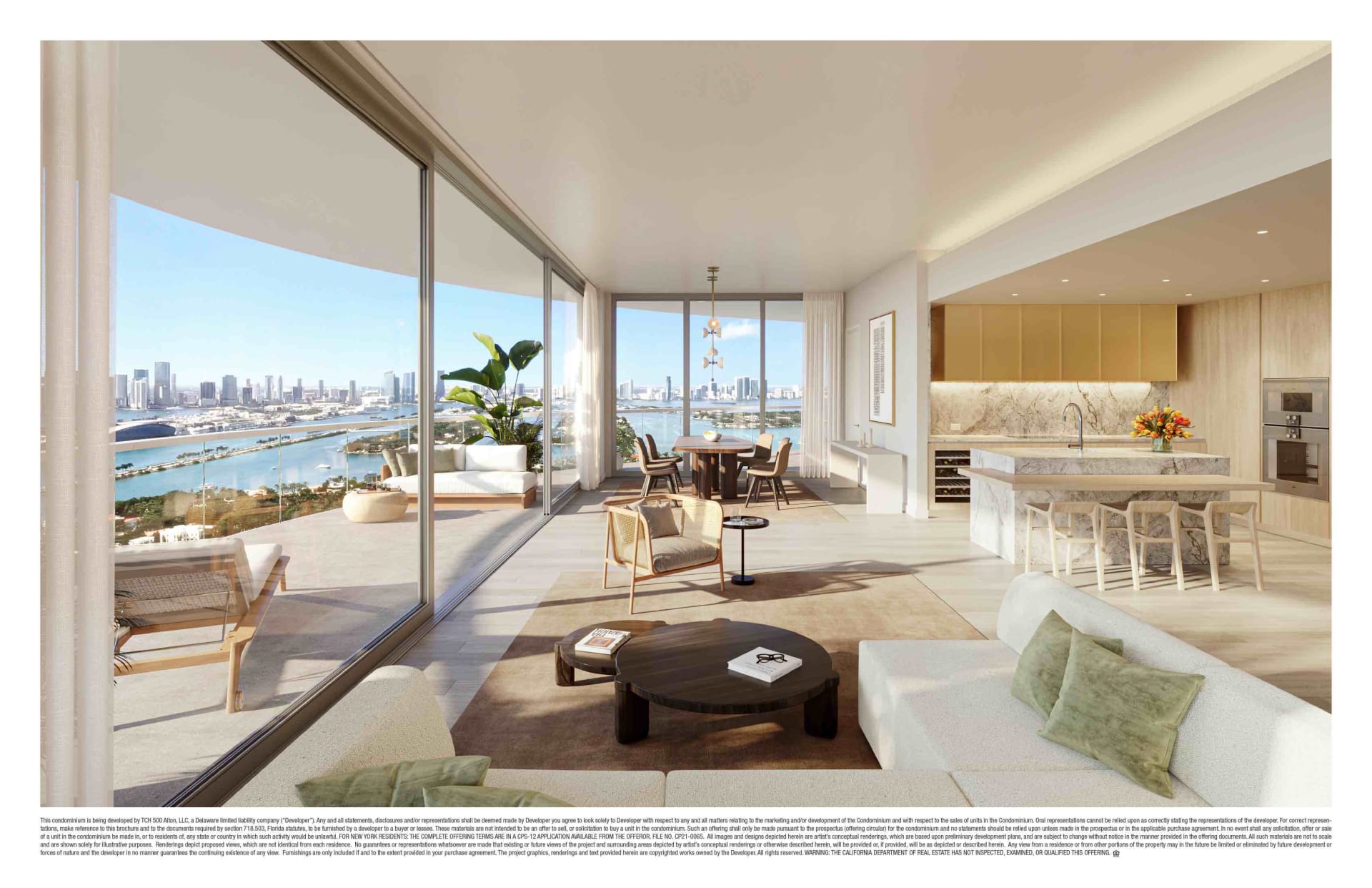 Outdoor Amenities
• Private Beach Club located South of Fifth, with lounge chairs, umbrellas and towel service

• Stunning amenity deck with breathtaking sunset views of the Miami skyline and bay, visible from both the adult & family friendly pools. The expansive space also offers unmatched relaxation with shaded trellises, a sunset terrace, numerous cabanas and lounges, and meditation deck

• The adjacent 3-acre Canopy Park features a MONSTRUM Playground, an outdoor gym, picnic areas, dog park, shaded gardens, and art installations

Building Amenities & Services
• Co-working area with private offices and board rooms

• Children's learning lab & teen club

• Screening room

• Luxury short term guest suites for friends and family

• Resident only pool bar & café

• 24-hour concierge and butler service

• Housekeeping services available

• Beach Club transportation via electric Moke

• Fully-outfitted Gym

• Spa & Treatment rooms

• State-of-the-art fiber-optics provide high-quality internet and WiFi service from every corner of Five Park residences and amenities, even garage and elevator space