Pharrell Williams and David Grutman $200 million Goodtime Hotel in Miami Beach opens with star-studded party. This is the second venture between Williams and Grutman in Miami. In 2018, they opened the doors of their Swan restaurant in Miami's Design District.
Producer, singer, artist turned entrepreneur of many hats Pharrell Williams and hospitality titan David Grutman of Groot Hospitality have again join forces to bring The Goodtime hotel and its Strawberry Moon restaurant/30,000 sqft pool deck to Miami Beach. We can't help but be corny and paraphrase Williams by concluding that they must be "HAPPY LIKE A ROOM WITHOUT A ROOF", part of Happy song by Pharrell Williams. Happy was the best selling/streaming song in 2014 with nearly 14 million units sold. We sang it so much that we drove others unhappily crazy.
The celebrity-filled launch party was held on Friday.
Mr. Grutman must be doubly happy as his world-renowned Liv nightclub reopened this month as well. David Grutman restaurant and nightlife empire include LIV, Story, Planta, Papi Steak, Toothfairy (coming soon).
If you have ever eaten at any of Grutman's restaurants you might have bumped with a Kardashian, a Hadid or the Beckmans. And since Swan opened in 2018, he not only gets stars to attend but stars to partner with.
It then goes without saying that Kim Kardashian, David and Victoria Beckham, Chris Rock and Maluma were in attendance at the Goodtime Hotel and Strawberry Moon shindig. The party also was also the chance to kickoff Beckham's Inter Miami soccer season. Guests enjoyed Haig Club cocktails (you guessed it, Beckham is copartner in the whiskey company) and master merchandiser Grutman's signature Purple Reign concoction.
Cool vibes, cool times and feel good ambiance is what Williams and Grutman want for their places. This power team is inspired by mid-century and Art Deco styling with light spaces and pastel hues of pink, green and turquoise. Both Swan and Strawberry Moon have a retro chic, throwback vibe with tropical aesthetics and tiled flooring. Swan is emphatically coral pink. Strawberry Moon's décor features more pinstriped accents. Here is more on Strawberry Moon's decor.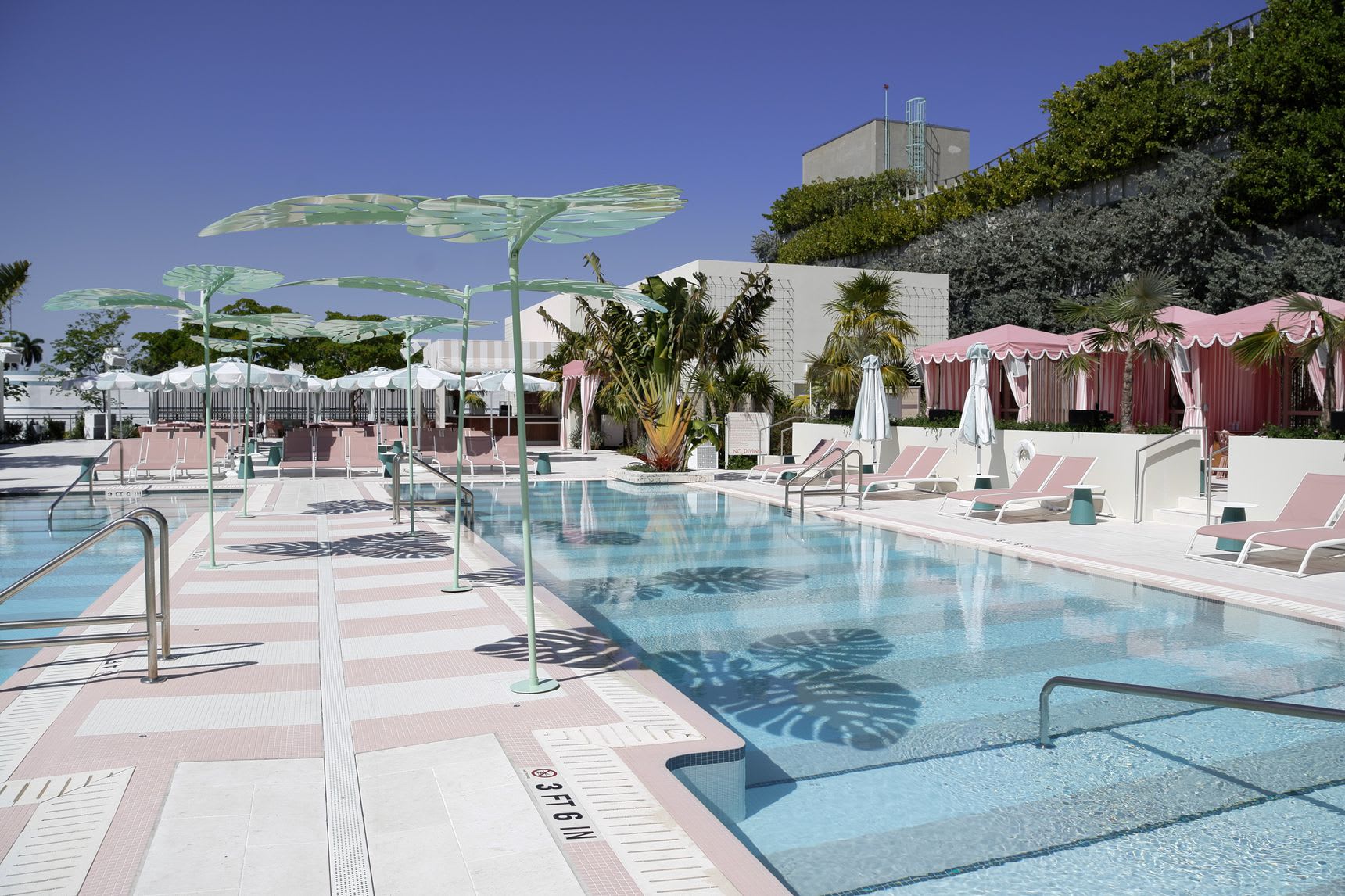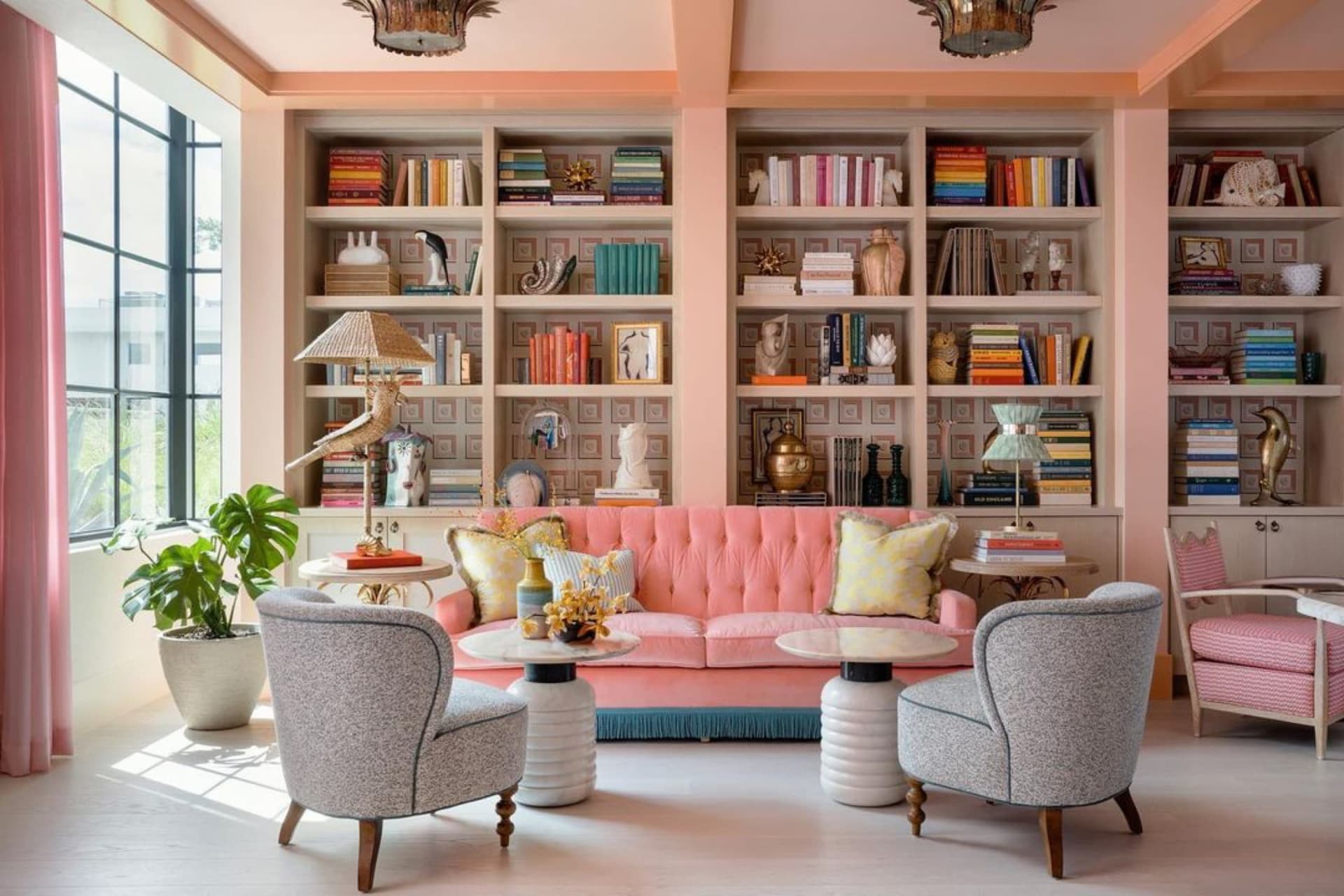 Related News
The Goodtime Hotel is located at:
601 Washington Ave., Miami Beach FL 33139
It might seem crazy what I am 'bout to say
Sunshine she's here, you can take a break
I'm a hot air balloon that could go to space
With the air, like I don't care, baby by the way
Huh (Because I'm happy)
Clap along if you feel like a room without a roof
(Because I'm happy)
Clap along if you feel like happiness is the truth
(Because I'm happy)
Clap along if you know what happiness is to you
(Because I'm happy)
Clap along if you feel like that's what you wanna do
Here come bad news talking this and that (Yeah)
Well give me all you got, don't hold back (Yeah)
Well I should probably warn you I'll be just fine (Yeah)
No offence to you don't waste your time
Here's why
Clap along if you feel like a room without a roof
(Because I'm happy)
Clap along if you feel like happiness is the truth
(Because I'm happy)
Clap along if you know what happiness is to you
(Because I'm happy)
Clap along if you feel like that's what you wanna do
Uh, bring me down
Can't nothing, bring me down
My level's too high to bring me down
Can't nothing, bring me down, I said
Bring me down, can't nothing
Bring me down
My level's too high to bring me down
Can't nothing, bring me down, I said
Clap along if you feel like a room without a roof
(Because I'm happy)
Clap along if you feel like happiness is the truth
(Because I'm happy)
Clap along if you know what happiness is to you
(Because I'm happy)
Clap along if you feel like that's what you wanna do
Clap along if you feel like a room without a roof
(Because I'm happy)
Clap along if you feel like happiness is the truth
(Because I'm happy)
Clap along if you know what happiness is to you
(Because I'm happy)
Clap along if you feel like that's what you wanna do
Uh, bring me down (Happy, happy, happy, happy)
Can't nothing (Happy, happy, happy, happy)
Bring me down, my level's too high
To bring me down (Happy, happy, happy, happy)
Can't nothing (Happy, happy, happy, happy)
Bring me down, I said
Clap along if you feel like a room without a roof
(Because I'm happy)
Clap along if you feel like happiness is the truth
(Because I'm happy)
Clap along if you know what happiness is to you (ayy, ayy, ayy)
(Because I'm happy)
Clap along if you feel like that's what you wanna do
Clap along if you feel like a room without a roof
(Because I'm happy)
Clap along if you feel like happiness is the truth
(Because I'm happy)
Clap along if you know what happiness is to you (hey)
(Because I'm happy)
Clap along if you feel like that's what you wanna do
Come on
Songwriters: Williams Pharrell L