South Beach is one of Miami's hottest spots, full of restaurants and fabulous boutiques. Whether you're in need of the perfect dress, a new pair of slacks, or are simply in the mood for a full day of pampering, there's something in South Beach for you. So strap on some comfortable shoes and get ready to shop! Below are some of South Beach's can't-miss boutiques.


Ramona LaRue
Local designer Arianne Brown opened Ramona LaRue as a tribute to her late mother, whose boho-chic taste made a huge impact on Brown's fashion. Her flowy dresses and kaftans are ideal for humid Miami days and nights and can be worn dressed up or dressed down. The colors are bright, and the fabrics silky. Browse the "Tara Dresses" and the "Mandy Pants." LaRue also has its own line of lingerie and shapewear, so prepare to leave outfitted from head-to-toe!
Roses and Dreams
This charming women's boutique features dozens of high-profile designers. The clothing at Roses and Dreams is flowy and ethereal — perfect for a late Sunday brunch or a beachy getaway. Pair a floral maxi dress with a beautiful assortment of bracelets. Their straw baskets scream "beach day" and feature cute colorful designs. Roses and Dreams also carries children's clothing, so you can match with your little one. Everyone leaves happy!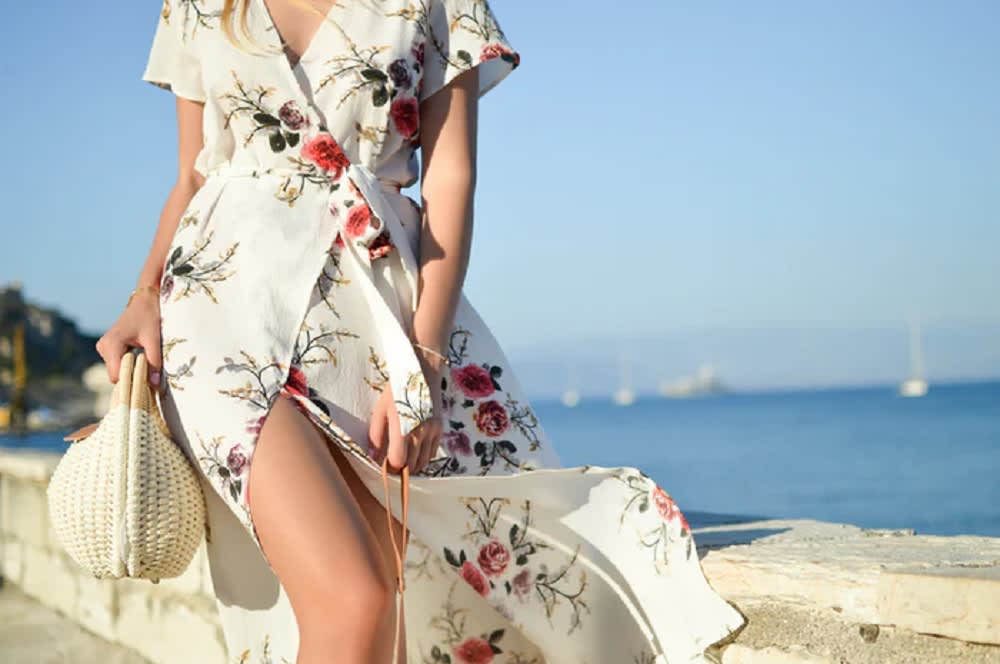 Portofino Wine Bank
If you're more in the mood for wine than clothing, head to Portofino Wine Bank. This popular shop has fine wines from across the globe and premium liquors, as well as frequent events. Head to the shop to learn about summer drinks under 100 calories or sample different Skyy Vodka flavors. The staff is knowledgeable and will help you find the perfect wine or spirit for your tastes.
F1st Surf Supply
Attached to SoFi's Stanton Marriott Hotel, F1st Surf Supply is the only shop in town that also offers rentals and lessons in standup paddle boarding. Its owner is a Miami local and surf enthusiast, so you can rest assured that the shop sells nothing but the best! Browse for a new bikini or a pair of swim trunks, or maybe some sunglasses, sandals, and surf gear. There aren't any touristy souvenirs here, so come ready to invest in some top-notch sportswear.
U Rock Couture
For trendy, statement-making fashion, there's South Beach's U Rock Couture. The name says it all. U Rock Couture carries unique, high-fashion brands, like RAWALTY and Mystique, and also sells both men's and women's clothing. Shop for every occasion, from upscale ball gowns to rock and roll t-shirts. Leather and rhinestones are big here, so get ready to make a statement!
Taj by Sabrina Crippa
This high-end boutique on Lincoln Road is another gem in the South Beach women's clothing scene. According to their marketing, the Taj woman indulges in "long, restful retreats on exotic islands and beautiful beaches" and balances relaxation with "splendid nights." Flowy dresses and pants, off-the-shoulder tops, and colorful swimsuits fit Taj's profile. This is the kind of place that will prepare you for the Miami fashion scene, so be sure to stop by. It's an upscale boutique, but their high-quality pieces are well worth their prices.
Jessie
This South Beach store has some of the trendiest women's fashion around. Top designers like For Love & Lemons, L'Agence, and Veronica Beard can all be found here. The clothing is bold, sexy, and upscale. Jessie also sells shoes and accessories, which range from practical to full glam. Treat yourself to the Candy Citron Bag or vegan fur slippers. You'll leave feeling like a million bucks.
Beach
For the beachiest of beachy, head to the eponymous Beach, a one-woman vision that's part clothing boutique, part gallery. Owner Patricia Costa hand-picks and artfully displays her pieces, which include designer accessories, boho-chic tops, and elegant evening gowns. No matter what you think you need, Beach is sure to have something you know you want.
Frankie Miami
frankie. is a self-proclaimed "ultimate destination for the fashion-savvy shopper." Founded by two best friends and located in Sunset Harbour, it's a one-stop shop for building your dream closet. Their pieces range from casual to upscale and are all based on simple, foundational designs. The frankie. team hand-picks every single piece and will help you find your perfect look. Their Billie Knit Dress and Terry Cloth Shorts are just two of the stand-outs featured on their website.


Credit: Travel + Leisure
The Webster Miami
The Webster is high-end luxury at its finest. Everything here is unique, eye-catching, and stitched with class. Shop for an unforgettable evening gown, a neutral but elegant clutch, or some Alexander Wang sandals. Men will also find top designer brands like Armani and Garrett Leight. The next time you have a craving for the lush life, head to The Webster.
Interested in exploring Miami real estate? Contact the APT Team today!