Everyone in Miami wants to be on the waterfront. Who can blame them, given the number of gorgeous waterfront areas available? Miami Beach condos for sale are in high demand, so multiple developments are underway. In most of the waterfront neighborhoods, docking services are available with differing amenities. Let us help you secure Miami Beach real estate and the marina services you need.

There are many opportunities to enjoy the waterways throughout Florida. Here are seven of the best marinas near Miami Beach.

One Island Park
One of the newest marinas in Miami Beach designed for superyachts, One Island Park can accommodate yachts measuring up to 244 meters. It is popular for private owners due to the amount of VIP concierge services provided. The location of One Island Park on the MacArthur Causeway is perfect for charter transitions, as well as short and long-term visits. Its proximity to the U.S. Coast Guard Station, along with the on-site patrol and security gates, makes it one of the most secure marinas in the area. It is just outside of the Captain of the Port (COTP) border, so users are not required to file a NOAD 96 hours prior to movement.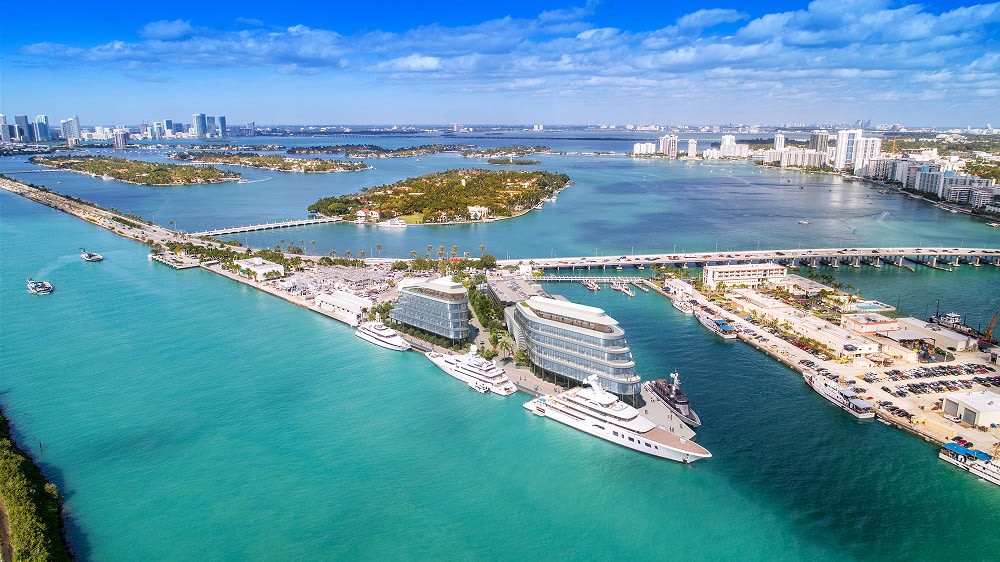 Credit: One Island Park
Bayshore Landing
Previously named Prime Marina and owned by The Prime Marina Group, Bayshore Landing has been a favorite marina in the area for a long time. It is home to the famous and popular Monty's Raw Bar, where you can find live music, fresh seafood, and some of the island's best dishes. Bayshore Landing has a prime location in Coconut Grove, where you can find some of the best Miami Beach real estate. The marina has 111 wet slips available with electrical and water hookups. It can accommodate boats and yachts up to 130 feet long. The marina conveniently has fishing charter companies on-site as well as yacht sales and brokerage firms.
Island Gardens
Island Gardens is home to some of the most glamourous super-yacht collections in the United States. Guests can enjoy world-renowned festivals and other prestigious events at Island Gardens. For example, the Carnaval Sensuel on Halloween showcases the best Carnaval Couture, and carnival performers entertain with death-defying feats. Superyacht Miami Week takes place every year around February and is a great time to visit and tour Miami Beach condos for sale. Located inside the Miami Causeway between downtown Miami and Miami Beach, it is a popular location for holding private events and is an exclusive venue. The marina can accommodate vessels up to 550 feet long.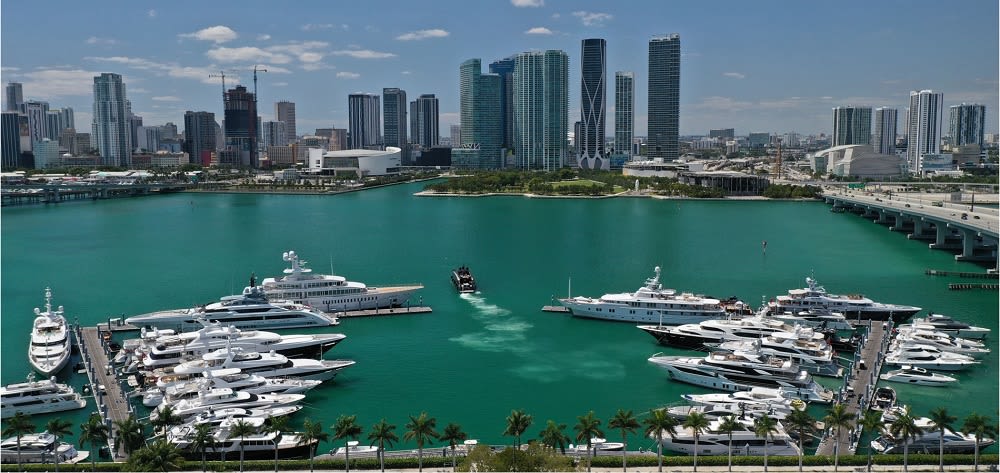 Credit: Island Gardens
Sea Isle Marina
Located on the northern side of Downtown Miami and directly behind the Biscayne Bay Marriott on Bayshore Drive, Sea Isle is a popular and convenient dock for visitors and private owners. Miami Beach real estate opportunities are plentiful for business space in and around the Marina and nearby residential property. If you are looking to open a restaurant or retail business, or if you are just looking for executive office space, Sea Isle has prime space available for you to explore. The boat slips can accommodate yachts up to 110 feet long, and docking rates here are competitive on both short and long-term rates.
Sunset Harbour Yacht Club
Sunset Harbour is a destination marina voted the Best Marina of Miami Beach for three consecutive years by the U.S. Local Business Association. Here owners and shareholders share a piece of the two acres of prime waterfront in addition to their wet slip. They also enjoy amenities such as private parking, a fitness center, and a heated Olympic-size pool. It is in the heart of South Beach, near the Venetian Causeway on Biscayne Bay. Sunset Harbour is within walking distance of restaurants, shopping, and main attractions such as the Jackie Gleason Theatre, Miami Beach Convention Center, and Ocean Drive. The marina can accommodate yachts up to 45 meters long. Transient reservations are accepted on a monthly, semi-annual, and annual basis. If you are looking for Miami Beach condos for sale in the area, Sunset Harbour could be the perfect marina for you.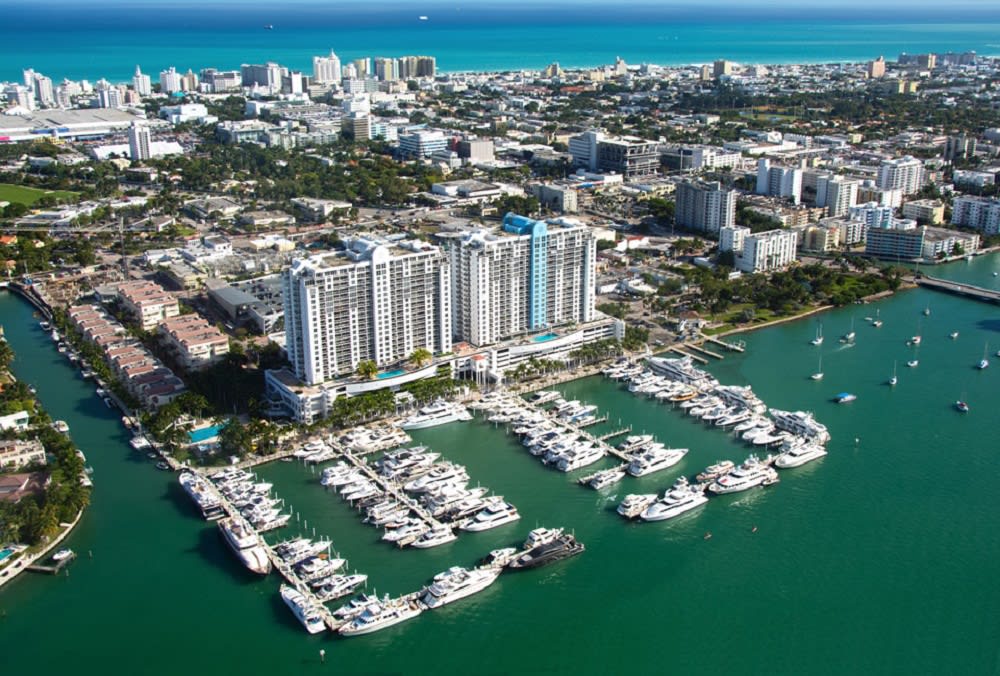 Credit: Sunset Harbour
Epic Marina
Epic Marina was hit hard by Hurricane Irma, but it is now rebuilt and one of the most luxurious marinas in the area. It is located in the heart of Miami, where Biscayne Bay meets the Miami River, and there are no bridges to the Ocean. It is also a short and easy sail to the Florida Keys or Fisher Island. The Epic Hotel is the only hotel in Miami that offers direct dockside arrival and moorage. If you are visiting the area to find Miami Beach condos for sale, this could be the best place to stay. The famous Japanese restaurant Zuma is undergoing a globally-inspired renovation with plans to re-open in early winter. The marina accepts transient, short, and long-term docking and can accommodate yachts over 300 feet.
Fisher Island Club
Fisher Island is an exclusive private island community across from Miami Beach and is a destination vacation for those seeking a private island experience. The Beach Club has white sand on its uncrowded beach. The Links at Fisher Island has been the host of PGA tours with its 390-yard, par-4 seventh plays along Miami's shipping channel where yachts and cruise ships sail. Recreational activities on Fisher Island abound. The marina provides a high degree of privacy and can accommodate vessels up to 250 feet long. Luckily, the marina does allow temporary membership for yachts under 76.2 meters long, so you can visit the area and enjoy all it has to offer. It should come with a warning, though. You may fall in love with the area and want to invest in your own Miami Beach real estate.

The APT Team's realtors know the Miami Beach area and are happy to help you find a private marina or waterfront neighborhood to fit your needs. They have experience helping homeowners and investors find quality real estate.