Miami may be known for its sunny party scene, but it also happens to be one of the ultimate golf destinations. There are many stunning courses, each with its own history, character, and reputation. Here's your complete guide to the top golf courses near Miami.


The Biltmore Golf
The Biltmore Resort is known for its luxe and history. Established in 1926 by George Merrick (who also founded Coral Gables), it has remained a hub for glitz, glam, and unbeatable golf. The course was designed in 1925 by the legendary golf course architect Donald Ross. It was updated in 2018 to become the magnificent 18-hole, 71-par championship course it is today. It has a long history of hosting championships, from the Miami-Biltmore Open to the Junior Orange Bowl International Golf Championship. Biltmore golf members benefit from a range of perks, including advanced starting times, golf club member tournaments, access to the members-only lounge, and savings on several hotel amenities. If you're looking for a challenging course steeped in history, the Biltmore is your best bet!
The Soffer Course at the JW Marriott Turnberry Resort & Spa
The Turnberry resort is home to two of the most robust golf courses in Miami. The Soffer course offers twists and turns at every point. Described as a "championship masterpiece," it includes crisscrossing creeks, lagoons, TifEagle greens, and a par four on the 18th hole. The 18th hole is situated on a breathtaking peninsula, combining difficulty and beauty in one hole. The Turnberry Isle Country Club has both golf memberships and national memberships. Golf members receive priority tee times and guest passes, while national members can take advantage of the hotel's spa, fitness area, and dining options. Explore the resort's packages and plan your dream golf experience.
Miami Shores Country Club
Located just 15 minutes from downtown Miami, the Miami Shores Country Club is one of the most natural, unique courses in the area. Its 18-hole, 71-par championship course is peppered with stately oak trees and luscious rolling greens. The Club puts on several major tournaments and outings and has an experienced team ready to host your event. There's also a highly trained team of golf instructors who develop specialized lessons for each student. Members love the historic clubhouse, with its community feel and classically decorated rooms. It's an ideal spot for post-tournament celebrations and events. The entire Miami Shores is a personalized experience full of timeless touches that will transport you back in time.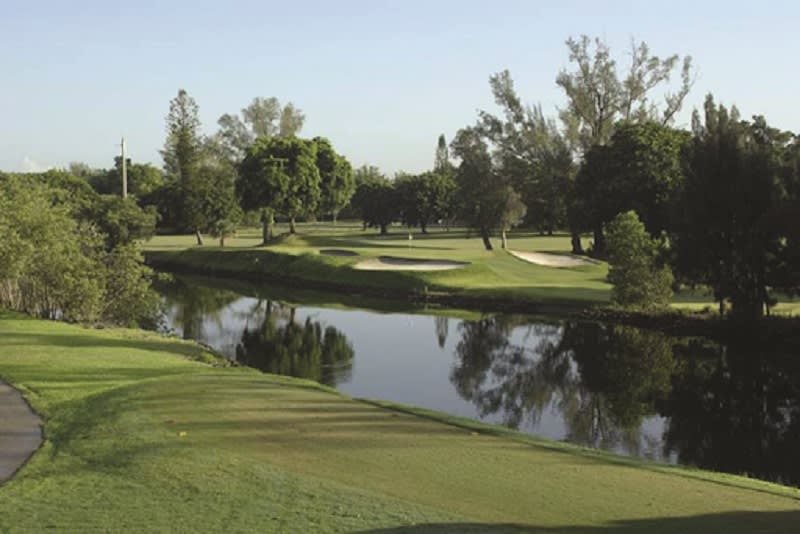 Credit: Florida Historic Golf Trail
La Gorce Country Club
To join La Gorce Country Club is to be admitted into an ultraluxe, highly exclusive golf community. Located in the heart of Miami Beach, it's been an institution for over 90 years. Jack Nicklaus redesigned the course in 2016. It overlooks Miami Beach, as well as the area's majestic luxury high-rise buildings. The course is challenging and consistently delivers to its members an opportunity to hone their skills. Members benefit from services like custom club fitting, golf instruction and clinics, onsite storage facilities, and elite tournaments. Its world-renowned Learning Center provides members with in-depth coaching by professional players. La Gorce is a fantastic option for golfers who want to perfect their games.
Indian Creek Country Club
One of Miami Beach's most exclusive clubs, Indian Creek Country Club prefers to keep their course out of the public eye. With extensive security measures and a close-knit membership, Indian Creek Country Club is ideal for anyone seeking a solace from the rest of the world. Tucked between Bal Harbour and Miami Beach, this centrally located course maintains its air of sophistication and prestige by offering membership by invitation only. The course, which was designed by William S. Flynn in the 1930s, is meticulously manicured and stretches 6,600 yards from the original tees.
Melreese Country Club
Melreese Country Club boasts 6,500 square feet of architectural prowess. Since reopening in 1997 after a $3.9 million renovation, it's become the home of the University of Miami Women's golf team, as well as the men's teams from Barry University and Johnson and Wales University. Rolling greens are intercepted by lakes, waste bunkers, elevation changes, and other strategic difficulties. The club offers professional golf instruction, as well as a delicious restaurant for those with post-golf appetites. While the club is open to the public, it remains an upscale community for competitive golfers.
Miami Beach Golf Club
When Miami Beach Golf Club originally opened in 1923 as the Bayshore Golf Course, it was a destination for wealthy Northeasterners. It has since undergone a major facelift: new trees, grass, and clubhouse. Today, it presents golfers with exciting challenges at every hole — enormous rolling greens, water, narrow landings. It's also home to the South Beach International Amateur Tournament, which has one of the largest, most international talent pools around. After a long game of golf, stop by for a bite at the club's renowned restaurant. Enjoy hearty breakfasts, curated dinners, and a full-service bar. Even nonmembers flock to this restaurant for a tasty meal.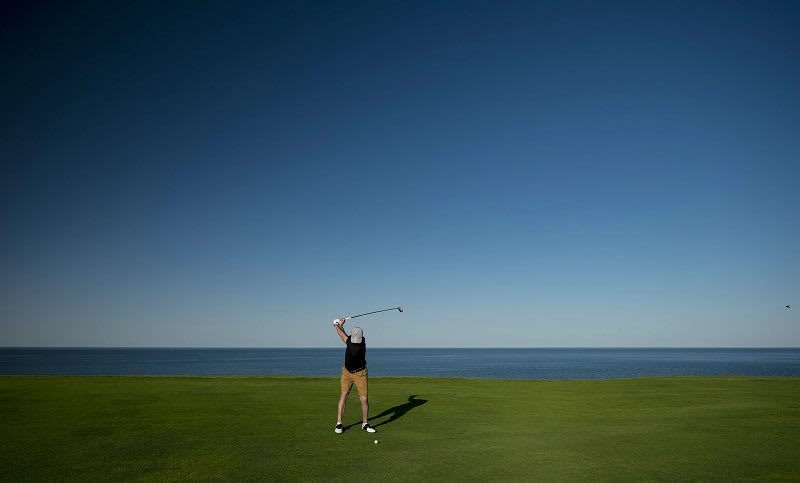 Greynolds Golf Course
If you're looking to play nine holes, head to Greynolds Golf Course. This 3,100-yard layout is equal parts demanding and receptive to players at all levels. It's a 36-par course and is one of the most popular nine-hole courses in the country. It's also equipped with a plethora of amenities, from electric golf carts to club rentals to golf lessons. Improve your game with one of the many professional onsite teachers. If you're interested in joining or starting a league, Greynolds is a great choice. Leagues with 12 or more players qualify for discounted rates on green fees.
The Links at Fisher Island
Another prestigious course on the Miami Beach circuit is The Links at Fisher Island. Glimpse the Miami Skyline from the fairways of this top-ranking P.B. Dye-designed 9-hole golf course. Each hole is distinct and uniquely challenging, boasting thoughtfully-curated bunkers, water features, and winding fairways that will put even scratch golfers to the test. This par-35 championship course is reserved for members of the Fisher Island Club only, and membership grants full access to the practice range, golf shop, 10,000-square-foot clubhouse, and an after-game luxury meal at one of the club's dazzling eateries.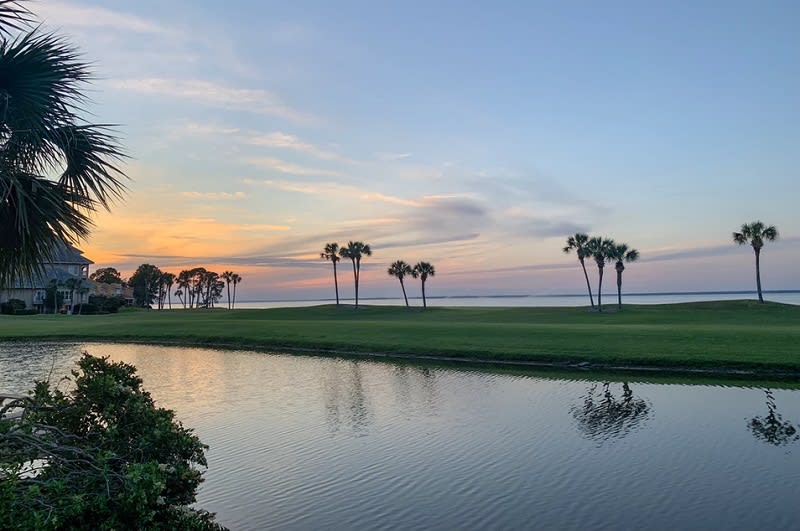 Briar Bay Golf Course
Similar to Greynolds, Briar Bay is a public golf course with an impressive layout. It's a par-31 executive course operated by the Miami-Dade County Parks Department. It welcomes golfers of all ages and levels and has over 40,000 rounds of golf played per year! Take lessons from one of the three top-notch Palmetto Golf Academy instructors. Briar Bay also runs both a men's and women's league, which are ideal for golfers who want to meet players and try some friendly competition.
Are you interested in Miami Beach real estate? Contact the APT Team for the area's best listings and learn more about how you can call Miami Beach home.