Welcome to Edgewater
Welcome to Edgewater Miami, a vibrant and dynamic neighborhood that boasts a stunning waterfront location.
If you're looking for a place to call home that offers the best of both worlds - a bustling city atmosphere and the tranquility of the bay- then Edgewater Miami is the perfect destination for you. Edgewater is a rapidly growing community that offers stunning waterfront views, an eclectic mix of restaurants and bars, and an array of cultural and entertainment options. Whether you are a longtime Miami resident or a newcomer, there's something for everyone in Edgewater. Take a stroll along the scenic baywalk, which stretches for miles and offers breathtaking views of the bay and the Miami skyline. Indulge in a delicious meal at one of the many world-class restaurants, or grab a drink at a trendy rooftop bar. If you're looking for culture, check out the nearby Perez Art Museum Miami or the Adrienne Arsht Center for the Performing Arts. Take a couple of minutes and go to Midtown, Design District or Wynwood. Stop by Upper Buena Vista or cross the bridge into Miami Beach. And with easy access to major highways and public transportation, Edgewater is the perfect place to call home while exploring all that Miami has to offer.
This thriving neighborhood is also home to a diverse population, a vibrant arts and culture scene, and a wide range of dining and entertainment options. So whether you're looking to settle down or you simply want to enjoy all that Miami has to offer, Edgewater Miami is the ultimate destination for waterfront living.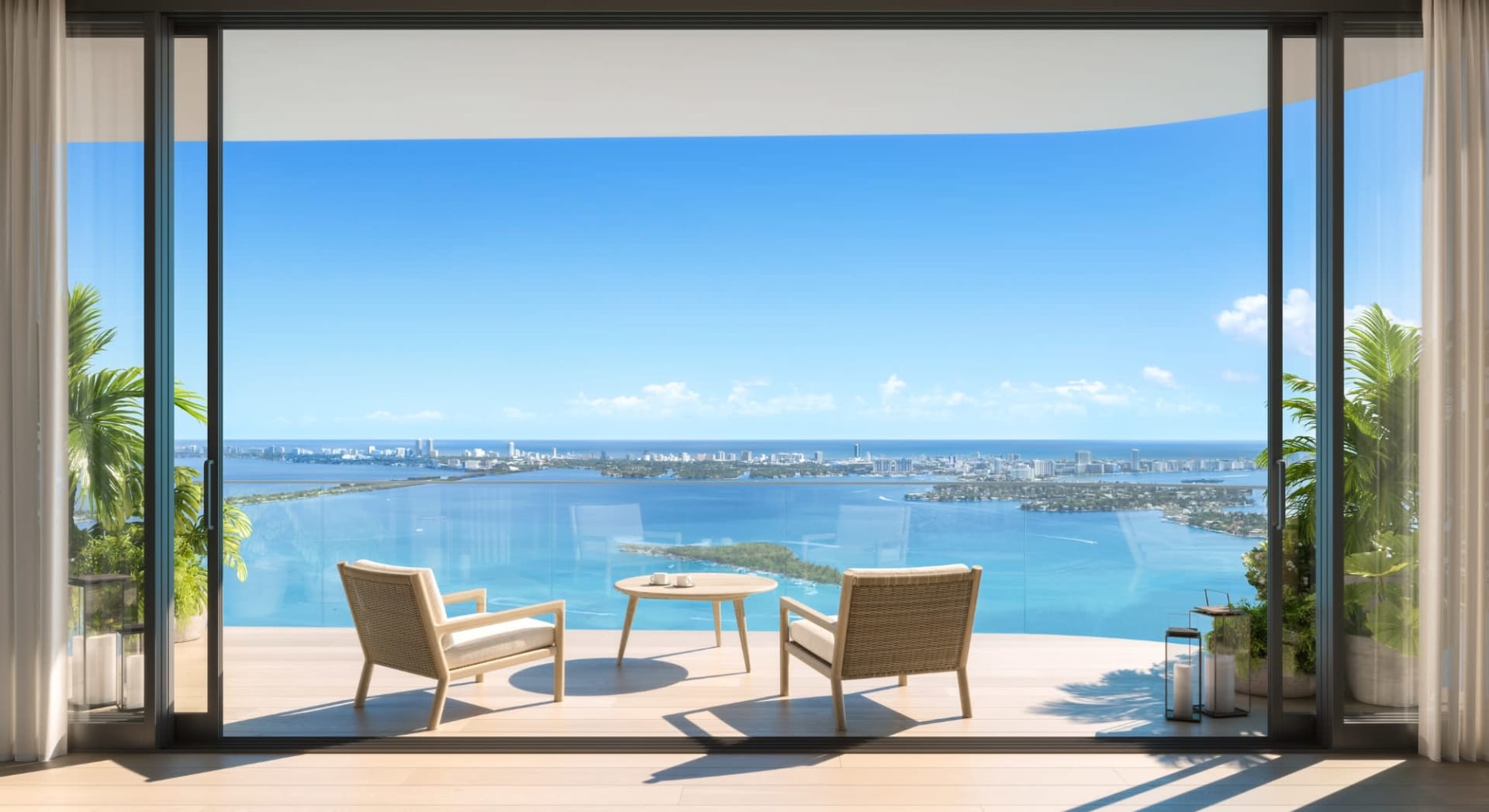 Prime location
Edgewater provides convenient access to Downtown Arts District, Julia Tuttle Causeway, Wynwood Arts District, Design District, Brickell, and South Beach. It stretches along the Biscayne Bay, offering breathtaking views of the water and the city skyline. With its prime location, Edgewater Miami has become a hot spot for luxury living, attracting high-end developers and investors. Edgewater is a serene residential area that is not usually frequented by tourists. It offers a blend of nature-oriented and urban lifestyle. Edgewater features existing bayfront condos and luxury residences, and it is poised for growth with more luxury condos, restaurants, and grocery stores like Whole Foods in development.
Real estate market in Edgewater Miami
The real estate market in Edgewater Miami has seen significant growth in recent years, with high-end developers flocking to the area. And there is more growth expected for the area. As waterfront land becomes more scarce and more expensive to build, any neighborhood that not only has a great location on the water but is within close proximity to all mayor attractions of Miami will always be in demand and set all gears in a motion. In a way, it reminds us of what happened to South of Fifth (SoFi) 20-25 years ago. Over 30 years ago, SoFi was really an undesirable place to live. Today, it enjoys some of the highest selling condos per square foot and it is known as one of the best condo corridors in all of Florida.
Miami is a city that never disappoints when it comes to luxurious living. With its stunning waterfront real estate, beautiful beaches, vibrant nightlife, and world-class dining options, Miami has always been a top destination for those seeking the ultimate in luxury living. If you're looking for a new place to call home or invest in, then you should definitely check out the beautiful condos in Edgewater. This neighborhood is quickly becoming one of the most sought-after areas in Miami, thanks to its stunning waterfront views, top-of-the-line amenities, and proximity to all the best that Miami has to offer. Edgewater
As a highly skilled Miami realtors, we have had the pleasure of working with some of the best developers in Miami, and we can confidently say that Edgewater is one of the hottest neighborhoods in the city right now. Whether you're a young professional looking for a hip and trendy place to call home, or a retiree looking for a peaceful waterfront retreat, there's a Miami condo in Edgewater that's perfect for you. So what are you waiting for? Let's dive into the best Miami condos in Edgewater and discover your dream home today!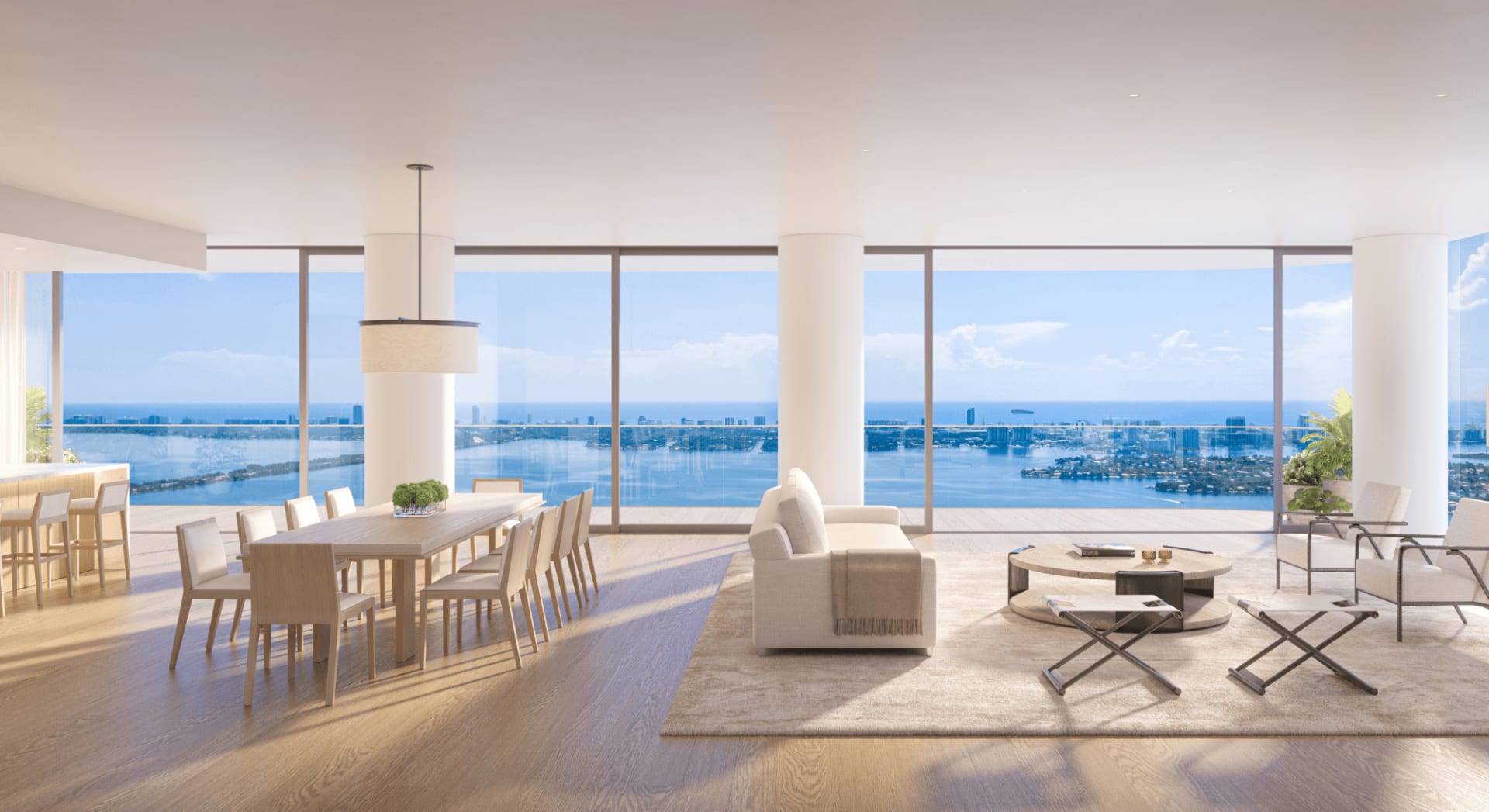 EDITION Residences photo as well as cover photo
EDITION RESIDENCES
EDITION Residences, Miami Edgewater welcomes residents home with an unparalleled EDITION experience. As the first and only private EDITION residences in the world, these residences reinvent the modern home with thoughtfully curated spaces and personalized service for a dynamic, elegant lifestyle. A signature design by Bernardo Fort-Brescia and refined interiors by Studio Munge seamlessly blend to deliver an exquisite collection of homes. The residences feature unobstructed views of Biscayne Bay, the Miami Beach skyline, and Atlantic Ocean and offer a dedicated suite of luxury amenities. Beyond home, residence owners will enjoy exclusive privileges with access to EDITION properties across the globe.
Located at 2121 North Bayshore Drive in the heart of Edgewater, one of Miami's premier neighborhoods for luxury high-rise living, the 55-story waterfront tower will boast more than 800 linear feet of bay frontage and uphold the quality of design, services, and amenities, signature to the EDITION brand. Soaring 649 feet high, The Residences will feature 185 bespoke homes showcased in a sleek glass tower designed by visionary architect Bernardo Fort-Brescia, founder of Arquitectonica, with acclaimed interiors by Studio Munge led by Alessandro Munge.
The tower's impeccably finished residences will range from one-bedroom-plus-den to four-bedroom floorplans measuring between 1,952 and 3,864 square feet in size, priced from $1.9 million to over $8 million. Every residence will showcase a private foyer and elevator entry, superior finishes and fixtures, floor-to-ceiling glass windows and doors, between 10- and 14-foot-high ceilings, and custom European-style cabinetry. Designed for indoor-outdoor living, spacious terraces will boast unobstructed views of Biscayne Bay, the Atlantic Ocean, Downtown Miami and the Miami Beach skyline.
THE BUILDING: 55-Story Glass Tower with only 185 residences
DEVELOPER: Two Roads Development
ARCHITECTURE: Signature Design by Bernardo Fort-Brescia, Principal of Miami-based architecture firm, Arquitectonica
INTERIOR DESIGN: Studio Munge, led by Alessandro Munge
MANAGED by: EDITION Hotels
RESIDENCES: ranging from 1,900 to over 3,800 square feet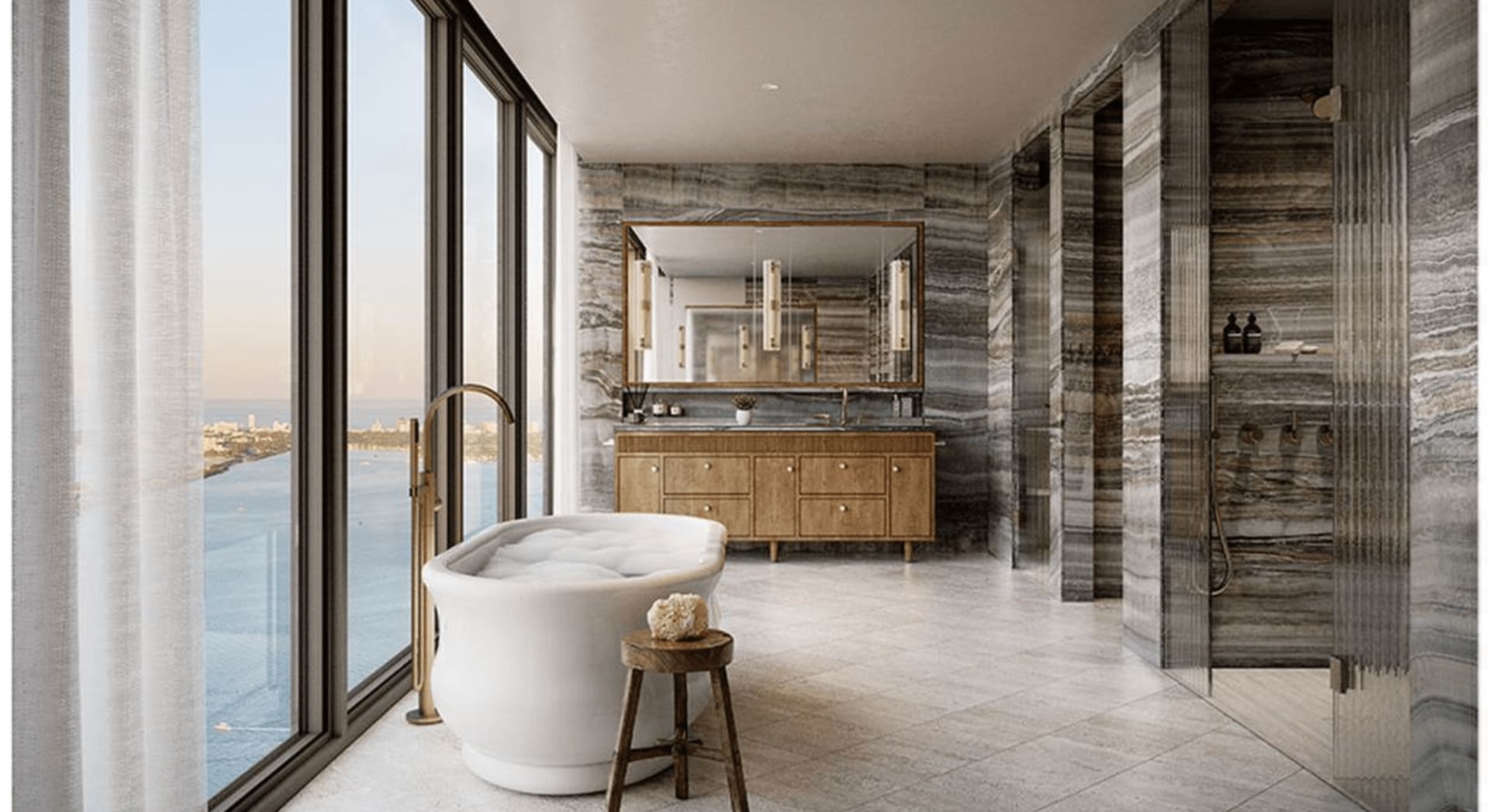 VILLA MIAMI
Villa will rise 58 stories and welcome a select of just 50 or so families. It will boast expansive half and full floor villas with incomparable vistas up to 360 degrees of Bay and city. The building's exterior is an exoskeleton, like the late Zaha Hadid's One Thousand Museum.
In partnership with Major Food Group, Terra Development and One Thousand Group, I would like to introduce you to our newest ultra-luxury residential development, Villa Miami. A gemstone on the water's edge, Villa Miami proposes something opulent but intimate and entirely new for Miami's skyline. Elevated for every sense. Prices starting at $4.5M. A structure that's instantly a landmark, topped by waterfront homes in the sky, cast in bronze. Situated in the Edgewater/Design District neighborhood in the heart of Miami, FL this development offers a unique and unparalleled living experience that intertwines the MFG lifestyle with luxury living today.
For its first foray into residential hospitality, Major Food Group will lead the food and beverage experience at Villa, while helping to shape the waterfront-inspired, European-inflected design ethos throughout. That means no-detail-overlooked, chef's kitchens upstairs, and three floors of Miami's most alluring new dining scene downstairs. The property will have an onsite waterfront MFG restaurant with outdoor seating and will be providing food and beverage to the residents. The Major Food Group Brand will be curated an elevated lifestyle that will only be found at the Villa Miami ultra-luxury development.
THE BUILDING: A 58-story building with 49 residential levels of fully finished residences offering full or half floor residences and duplexes for the discerning buyer plus helipad
DEVELOPER: Developed by Terra Developments and One Thousand Group.
ARCHITECTURE: An instant landmark designed by ODP; waterfront homes in the sky cast in bronze.
INTERIOR DESIGN: Thoughtfully curated interiors by Vicky Charles of Charles & Co from NYC
RESIDENCES: Half and full floor Villas, ranging 3,200 SF-5,900 SF
STYLISH AMENITIES: Residents at Villa Miami will enjoy exclusive private living curated by Major Food Group and the ground floor waterfront restaurant. Ultra luxurious amenities such as estate managers, helipad, on site dock, private vault and more.
Buying a new development is great for those interested in purchasing from ground up, locking in the best residence options and ground zero pricing. When you're ready to start your inquiry and search of EDITION Residences or VILLA MIAMI, contact first one of the experienced agents on The APT Team to guide you through the process. We have been selling new developments for over 15 years and we secure only the best for our clients.